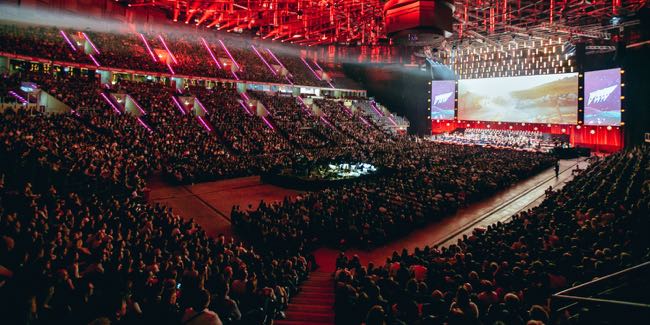 By Ray Bennett
LONDON – When everyone is a critic, who needs critics?
It's a question asked more and more in the movie industry as the ranks of mainstream critics dwindle and the tide of those with something to say online surges ever stronger.
The consensus is that some critics do still matter but their employers, the film industry and the general public hold them in less esteem than they used to. Meanwhile, everyone's on Facebook. And Twitter. And YouTube. And Instagram.
Industry folk on both sides of the question tend to be reluctant to talk about it because of two key words: access and applause. Critics want the access to films that distributors control and distributors want the applause that only critics can bring before release.
Glowing reviews from major newspaper and magazine critics and glittering quotes have traditionally been gold dust to boost exhibition. Screenings for top critics are still held in the week of release but other screenings have a very different makeup. Many of them now include those who are deemed to be "influencers" of fan opinion.
Sean Evans, who runs a marketing and blogging website called Back to the Movies, says, "An influencer is anyone with a microphone and an audience; anyone with a keyboard and some waiting eyes. Anyone with passion and a projection can be 'influential' in some shape or form. Most advanced screenings are open to the public so it's mainly full of eager fans. If it's a press-only advanced screening then it tends to be more bloggers and independent sites than the UK and global media outlets. Just from my experience."
Jason Solomons, who appears in print and broadcast and has his own film website jasonsolomons.com, says, "Increasingly, publicity people seek 'influencers', which means fashion bloggers, food bloggers and those people who put pictures of their avocado breakfasts on Instagram. I've been at screenings where these folks are invited just so they can mention the film in a hashtag."
Anna Smith (twitter), president of the Film Critics' Circle and a busy freelancer across print, online and broadcast, says she has no real problem with that: "Criticism evolves according to the times and the current means of communication. Social media and blogging mean that the landscape has changed. It's up to distributors to decide who they want to invite. At what are called 'multi-media' screens, the press allocation is getting smaller, however. The marketing department invites its target audience and good on them, I guess, as they have to be increasingly inventive."
David Gritten, former critic for the Telegraph who writes now for Saga Magazine, says, "I do think the importance of critics has diminished over the years. It used to be that a bad review might hurt a film but not now. Social media, online, Twitter, Instagram – the mere flood of voices means they are less important. It's not about the quality of a review, it's simply: It's opening near you on Friday."
Henry Fitzherbert, of the Sunday Express, who is now the U.K.'s longest-serving film critic on a national paper, says, "I do feel critics are under siege. Everyone is diversifying as fast as they can. If they're on staff they don't just write reviews, they do interviews, profiles, commentary, tweeting, podcasts. They have to write across the paper."
Zak Brilliant, head of distribution at Icon Films, says the situation has changed over the last decade: "The value of a review depends on the content of the picture. Film critics are key to smaller, festival films. The best critics have loyal readerships and it's important to their readers when they like a film. If it's a tentpole movie – Marvel is a beast that nothing stops – then it could be Jack from Rotherham on Twitter."
Dean of UK film publicists Charles McDonald says, "There's no doubt that the world has changed but it depends on the movie, More films tend to be review-proof when you have a big budget as  movie critics don't have the clout to negate them."
Soft television and radio exposure is insignificant, McDonald says, but social media is important: "Awareness is essential. A blockbuster can cope generally with bad mainstream reviews and simply benefit from enormous coverage although publicists must be careful not to over-hype."
YouTube video bloggers – vloggers – play a major role and often they are paid, McDonald says: "Putting trailers online at the right time is essential and the online outlets need content just as much to drive people to their sites."
One distribution publicity chief, who requested anonymity, agreed that marketing now includes payments to bloggers and video-bloggers: "Distributors look at outlets to decide on exclusivity. The marketing department advertises and then the outlet shouts about the movie. YouTube stars are used more and more and they are paid to watch a film. It has to be made clear that it is sponsored. An influencer can be someone who has influence in a smaller world. If it's an historical drama, you go to that world. 'Influencer' is a broad term but it can be a great way to reach young people."
The impact of critics on box office success remains an open question. Heat Magazine film critic Charles Gant notes, "The impact of reviews – positive and negative – can only be guessed at, although box office figures do provide some clues."
He cites the "Wolverine" movies. He points out that the first film in the franchise has the lowest score on aggregator Metacritic but it had a "pretty decent" box office: "Critics gave warmer scores to the second 'Wolverine' but audiences burnt by the 'X-Men Origins' film did not return, and box office slumped in both the U.K. and the U.S. Critics and audiences both gave 'Logan 'the thumbs up and box office bounced back."
Gant says that distributors evidently still believe critics do have an impact: "Why else would they lay on press screenings as early and often as possible for films that are creatively strong, and screen as late as possible with embargo restrictions films likely to suffer at the hands of the critics?"
David Gritten suggests: "A few names are influential: Mark Kermode in the Observer and on BBC, Peter Bradshaw in the Gaurdian, Robbie Collin in The Telegraph and Kate Muir in the Times. I admire them very much. To look beyond them, I'm not sure a critic can influence the fortunes of a film in the U.K."
Jason Solomons admits: "Critics are infinitely egotistical and all get a thrill from seeing their names correctly spelled in big letters on a tube station poster. Particularly they then feel they've 'championed' a film and helped usher it to success."
Sometimes, they serve just to reposition the narrative of a movie, he says: "With something like 'Beauty and the Beast', many critics seemed to buy the whole 'Emma Watson as feminist Belle' shtick which really opened up the movie to its young audience of Hermione fans and pretended that it's a modern take on the old tale. It's not. Likewise the gay character in that film, which is actually hideously retrograde, if you ask me."
Mainstream critics also are susceptible to the seductive offers of the film industry. Solomons says, "Increasingly, studios are pumping critics up with exclusive, quasi-premiere screenings and embargoing up to the last minute so as to ensure some excitement in the reviews, some response to the movie as an event, rather as part of a series of dull drudges on a Monday afternoon. That happened with 'Spectre', 'Rogue One', 'Ab Fab', 'Bridget Jones's Baby' and 'Trainspotting T2'. They all received better reviews than they had any right to get through the creation of that 'event' hype 'Ab Fab' plied everyone with free and decent champagne, which really helped. Gushing reviews helped these sustain their runs at the box office, I think."
If there is a sunset on mainstream criticism, it's not only distributors who are to blame, Gritten says: "It's not a Machiavellian idea by publicists. Critics are less important to newspapers now; they don't add to the money-making side of publishing. Most arts editors on newspapers would be much happier with an interview with a glamorous movie star than a stinky review. You cannot monetise that. The heyday of what we used to call film criticism has gone."
Adds Solomons: "It shows how desperate critics have become that they are dependent on hyping up their reviews to 'get them in the paper', or justify selling the review, the reaction, as some kind of story on the radio, or to click through to their blog. Unless it's a screaming endorsement or a holler of failure, the review has little effect these days, to the point of not actually existing – editors are as bad as readers in this instance."
Henry Fitzherbert (a burgeoning screenwriter: "Slaughterhouse Rulez", "Born a King") is no longer on staff at the Sunday Express but writes a column as a freelancer. He says: "Slashing of support for critics in journalism does impact on the films, too, especially for smaller distributors. There are more releases than ever but I don't review as much as I used to. I'm paid for my column whether I review five films or two, it doesn't make any difference."
Saga's Gritten says: "There's been a shift in people's attitudes: they don't want to be talked down to by experts or specialists but they respond to Facebook and Twitter because they think, this person is more like me. You've got to be very keen on film to see how good the good critics are."
It's not all bad news, even though Film Critics' Circle President Anna Smith says there are fewer full-time jobs for film critics and several have been laid-off at national outlets or taken pay cuts.
Heat's Gant says, "For arthouse, indie and awards season releases, of course critics definitely play an important role. Those audiences do read and do pay attention to reviews. Critical acclaim can be vital in getting awards buzz building on a film. Marketing communications in this sector typically feature critical endorsements quite prominently."
The nameless distribution publicist insists: "I'm glad we have strong critics who write beautifully. They enhance the filmgoing experience. The tide has changed but we use our quotes very carefully."
Anna Smith says that when she speaks at universities, she hears more people than ever say they want to be a movie critic. She says, "I wish them luck."
This story appeared in Cue Entertainment
My photo: Gala screening at the Krakow Film Music Festival