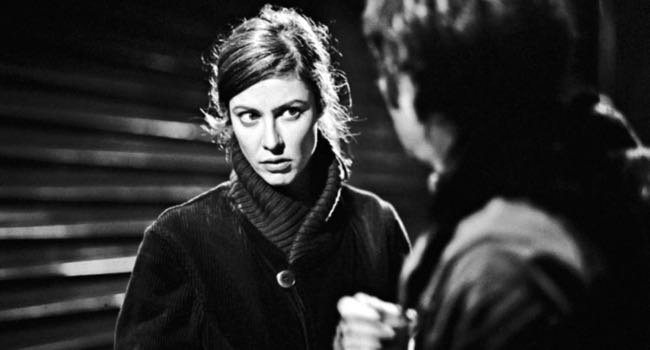 By Ray Bennett
LOCARNO, Switzerland – Wry, nostalgic and wonderfully nutty, Samuel Benchetrit's comedy "I Always Wanted to Be a Gangster" is a warm if cockeyed homage to old-time crime movies. Shot masterfully in the Academy aspect ratio and vivid black-and-white of Bogie and Cagney pictures, it relates the earnest but ham-fisted attempts by a group of unrelated characters to turn their hands to crime. It might be a hard sell, but lovers of old movies and those who relish screen comedy that is written, staged and performed smartly will love this.
The only link between each of the stories is a functional cafeteria on the outskirts of Paris where conurbation is cementing over both greenery and the illusory recollection of better times. Bencherit weaves his yarns together so cleverly that the film does not appear episodic. He switches from goofball slapstick to screwball banter to the driest observational wit and back again without missing a beat.
The film begins and ends with two would-be villains who seem made for each other. Franck (Edouard Baer) is a witless hoodlum whose stab at robbing the cafeteria at gunpoint is hampered by the absence of a gun and the fact that he's locked his keys inside his getaway car.
Susie (Anna Mouglalis, pictured above) is a sassy waitress who laughs at his feeble hold-up technique largely because she has his gun. The backstory to this, and to the other chapters, is told in silent-movie style complete with title cards.
Meanwhile, a pair of bumbling and notably decent kidnappers (Bouli Lanners and Serge Lariviere) have broken into a rich man's home and grabbed his daughter (Selma El Mousi) for ransom. They couldn't know that, though she is spoiled and nubile, she also is suicidal and her father is happy to be rid of her.
Still, they leave a message on Dad's phone to arrange an exchange meeting at the cafeteria where, by chance, two groups of touring musicians arrive with vocalists Alain Bashing and the single-named Arno playing versions of themselves. One is successful,the other not so much, and when temptation is offered, it's too hard to resist.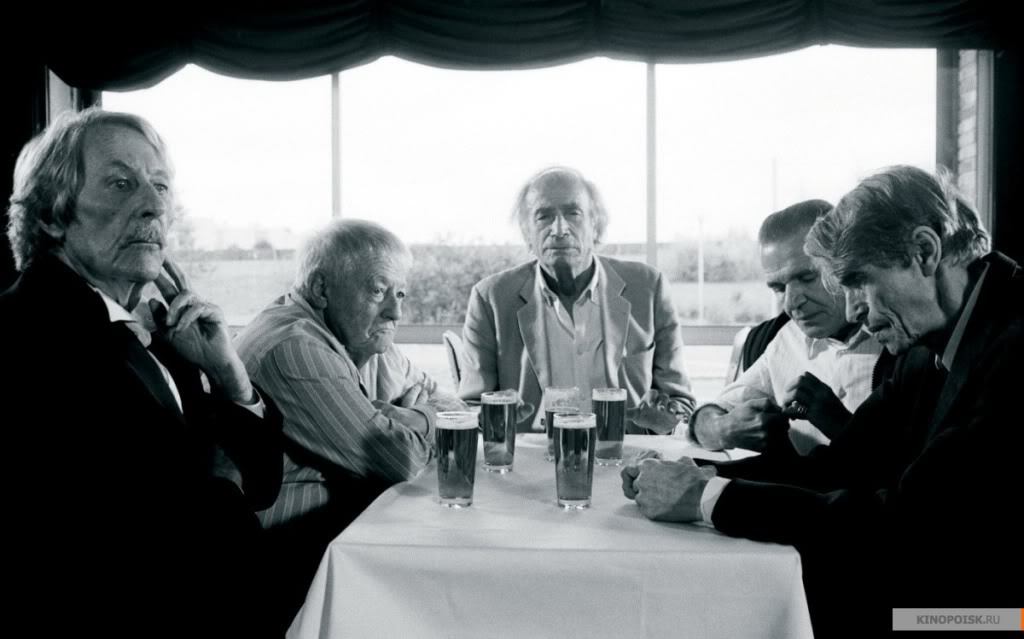 Then there's the gang of retired criminals who have come together at what used to be their hideout because one of them is mortally ill and they want to fulfil youthful pledges to one another. These old reprobates are played by a wonderful array of characters – Jean Rochefort, Laurent Terzieff, Jean-Pierre Kalfon, Valentino Venantini and Roger Dumas (pictured above). Being together again makes them long for one more heist but the bank they robbed in their last job 25 years ago isn't what it used to be.
The finest compliment to the filmmakers and splendid cast is that you wish the movie wouldn't end. These are characters rendered marvellously and it would be great to spend more time in their misguided and endearing company.
Also, Kris Kristofferson's beautiful songs are always welcome on film soundtracks but it's usually "Me and Bobby McGee," "For the Good Times" or "Help Me Make It Through the Night." How pleasing in this film to hear his growling voice on the opening lyric to "Casey's Last Ride": "Casey joins the hollow sound of silent people walking down the stairway to the subway in the shadows down below."
It's perfect for a wonderfully droll little picture that is not even due for release in France until next January and who knows if it will ever get a U.K. release in theatres or on DVD. It would be such a shame if not.
This review appeared in The Hollywood Reporter