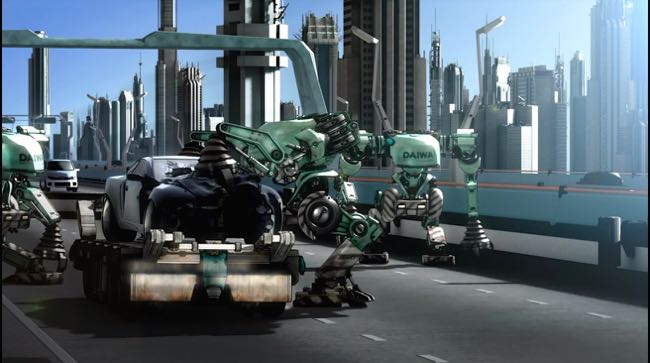 By Ray Bennett
LOCARNO, Switzerland – Robots are threatening the world in Fumihiko Sori's enjoyable Japanese anime romp "Vexille," and they're even more dangerous when they become useless piles of junk mashed up in swirling twisters of scything metal teeth called Jags.
The jet-propelled android anime "Vexille" powered the Locarno International Film Festival into action in the Piazza Grande Wednesday night. It's the 60th anniversary edition of the festival in the tranquil lakeside setting of Switzerland's Ticino region and the animated film was one of 17 to be screened in high definition this year through the festival's partnership with XDC Cinema.
Digital Domain veteran Sori, whose first directing job was "Ping Pong," and Haruka Handa ("Appleseed") have scripted a CG animation film full of furious action as a team of uncommonly well-equipped soldiers goes to war with the androids. Anime is an acquired taste but fans will surely respond to the picture's dynamite energy. Those not already in the fold will find this one very easy to take.
It's 2077 and Japan has become a renegade nation closed to the rest of the world. Shielded from penetration by air, was and space for 10 years, the islands have become a dangerous mystery to the United Nations. The country's isolation resulted whine fell out with other countries over the development of robotics and its determination to continue creating them even when they were banned everywhere else.
The fear is that Daiwa Heavy Industries in Tokyo has taken its creation of human androids to extremes so the only answer is to send in a crack team of fighters to hook up withJapanese underground rebels and find out what's going on. Enter Vixille, a G.I. Jane and then some whose squad uses ultra-high-tech uniforms, weapons and vehicles to rocket into battle.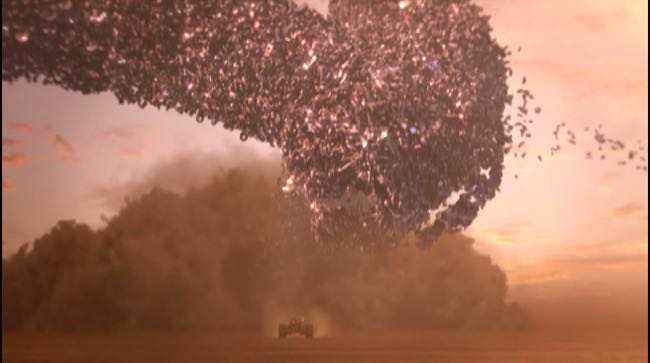 It's silly fun, simplistic in its heroes and villains and sentimental in its message. British mixer Paul Oakenfold's pounding original music and tracks from artists such as Basement Jaxx, MIA and the Prodigy help muster the proceedings and it blends well with Koji Kasamatsu's industrial sound design.
Using Japanese voices for the American characters is a bit disorienting for non-Japanese, especially as the subtitles fairly zip along, and sometimes it's hard to tell which bits of death-dealing weaponry are working for the good guys and the bad guys.
But the weapons are terrific and the CGI action, which is almost constantly, is inventive and thought through cleverly. In close-up, the characters are bland and washed out, but once the bullets start to whiz the frame is filled with live-wire entertainment. And those vicious tornadoes of crunching jagged edges (pictured above) are something to see.
This review appeared in The Hollywood Reporter.