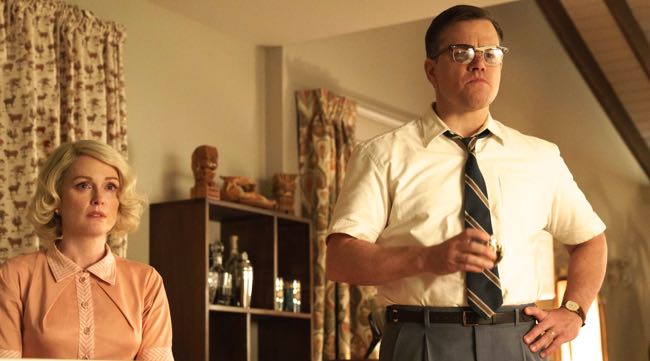 By Ray Bennett
TORONTO – Joyless, witless and pointless, "Suburbicon" is a would-be black comedy that is simply murky and not in the least comic. It boasts some big names – director George Clooney, stars Matt Damon and Julianne Moore (pictured), and co-writers Joel and Ethan Coen – but were it not for Alexandre Desplat's entertaining score, it would be a complete waste of time.
Set in the 1950s, the film begins with a commercial for a Stepford-style housing community called Suburbicon with lookalike homes intended for comfortable, middle-class white families. Condescension in place, the story follows two families who face very different fates but the storytelling is ponderous and predictable, the violence needless, and any sign of comic timing entirely absent.
Gardner Lodge (Damon) is a colourless executive who lives with twin sisters (both Moore), Rose, his invalid wife and Margaret, his secret mistress. One night, Gardner wakes up his sleeping son  Nicky (Noah Jupe) because their home has been invaded by two thugs who proceed to tie up and drug everyone. Gardner, oddly, is not particularly alarmed and when after Rose fails to wake up, he proceeds with his recently enhanced insurance claim.
Meanwhile, Mr. and Mrs. Mayer (Karimah Westbrook and Leith M. Burke) have moved in next door with their son Andy (Tony Espinosa) and caused outrage amongst the whiter-than-white folks of Suburbicon. The Mayers are black.
Reportedly scripted separately with the Lodge strand written by the Coen brothers and the Mayer strand written by Clooney and his production partner Grant Hesov, the two elements have nothing whatever to do with each other. As the film plays out, they do not connect, inform or illuminate one another in any way. The Lodges spiral off into a lazily contrived noir scenario involving fraud and murder with messily bloody violence while the Blairs, about whom we learn virtually nothing, become victims of racial prejudice that escalates to an all-out riot. Whatever point, satirical or otherwise,that might have been made to suggest the seeds of today's alienated American society were planted long ago is entirely missed.
The performers wisely play it straight and emerge unscathed. For the Coen brothers, it's just another silly idea that they tossed away for somebody else to make a fool of himself. That would be Clooney, whose earlier work as director has been clever and entertaining. Oscar-winning French composer Desplat appears to have conjured up his own notion of what the film might have been and, as usual, he emerges with his reputation enhanced.
Venue: Toronto International Film Festival; Released: U.S. Oct. 27 (Paramount Pictures); U.K. Nov. 24 (Entertainment One); Cast: Matt Damon, Julianne Moore, Oscar Isaac, Noah Jupe, Karimah Westbrook, Leith M. Burke, Tony Espinosa; Director: George Clooney; Writers: Joel Coen, Ethan Coen, George Clooney, Grant Heslov; Director of photography: Robert Elswit; Production designer: James D. Bissell; Music: Alexandre Desplat; Editor: Stephen Mirrione; Costumes: Jenny Eagan; Producers: George Clooney, Grant Heslov, Teddy Schwarzman; Executive producers: Ethan Erwin, Barbara A. Hall, Hal Sadoff, Joel Silver, Daniel Steinman; Production: Black Bear Pictures, Dark Castle Entertainment, Huahua Media, Silver Pictures, Smokehouse Pictures; Rated: TBA; running time 104 minutes.