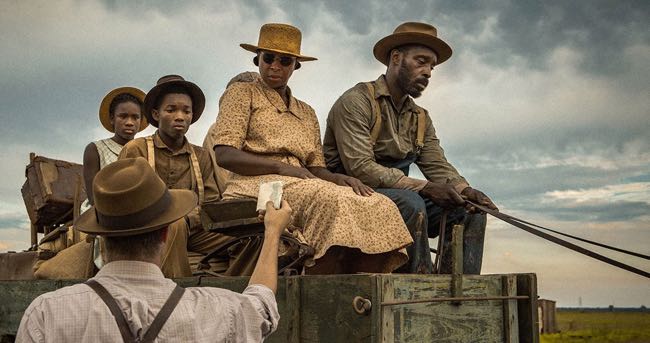 By Ray Bennett
TORONTO: "Mudbound" is set in the Mississippi Delta in the 1940s but with torrential rain, deeply ingrained racial hostility and changes wrought by World War II, it's no treat to beat your feet. Two poor families – one white, one black – strive to find a little joy amidst chronic misery but simmering tensions lead to a violent conflict.
Slow-moving but involving, the film details the painful existence that besets both families as they struggle to make a living on a pitiless farming landscape. The central drama, true of many places when men came home from that war, is how to keep them down on the farm after they've seen Paree.
Jamie McAllan (Garrett Hedlund) took his carefree view of life into the skies as a bomber pilot while Ronsel Jackson (Jason Mitchell) discovered that while he and his fellow black soldiers were segregated in barracks, the white Europeans saw only military saviours. Coming home to the hardscrabble lives of their families, divided cruelly due to the unaccountable racial hatred of the white community, is bound to test their liberated values.
Director Dee Rees, who has adapted Hillary Jordan's novel with Virgil Williams, takes a deliberate pace throughout. Naive but determined Henry McAllan (Jason Clarke) works hard to run his small-holding with his tenant and employee Hap Jackson (Rob Morgan), who has a stalwart and resourceful wife Florence (Mary J. Blige) and several children including Ronsel.
Henry has a wife too, Laura (Carey Mulligan) from Memphis, young and new to the harshness of Delta life. They have two daughters and must make room in their dilapidated shack for Pappy McAllan (Jonathan Banks), an irredeemably offensive boor.
Several of the central characters contribute voice-overs to help tell the story but Rachel Morrison's keenly observant cinematography, the verisimilitude of David Bomba's production design and an evocative score by Tamar-kali combine to make the narration almost unnecessary.
The acting is uniformly fine even if the accents, supposedly from the Mississippi Delta, are all over the place from Alabama to Virginia. Rob Morgan (pictured above with Blige) is thoroughly convincing as the patriarch of the black family, Garrett Hedlund lends a touch of Val Kilmer's Doc Holliday (from "Tombstone") to the charming airman, and Jason Mitchell conveys subtly the young soldier's transition to manhood. Clarke makes Henry bluff, open and unaware of his own ignorance while Mulligan and Blige complement each other nicely and Banks leaves at least some of the scenery unchewed.
Venue: Toronto International Film Festival; Released on Netflix Nov, 17: London Film Festival: Oct, 5; Cast: Carey Mulligan, Garrett Hedlund, Jason Clarke, Jason Mitchell, Mary J. Blige, Rob Morgan, Jonathan Banks; Director: Dee Rees; Writers: Dee Rees, Virgil Williams; Director of photography: Rachel Morrison; Production Designer: David Bomba; Music: Tamar-kali; Costumes: Michael T. Boyd; Editor: Mako Kamitsuna; Producers: Sally Jo Effenson, Cassian Elwes, Carl Effenson, Charles D. King, Kim Roth, Chris Lemole, Tim Zajaros; Executive Producers: Dee Rees, Teddy Schwarzman, Virgil Williams, Jennifer Roth, Poppy Hanks, Kyle Tekiela, Dan Steinman, David Gendron, Ali Jazayeri, Robert Teitel, George Tillman Jr.; Production: Macro Elevated; Armory Films; Joule Films; Black Bear Pictures; International Sales: Good Universe; Rated: TBA; running time: 134 minutes