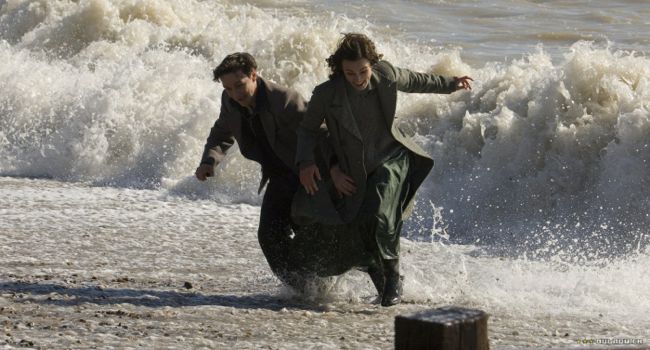 By Ray Bennett
No acting prizes for "Atonement" (pictured) in the Golden Globes but its richly deserved win as best film drama makes an Oscar nomination appear certain although last year's Globes winner, "Babel," lost to "The Departed" at the Academy Awards.
Last year's Globes winner for best comedy or musical, "Dreamgirls," didn't get a look in at the Oscars but this year's victor, "Sweeney Todd: The Demon Barber of Fleet Street," probably will.
Julian Schnabel's Globes win as best director for the excellent "The Diving Bell and the Butterfly" (which also won the foreign-language film prize) throws both the helming and best picture categories wide open at the Oscars.
Last year, Martin Scorsese won both prizes but fewer Academy voters will have seen Schnabel's picture and that lets in Tim Burton with "Sweeney," the Coen Bros. and "No Country For Old Men" (especially given their Globes screenwriting prize), Joe Wright with "Atonement" and possibly Justin Reitman and "Juno."
This year's dramatic acting winners Julie Christie for "Away From Her," and Daniel Day Lewis for "There Will Be Blood" not only look good for Oscar noms but also become favorites given that last year's honorees, Helen Mirren in "The Queen" and Forrest Whitaker in "The Last King of Scotland" went on to Academy Awards glory.
The comedy and musical acting prizes didn't fare so well last year although Meryl Streep was Oscar-nominated for "The Devil Wears Prada." But Sacha Baron Cohen's performance in "Borat" was ignored. This year's Globes winners in that category may fair better: Johnny Depp in "Sweeney Todd" and Marion Cotillard in "La Vie En Rose" have each won critical plaudits for their performances.
The Globes last year honored Eddie Murphy and Jennifer Hudson in the supporting categories and Hudson claimed an Oscar while Murphy stomped unhappily away from the proceedings. This year's Globes winners, Cate Blanchett for "I'm Not There" and Javier Bardem (below) for "No Country For Old Men" both become best bets for Academy Awards.
Best original score awards this year were always going to see a tussle between two terrific works, the typewriter flourish of Dario Marianelli's "Atonement" and Alberto Iglesias' soaring music for "The Kite Runner." Britain's Marianelli copped the Golden Globe but last year's choice, Alexander Desplat's "The Painted Veil" lost out to Gustavo Santaolalla's "Babel" at the Oscars, so the Spaniard remains in the hunt.
In the foreign-language film category, the Globes last year chose Clint Eastwood's splendid Japanese language "Letters From Iwo Jima" over the German Oscar-winner "The Lives of Others." The Eastwood film was ineligible for the category at the Oscars but copped a straight best film nomination anyway.
This year's Globes foreign-language winner, "The Diving Bell and the Butterfly," is also ineligible in the category for the Academy Awards, and so is "La Vie en Rose," which leaves the door open to the brilliant Cannes winner, "4 Months, 3 Weeks and 2 Days." It would be great if Jiri Menzel's enthralling "I Served the King of England" and Nikita Mikhalkov's Russian epic "12" would also get a look in, but it won't happen.