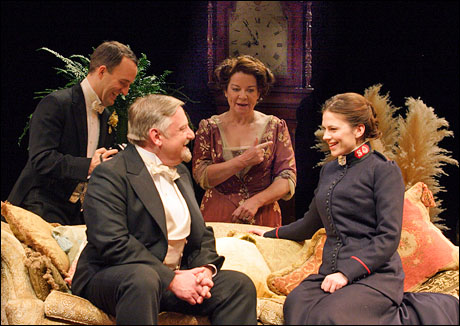 By Ray Bennett
Oscar winners Jeremy Irons, Vanessa Redgrave and Juliette Binoche plus Ralph Fiennes, Claire Higgins and Simon Russell Beale are among the stars to perform and the fabulous "War Horse" will return in the new season at London's National Theater announced this morning.
Jeremy Irons will play British conservative Prime Minister Harold Macmillan in a new play by Howard Brenton titled "Never So Good" to be directed by Howard Davies on the Lyttleton stage in March. Vanessa Redgrave will star in "The Year of Magical Thinking" by Joan Didion, based on her bestselling memoir. Directed by David Hare, the production transfers to the Lyttleton from New York at the end of April.
Juliette Binoche and Akram Jhan will co-direct and perform in the Lyttleton a new work designed by Anish Kapoor and co-produced by the National in September. Fiennes will take the title role in "Oedipus" by Sophocles in a new version by Frank McGuinness directed by Jonathan Kent on the Olivier stage in October.
Simon Russell Beale and Claire Higgins star with Hayley Atwell and Paul Ready in George Bernard Shaw's "Major Barbara" (pictured). Nicholas Hytner's production opens March 4 as part of the Travelex £10 Tickets program.
Other productions in the Travelex program, presented on the Olivier stage, are "Fram," a new play by Tony Harrison about the Norwegian explorer Fridtjof Nansen, directed by Harrison and Bob Crowley and featuring Jasper Britton and Sian Thomas; Thomas Middleton's Elizabethan play "The Revenger's Tragedy," directed by Melly Still with Rory Kinnear as Vindice; "Her Naked Skin," a new play by Rebecca Lenkiewicz set during the suffragette era to be directed by Howard Davies; and a revival of "Every Good Boy Deserves Favour" by Tom Stoppard and Andre Previn.
"War Horse" which was sold out this winter in its opening run, will return to the Olivier in November. Marianne Elliott and Tom Morris direct Nick Stafford's adaptation of the Michael Morpurgo novel.
Other highlights at the National this year will include a new play by Michael Frayn titled "Afterlife," which examines the life of Max Reinhardt, Austrian impresario and founder of the Salzburg Festival; Simon Russell Beale (above) in Harold Pinter's "A Slight Ache"; "The Pitmen Painters," a new play by Lee Hall, writer of "Billy Elliot," and a new production based on Dostoyevsky's "The Idiot" starring Ben Whishaw, who is soon to be seen with Hayley Atwell in a new feature film based on Evelyn Waugh's "Brideshead Revisited."