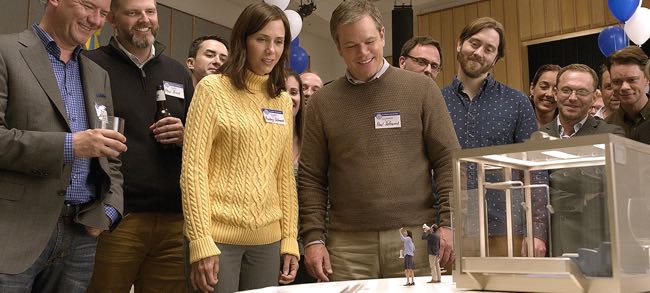 By Ray Bennett
TORONTO – Alexander Payne's "Downsizing" is a science-fiction tale that mixes whimsy with social commentary in constantly surprising ways but with ideas so scattershot that they never adhere as a satisfying drama. His filmmaking is so imaginative, however, that it's a movie well worth seeing.
Matt Damon stars as a dull individual named Paul whose horizons are expanded when he elects to become miniaturised. A prologue explains in entertaining fashion how scientists have mastered a technique that shrinks living creatures to a fraction of their normal size with custom-made environments where they can lead virtually normal lives. The ecological footprint of these little people is thus reduced and by selling everything and investing their savings, they become rich in the process.
Director Payne establishes the concept with typical flair and Stefania Cella's production design of a Truman Show-like world without observers is plausible and witty. With co-writer Jim Taylor, Payne infuses the scientific tosh with good humour and just as Paul gets used to his new circumstances, they take the story in unlikely directions. His new neighbour Dusan, turns out to be a flamboyant character, played with typical flourish by Christoph Waltz, who likes to throw noisy parties with beautiful people and runs a profitable import/export business.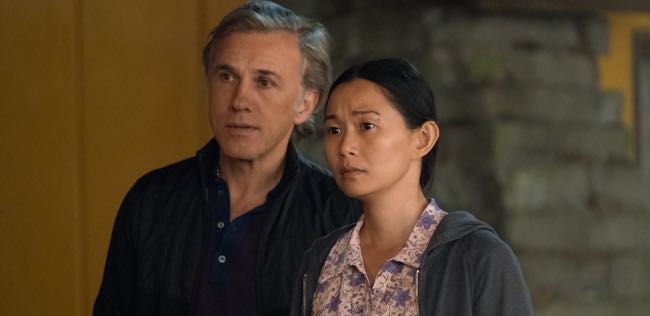 That thread changes abruptly when Paul encounters a young woman named Ngoc Lan (Hong Chau, pictured above with Waltz), who works as a cleaner. A Vietnamese political protestor who lost her left foot in an explosion and was reduced in size against her will, Ngoc Lan is such a vibrantly original character that it's a pity Payne didn't make her story the whole picture. As it is, she takes Paul into a world he had no idea existed in another part of the contrived construct in which he lives. Payne makes it clear that while humankind is under dire threat from climate change and other factors, the notion that we can flee from our fate by running away is a joke.
Dusan dismisses the likelihood that humans will escape their own nature and Payne shows that greed will sabotage delusions of safe haven: the plight of the planet must be faced head-on. Kristen Wiig (pictured top with Damon) and Jason Sudeikas have lively cameos and Rolfe Kent's score is sprightly and fitting. Hong Chau is outstanding as the colourful Ngoc Lan, who embodies the film's view. Damon is perfectly fine as Paul but it's her indomitable character that stays in the mind.
Venue: Toronto International Film Festival; Released: U.K. London Film Festival Oct. 13, U.S. Dec. 22 (Paramount Pictures); Cast: Matt Damon, Christoph Waltz, Hong Chau, Rolf Lassgård, Ingjerd Egeberg, Udo Kier, Jason Sudeikas, Kristen Wiig; Director: Alexander Payne; Writers: Alexander Payne, Jim Taylor; Director of photography: Phedon Papamichael; Production designer: Stefania Cella; Music: Rolfe Kent; Editor: Kevin Tent; Costumes: Wendy Chuck; Producers: Jim Burke, Megan Ellison, Mark Johnson, Alexander Payne, Jim Taylor; Production: Paramount Pictures, Ad Hominem Enterprises, Annapurna Pictures; Rating: TBA; running time 135 minutes.