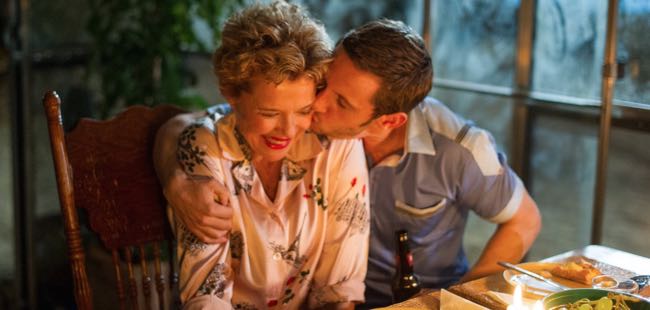 By Ray Bennett
TORONTO – "Film Stars Don't Die in Liverpool" is a disappointingly dismal film about a has-been Hollywood actress who has an affair with an on-the-make young British actor while she deals with her fading career and a debilitating illness. Annette Bening plays Gloria Grahame, a frazzled blonde who was typecast as a floozy in 1950s B-pictures, with Jamie Bell as her lover.
Grahame is the focus of attention for writer Matt Greenhaigh and director Paul McGuigan and Bening responds hungrily. She was splendid in films such as "The Grifters" (1990), "Bugsy" (1991), "American Beauty" (1999) and "Open Range" (2003) but ever since her entitled performance in "Being Julia" for which she lost the 2004 Academy Award to Hilary Swank for "Million Dollar Baby" she has appeared to be on an Oscar quest.
Her acting in "Film Stars Don't Die in Liverpool" is mannered and needy much as Glenn Close tends to be in films these days although not, pleasingly, in her fine television series "Damages". Shirley MacLaine was the same way after she was so brilliant in "The Apartment" but lost the 1961 Oscar to Elizabeth Taylor's tracheotomy and "Butterfield 8". I recall her over-the-top antics as a Russian music teacher in John Schlesinger's "Madame Sousatzka" (1988), which I reviewed as "Madame Seeks Oscar".
Gloria Grahame won an Academy Award in 1952 playing a cheating wife who dies in a soapy melodrama about the movie business titled "The Bad and the Beautiful", recalled today only for David Raksin's excellent score. Her win was all the more inexplicable because she was up against the ineffable Thelma Ritter in Walter Lang's wonderful musical, 'With a Song In My Heart'.
Her career began to fade after she was miscast as a country girl in the otherwise splendid Fred Zinnemann 1955 musical "Oklahoma" and she struggled for television and stage work. By the late 1970s, she was at the Watford Palace in north London playing the wayward Sadie Thompson in a play based on Somerset Maugham's "Rain" and living in digs in Primrose Hill.
The story is told from the point of view of a young actor named Peter Turner, her neighbour in the boarding house, based on his memoir of their time together. It's a bit like "My Two Weeks With Marilyn" except over a longer time and with a less glamorous and interesting star although Bening necessarily is more attractive than the character she plays even as she uses winks, nudges and clicks of the tongue to show how saucy she is.
Jamie Bell is a fine young character actor but he has yet to display the attributes required of a leading man and he doesn't here. Turner's Liverpool family in the early Thatcher years are portrayed as a lovable and plucky bunch led by the always reliable Julie Walters and Kenneth Cranham while Vanessa Redgrave and Frances Barber have vivid cameos as greedy members of Grahame's own family.
Venue: Toronto International Film Festival; Opens: UK: Nov. 16 (Lionsgate) / US: Dec. 29 (Sony Pictures Classics); Cast: Annette Bening; Jamie Bell; Stephen Graham; Vanessa Redgrave; Leanne Best; Julie Walters; Frances Barber; Kenneth Cranham; Director: Paul McGuigan; Writer: Matt Greenhaigh; Director of photography: Urszula Pontikas; Production designer: Eve Stewart; Music: J. Ralph; Editor: Nick Emerson; Producers: Barbara Broccoli, Colin Vaines; Production: Eon Productions, Synchronistic Pictures; Rating: UK 15 / US: TBA; running time 105 minutes