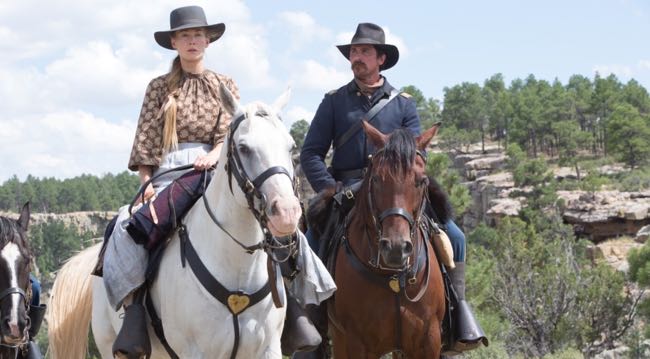 By Ray Bennett
TORONTO – Scott Cooper opens his muscular Western tale "Hostiles" with a horrifying sequence of slaughter and he sustains a palpable level of dread as a group of travellers journey hundreds of miles through some of the most gorgeous landscape in America. It's a constant reminder that the most dangerous element of wilderness can be human.
Handsome and intense, the film tells of a small unit of cavalry officers ordered to escort an imprisoned Cheyenne family north from New Mexico to Montana so their dying chief may be laid to rest in traditional burying grounds. It's 1892 and the Indian Wars are mostly over although renegades haven't given up the fight. The U.S. Army and the region's Native Americans have gone at each other with equal savagery and the scars show on both the soldiers and their tribal foe.
The white man's view is expressed by Captain Joe Blocker (Christian Bale), a veteran who doesn't bother to hide his feelings about the enemy. A dutiful officer, nevertheless, he obeys orders to see that the hated Chief Yellow Hawk (Wes Studi) is taken home. With shell-shocked Master Sergeant Thomas Metz (Rory Cochrane) and a few men, he sets off with Yellow Hawk and his family to face not only the natural elements and topographic hazards but constant threat from lawless marauders.
Along the way, they meet Rosalie Quaid (Rosamund Pike), a damaged woman who needs their help; a wild bunch of outlaw Cheyenne; a convicted killer on his way to be hanged (Ben Foster); rapacious buffalo hunters and a bigoted rancher who'll do anything to protect his land (Scott Wilson).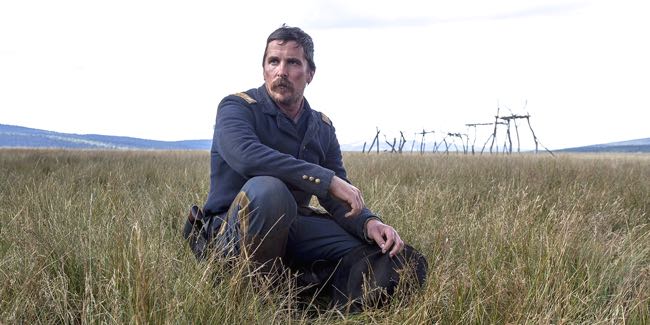 Dramatic and poignant with many sequences of high suspense, the film is based on a story by the late Oscar-winning screenwriter Donald E. Stewart ("Missing"). Cooper renders it in grand form on a large scale with all the big-screen virtues of the great Westerns. The scenery is breathtaking and cinematographer Masanobu Takayanagi's images match them along with an observant score by Max Richter.
Bale gets under the skin of the weathered Captain and his scenes with Studi are powerful as they ponder if their mutual hatred can ever turn into the respect of warriors. Pike portrays a shattered woman with understatement as she grapples with the idea that people she views with horror might show her compassion. Rory Cochrane conveys well what can wreck a soldier who has seen and visited too much violence and Ben Foster is typically vivid in the small role of the killer. Peter Mullan shows up as a kind senior officer and you'd never know that Lance Corporal Tommy Thomas is Paul Anderson – Arthur Shelby in "Peaky Blinders".
Venue: Toronto International Film Festival; Released: U.K. Jan. 5 (Entertainment) / U.S. wide Jan. 19 (Entertainment Studios); Cast: Christian Bale, Rosamund Pike, Wes Studi, Ben Foster, Stephen Lang, Jesse Plemons, Rory Cochrane, Adam Beach, Q'orianka Kilcher, Paul Anderson, Peter Mullan, Scott Wilson, Timothée Chalamet; Director, writer: Scott Cooper; Director of Photography: Masanobu Takayanagi; Production designer: Donald Graham Burt; Music: Max Richter; Editor: Tom Cross; Costume designer: Jenny Eagan; Producers: Scott Cooper, Ken Kao, John Lester; Executive producers: Byron Allen, Mark Borde, Chris Charalambous, Mark DeVire, Carolyn Folks, Jennifer Lucas, Donald E. Stewart, Will Weiske; Production: Le Grisbi Productions, Waypoint Entertainment; Rating: U.K. 15 / U.S. R running time: 133 minutes.