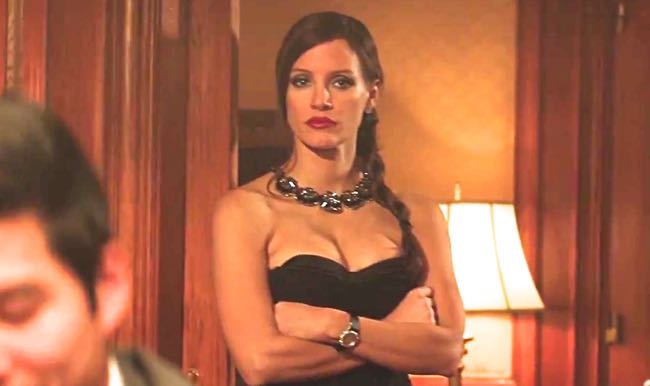 By Ray Bennett
TORONTO – Aaron Sorkin's "Molly's Game" assumes that to watch obnoxious rich men play the most boring form of poker is actually entertaining. Its story of a glamorous woman whose attempts to exploit the bad behaviour of bullies and weaklings with a gambling habit is redeemed only by the poise and subtlety of star Jessica Chastain in the title role.
She plays Molly Bloom, a real-life figure whose competitive spirit leads to a lucrative but short-lived career running high-stakes poker games in Hollywood after her Olympic skiing career s cut short by injury. Movie stars and bankers, some of them famous, play in Molly's game in swanky hotel suites with expensive booze and food served by available models.
The film begins with Bloom busted for operating illegal gambling nights in New York and facing a long time in jail unless a compassionate lawyer played by Idris Elba can get her off. Flashbacks show how she was driven by her psychologist father (Kevin Costner) to become a top athlete and the dismay that followed her injury. She goes to work for a deeply unpleasant businessman who plays cards with a group of men who enjoy risking big money as a form of comparing genitals and ends up in the Big Apple where the players are rather more dangerous.
The story hinges on whether or not Molly will reveal the names of the poker players in order to save herself. Sorkin drenches the film in a torrent of words that fail to obscure the fact that not a lot actually happens except that, since they play the simple Texas hold'em, men with deep pockets and a good short-term memory tend to win. Molly's relationship with her father is rather more interesting and Costner is impressive as a domineering man whose analytical ability governs the way he is as a parent, not always in the kindest way.
Elba is fine, too, and while the film is undistinguished visually, Daniel Pemberton's score helps considerably. Jessica Chastain, however, does all the heavy lifting. She gives a very ambitious woman a touch of decency there's no reason to suppose was actually there. Costume designer Susan Lyall, sensing no doubt that Sorkin's dialogue would become tiresome, gives the beautiful Chastain a diverting set of outfits and the actress's intelligence sustains interest when it threatens to subside.
Venue: Toronto International Film Festival; Released: U.K. Jan. 1 (Entertainment One) / U.S. Jan. 5 (STXfilms); Cast: Jessica Chastain, Idris Elba, Michael Cera, Kevin Costner, Chris O'Dowd, Graham Greene; Director, writer: Aaron Sorkin, based on the book by Molly Bloom; Director of Photography: Charlotte Bruus Christensen; Production designer: David Wasco; Music: Daniel Pemberton; Editors: Alan Baumgarten, Elliot Graham, Josh Schaeffer; Costume designer: Susan Lyall; Producers: Mark Gordon, Amy Pascal, Matt Jackson; Executive producers: Leopoldo Gout, Stuart Besser; Production: MG Films, Entertainment One, Pascal Pictures, the Mark Gordon Co.; Rating: U.K. 15 / U.S. R; running time: 140 minutes.