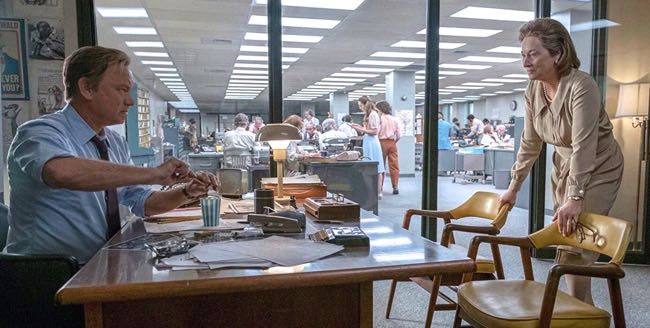 By Ray Bennett
LONDON – Given the times, it's no surprise that Steven Spielberg wants to tell the story of a corrupt swine in the White House who turns the press into an enemy. It's also hardly surprising that film critics on newspapers love the earnest depiction of print versus power in 'The Post'. It is disappointing, however, that with all the talent involved, the film is so dull.
Meryl Streep (pictured with Tom Hanks) stars as Katharine Graham, who will go on to become a legendary newspaper publisher but in 1971 she is new to the position and all the responsibilities it entails just as the parent company, long a family concern, goes public for the first time. When whistleblower Daniel Ellsberg steals a massive report dubbed the Pentagon Papers, which details how successive U.S. leaders lied about the nation's disastrous incursion into Vietnam and takes it to the press, the decision on whether or not to publish rests with Graham.
She faces a skittish executive board keen not to rock the financial boat; a vindictive President Nixon, who threatens to shut down any newspaper that publishes the report and throw the publishers in jail; and her crusading editor, namely Ben Bradlee played by Hanks, who insists the material must go to print. It's the same combustible mix that would envelope the newspaper and the country a couple years later in the Watergate scandal that brought Nixon down.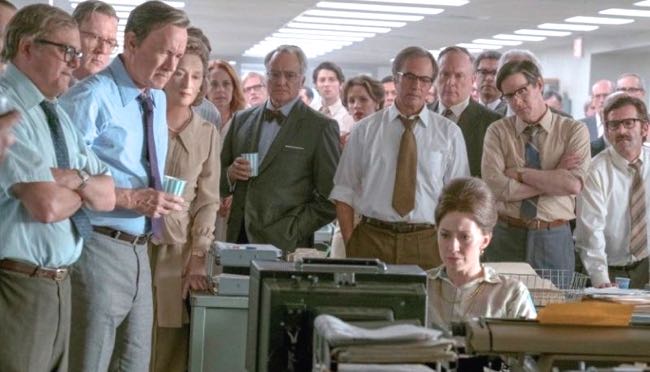 Reportedly rushed into production, the picture lacks the careful development that usually goes into a Spielberg production and the screenplay by Liz Hannah and Josh Singer is flat with a tendency toward cliché while the John Williams score is merely serviceable. Unfortunately, too, the saga of the Pentagon Papers, though important, lacks the urgency and threat of grave danger that powered the story of Watergate. Spielberg rolls the film along with typical skill but it never becomes gripping in the way that 'All the President's Men' does because it's not so much about great newspapering as it is about a brave whistle-blower. It's also a reminder that what we get to read in a newspaper often comes down choices made by people unfit to make the decision. Graham properly should have left it entirely in the hands of her gifted and seasoned editor.
Graham is written and rendered by Streep as a gauche and dazed housewife unused to the company of powerful men whereas she was in fact a sophisticated socialite whose father and husband had both run the Post and she had worked at the paper. Hanks is always reliable but his underwritten role lacks the grit and force that Jason Robards brought to 'All the President's Men'. The rest of the cast are fine and it's shot well by cinematographer Janusz Kaminski. The detailed sequences that show how newspapers used to be produced will bring a smile to anyone who worked as a reporter or editor in those days. Why a seasoned editor – played by Ben Odenkirk – would find it hard to put coins into a pay phone, though, is a mystery
The film does touch on how cozy Graham and Bradlee were with the Democrat presidents Kennedy and Johnson but not, understandably, with Nixon. Bradlee says they must do better but you wonder why they didn't know what was wrong with Vietnam even without the Pentagon Papers. Writer Graham Greene had shone a light on the problem in his 1955 novel 'The Quiet American' and courageous reporters such as Morley Safer had brought the horrible truth home to the living rooms of CBS News viewers in 1965. It doesn't help Spielberg's attempts to build tension into the film that the Pentagon Papers contained nothing that would affect national security despite Nixon's paranoia and were declassified entirely in 2011. Meanwhile the Vietnam War dragged on until 1973.
It was a good thing that the Supreme Court said the report could be published and Spielberg clearly hopes that message gets home to President Trump, but it didn't really change much. To ram home his point, sadly, the director stages the news of the court's decision like a scene from 'Independence Day' or 'My Best Friend's Wedding' when everyone cheers and hugs one another.
Released: U.S. Jan. 12 (Twentieth Century Fox), U.K. Jan. 19 ( ); Cast: Meryl Streep, Tom Hanks, Sarah Paulson, Bob Odenkirk, Tracy Letts, Bradley Whitford, Bruce Greenwood, Matthew Rhys; Director: Steven Spielberg; Writers: Liz Hannah, Josh Singer; Director of Photography: Janusz Kaminski; Production Designer: Rick Carter; Music: John Williams; Editors: Sarah Broshar, Michael Kahn; Costume Designer: Ann Roth; Producers: Kristie Macosko Krieger, Steven Spielberg; Executive Producers: Tom Karnowski, Josh Singer, Adam Somner, Tim White, Trevor White; Production: Amblin Entertainment, DreamWorks; Rated: U.S. PG-13 / U.K. 12A; running time: 116 minutes.