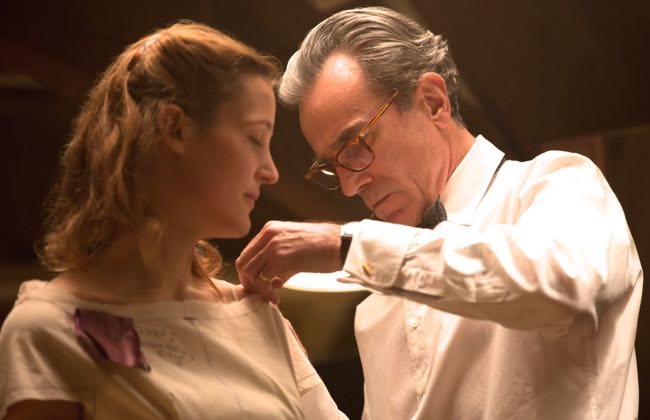 By Ray Bennett
LONDON – Paul Thomas Anderson's new film 'Phantom Thread', starring Daniel Day-Lewis as an eccentric and punctilious fashion designer in 1950s London, is a thoroughly absorbing intellectual horror film in which the horror is entirely internal.
In something like Darren Aronofski's 'mother!', the horror accelerates to fill every frame as hordes of invaders visit an orgy of shocks on a young woman and tear her carefully measured, bucolic life to pieces. Aronofski makes every outrage explicit.
In 'Phantom Thread', a single young woman invades the carefully measured, urban existence of an older man and turns it upside down from the inside. Keeping a steady, sedate pace, Anderson reveals the horror slowly through the reactions of one of the few actors capable of such nuanced subtlety.
Day-Lewis plays Reynolds Woodcock, a handsome and when needs be charming but fussy and pompous control-freak who makes a good living turning sows' ears into silk purses. His small fashion-house produces custom-made gowns for dowdy, shapeless society women who imagine that an expensive outfit will render them beautiful. Obsessive, exclusive and haughty, Woodcock is happy to conspire profitably in that delusion and they adore his stern charm and shaded flattery.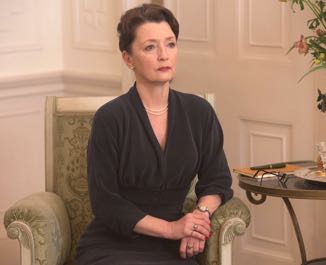 Director Anderson's witty and insightful screenplay sets the scene artfully with Woodcock's team of expert and industrious seamstresses; the quiet order of his house; the sinister watchfulness of his sombre sister, Cyril, played with marvellous hints of malevolence by Lesley Manville (pictured); his pernickety habits even at breakfast; and the disposable young woman he's taken for decoration and as idle bedmate. The carapace he has strived to construct bruises easily and while the title of the film refers directly to the secret messages to his late mother he sews into his creations, it also suggests the slim hold he has on his frangible pretences with the Sixties soon to come.
When he is sufficiently irritated and bored by the young woman, Reynolds has Cyril dispense with her and he soon meets another candidate, a curiously composed young waitress named Alma, played with angular poise by Vicky Krieps (pictured top with Day-Lewis), a young actress from Luxembourg. She responds to his overtures and is soon ensconced in the Woodcock home where she begins to chafe under its strict rules.
The designer appears set on yet another cycle with yet another young woman but Alma is of different mettle. The tension rises slowly but inevitably as she reveals a steely ability to manipulate things to her advantage. As Reynolds succumbs unwittingly to her sinuous manoeuvres, her intentions become increasingly portentous, especially when she gathers some poisonous mushrooms and decides to cook a meal.
Day-Lewis portrays a complex man with his usual delicacy and grace while Manville (who was named best supporting actress in the London Film Critics Circle Film Awards) hovers with potential malice and Krieps makes Alma an object of desire and menace. Mark Tildesley's production design, the director's camera work and Jonny Greenwood's score are all outstandingly atmospheric. Increasingly mesmerising throughout the film's 130 minutes, 'Phantom Thread' lingers in the mind long after the final haunting images.
Released: U.S. Jan. 19, 2018 (Focus Features) / U.K. Feb. 2, 2018 (Universal Pictures); Cast: Daniel Day-Lewis, Vicky Krieps, Lesley Manville, Sue Clark, Joan Brown, Harriet Leitch, Gina McKee; Director, writer, director of cinematography: Paul Thomas Anderson; Production designer: Mark Tildesley; Music: Jonny Greenwood; Editor: Dylan Tichenor; Costumes: Mark Bridges; Producers: Paul Thomas Anderson, Megan Ellison, Daniel Lupi, JoAnne Sellar; Executive producers: Chelsea Barnard, Peter Heslop, Adam Somner; Production: Annapurna Pictures, Focus Features, Ghoulardi Film Company, Perfect World Pictures; Rating: U.K. PG / U.S. R; running time: 130 minutes