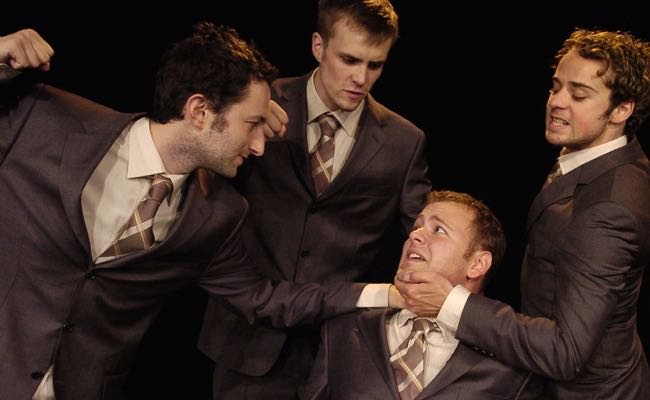 By Ray Bennett
Four clean-cut young men in suits on a small stage — bare apart from two stools and two chairs — become many characters, men and women, including a doctor from Eastern Europe who is lost in London in Ben Woolf's very entertaining short play "Angry Young Man."
Named Yuri, the young surgeon lands at one of London's less accessible airports, from where the taxi ride to the center leaves him penniless and without luggage. There is a job appointment awaiting him if he can survive without shelter in an unforgiving city, but soon unpleasant racists and pleasant liberals are giving him equal trouble.
He is not so much angry as bewildered as well-meaning do-gooders land him in just as much difficulty as ugly skinheads, and his introduction to Britain becomes one damned thing after another.
Woolf tells Yuri's story in an engaging mix of narration and dialogue as the guileless medical man bounces from one dilemma to the next. It's observant and funny stuff, but the reason it works so well is because of the quartet's tightly choreographed movement and ability to don and doff exotic characters in a flash.
Hywel John, Gary Shelford, Hugh Skinner and Alex Waldmann each play Yuri at different times, and one of the slyest gags is the difference between the highfalutin English that he hears himself delivering and the bumbling speech he actually utters.
All sympathy is with the young man, however, as various English stereotypes are dispatched with incisive wit. The four actors switch accents, genders and social classes with wicked ease. They are all very good as Yuri in different moods, with John especially deft. Shelford makes a posh young liberal suitably swinish, while Waldmann convinces as his flirty girlfriend. Skinner adds to the laughs with feigned reluctance to portray various animals and inanimate objects.
Together, under playwright Woolf's smart direction, they turn a moderately interesting hourlong tale into fine and amusing entertainment.
Venue: Trafalgar Studios, London, runs through Feb. 2; Cast: Hywel John, Gary Shelford, Hugh Skinner, Alex Waldmann; Playwright-director: Ben Woolf; Set designer: Will Holt; Lighting designer: Richard Howell; Presented by the MahWaff.
This review appeared in The Hollywood Reporter; Photo by Geriant  Lewis.