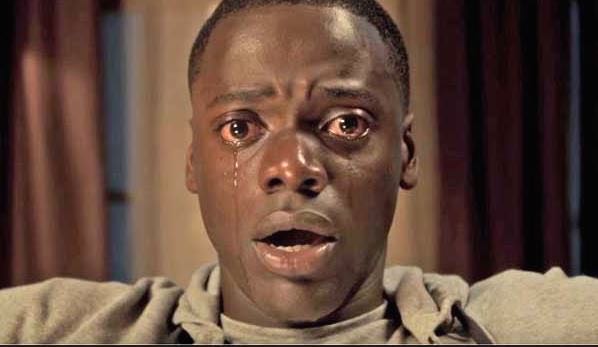 By Ray Bennett
LONDON – In the discussion about diversity in the top prizes of the Academy Awards, it's worth noting that the Oscar for best director has gone to a white American male only five times in the 16 editions of the 21st century and only once in the last nine years.
In tonight's 90th Oscar ceremony, only one white American male, Paul Thomas Anderson for 'Phantom Thread', is up for the best director award and he is not expected to win over Mexico's Guillermo del Toro, the favourite for 'The Shape of Water'.  The other nominees include only the fifth woman ever to be nominated, Greta Gerwig ('Lady Bird') and only the second African-American ( African-American, Jordon Peele ('Get Out') plus England's Christopher Nolan ('Dunkirk').
Two black men (America's Denzel Washington and the U.K.'s Daniel Kaluuya, from 'Get Out', pictured above) have best actor nominations while two African-American women (Mary J. Blige, Octavia Spencer) are nominated as best supporting actress.
This is not to overlook the vast inequalities across the rest of the Academy Awards and all the other big ceremonies nor even  the top Oscars as over the 16 years only one Latin American has even been nominated as best actor (Demián Bichir), one Latin American as best supporting actor (Benicio del Toro), one Latin American woman as best actress (Salma Hayek) although Colombia's Catalina Sandino Moreno was nominated and not one Latin American woman as best supporting actress although Mexico's Adriana Barraza received a nomination. Only two black men (America's Lee Daniels and the U.K.'s Steve McQueen) and two female directors (Sophia Coppola and Kathryn Bigelow) ranked among the 70 nominees for best director before this year.
Over the 16 years of this century, Mexico's Alejandro G. Iñárritu won as best director twice and fellow countryman Alfonso Cuaron won once; Taiwan's Ang Lee won twice plus two demo Britain – Danny Boyle and Tom Hooper – Roman Polanski from Poland, Peter Jackson from New Zealand, Michel Hazanavicius from France, and one woman, Kathryn Bigelow from the U.S. Directors from Australia, Brazil, Canada, Germany, Norway and Spain also were nominated.
Eight of 16 best actor prizes were won by non-white Americans: three African-Americans (Denzel Washington, Jamie Foxx, Forest Whitaker), four British (Daniel Day-Lewis, twice, Colin Firth, Eddie Redmayne) plus France's Jean Dujardin.
Ten of 16 best supporting actor awards went to non-white Americans: two African-Americans (Mahershala Ali, Morgan Freeman), three from the U.K. (Jim Broadbent, Christian Bale, Mark Rylance), one from Spain (Javier Bardem), one from Australia (Heath Ledger), one from Canada (Christopher Plummer) and two for Austria's Christoph Waltz.
Seven of 16 best actress awards were won by non-white Americans: one African-American (Halle Berry), two from Australia (Nicole Kidman, Cate Blanchett) and one each from South Africa (Charlize Theron), the U.K. (Helen Mirren) and France (Marion Cotillard).
Eleven of 16 best supporting actress awards were won by non-white Americans: four African-Americans (Jennifer Hudson, Mo'Nique, Octavia Spencer, Viola Davis), three British (Catherine Zeta-Jones, Rachel Weisz, Tilda Swinton) one from Australa (Cate Blanchett), one from Spain (Penelope Cruz), one from Sweden (Alicia Vikander ) and Kenyan/Mexican Lupita Nyong'o.
The award for best score also has been spread around as 12 Oscars out of 16 have gone to non-American composers: three from Canada (Howard Shore, twice, Mychael Danna), two from the U.K. (Dario Marianelli, Steven Price), two from France (Ludovic Bource, Alexandre Desplat) and one each from Poland Jan A.P. Kaczmarek), India (A.R. Rahman) and Italy (Ennio Morricone) plus two for Argentina's Gustavo Santaolalla.