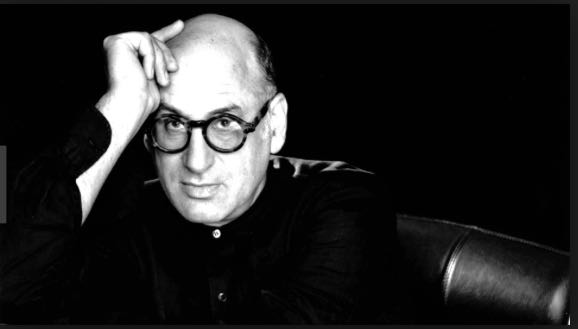 By Ray Bennett
KRAKOW – When Michael Nyman asked director Jane Campion why she chose him to write the music for her 1996 film "The Piano", she said something that pleased the iconic British composer very much. "You're the only composer," he recalled her saying, "who can create music that instantly and convincingly defines a world." American actress Holly Hunter, who won an Oscar for the picture, also made a remark that he treasured. "She said I had helped her, through my music, to create the character," Nyman told me. "That is the ultimate vindication of what the composer does. I had helped to create the mood or psychological grounding on which she was then able to build."
Nyman, who is unable to attend, will be honoured as the recipient of the 4th Wojciech Kilar Award during tonight's opening concert of the 10th Krakow Film Music Festival at the NOSPR Concert Hall in Katowice, which will be repeated Wednesday night at the ICE Kraków Congress Centre. The Polish National Radio Orchestra conducted by Belgian maestro Dirk Brossé also will perform Nyman's "String Quartet No. 3", from his score from "The Piano", arranged by Nikiforos Chrysoloras.

Previous honourees were American Oscar-winner Elliot Goldenthal, French Oscar-winner Alexandre Desplat and Canadian Oscar-winner Howard Shore. The Kilar Award is named for the late Polish conductor whose prolific film work included Francis Ford Coppola's "Bram Stoker's Dracula" and Roman Polanski's "The Ninth Gate". Coincidentally, he also scored Polanski's Oscar-winning "The Pianist" and Jane Campion's 1996 film "The Portrait of a Lady" while Nyman's best-loved movie score is for Campion's "The Piano". Notoriously, it was not nominated for an Oscar for his score for "The Piano" although the soundtrack has sold more than three-million copies.
The music for the picture is dissimilar, however, to his celebrated scores for British filmmaker Peter Greenaway's films such as "The Draughtsman's Contract" (1982), "A Zed and Two Noughts" (1985), "The Cook, the Thief, His Wife & Her Lover" (1989) and "Prospero's Books" or Andrew Niccol's "Gattaca" (1997), Neil Jordan's "The End of the Affair" (1999) or Michael Winterbottom's "Wonderland" (1999). Not to mention his equally acclaimed operas (such as "The Man Who Mistook His Wife For a Hat"), multi-media work, books and 40-year career with the Michael Nyman Band.
He is proud of his work for Greenaway although when they first started working together, he hadn't thought of himself as a film composer. He told me, "We were two fellow artists working together and our ideas and ideals happened to coincide in certain areas and not coincide in other areas. When I was working with him, I didn't think, 'Oh, this is how one gets into the film business; this is how one gets into the soundtrack business.' I was literally just working with my colleague and fellow artist and I think that is so unusual. I didn't realise how fortunate I was. I found the one film director who encouraged the film composer to be as independent minded as possible and to write music that wasn't dictated to in the way that you are in the commercial world."
The concerts, Pendericki2Cinema, are part of the City of Krakow's celebrations of Krzysztof Penderecki's s 85th birthday and they will feature several of the celebrated Polish composer's works. Elliot Goldenthal also will be on hand for the premiere of his "Concerto for Trumpet and Strings", which is dedicated to 18th century Polish hero Tadeusz Kościuszko.