By Ray Bennett
KRAKÓW – American composer Elliot Goldenthal paid tribute to two Polish heroes at a media conference to open the 11th annual Krakow Film Music Festival today. Oscar-winner for "Frida" and recipient of the festival's first Wojciech Kilar Award in 2015, he said that the first time he saw the sheet music for Krzysztof Penderecki's "Threnody to the Victims of Hiroshima for 52 Strings" when he was 17, he turned pale and started to tremble.
"It was a deep moment," he recalled. "I realised that I had seen my first real film score." With the venerable polish composer sitting next to him on the speaker's panel, he described spending an afternoon at Penderecki's home with its bucolic surroundings. "We didn't exchange many words but the silences – in music we call them rests – the rests were more poignant: "He has the ability to inspire. His music goes out, he doesn't know where .. the wind will take it. For me, it took it to Brooklyn when I was growing up."

Goldenthal also spoke of his admiration of Poland's great military hero Tadeusz Kościuszko, a general and architect who played a significant role in Polish history and the American Revolution. Last night in NOSPR Concert Hall in Katowice saw the first ever presentation of the composer's "Concerto for Trumpet and Strings", which he has dedicated to Kościuszko. It will be performed again tonight in concert at the ICE Kraków Congress Centre. He said, "The dedication is related to the first time I came to Kraków and heard the trumpets." The hourly bugle call from the tower of St. Mary's Church in Kraków's Grand Square has been heard for centuries. "They echo Kościuszko's values. He was a great hero of the American Revolution and he instilled the values of social issues that are ever more important today. These issues come up every 20 years or so and it seems like we go down the same dark road but Kościuszko still has the ability to inspire."
Penderecki admitted that when he was a young member of the avant-garde, he believed he should follow a straight line as a composer and thought that when his music was used in films that it was simply good publicity. "But then director Wojciech Has invited me to watch him film 'Rękopis znaleziony w Saragossie' [1965]. I saw several scenes being shot and I changed my mind." Renowned in the concert hall, he said he enjoys writing music for short films: "At the moment, I combine classical music with film music."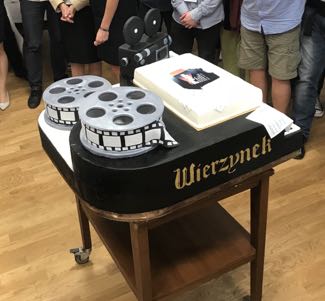 Polish director Agnieszka Holland said that she was ignorant about music and confessed, "Film directors are thieves. They see something glittering, like a trinket, and they steal it and transpose it to their own ends. For me, music in film is another figure, another character. Music is a particular piece of dialogue." FMF Artistic Director Robert Piaskowski described the festival as "a great holiday of filmmaking" and said it was respectful of tradition but understood the power of innovation. Conductor Eimear Noone, who will conduct a concert of videogame music on Sunday, said that video games offered another great opportunity for composers and she promised a night of magic. Oscar-winning Polish composer Jan A.P. Kaczmarek added a cautionary note, observing that while concerts of film music had never been more popular, budgets for feature film scores were being cut. He said "Welcome to reality."
And then there was cake.
In my photo: Magda Miśka Jackowska (RMF Classic radio star and moderator), composer Jan A.P. Kaczmarek, composer/conductor Eimear Noone, director Agnieszka Holland, composer Elliot Goldenthal, composer Krzysztof Penderecki, FMF Artistic Director Robert Piaskowski, RMF Classic Deputy Program Director Pawel Pawlik.