By Ray Bennett
KRAKÓW – Often in minor chords and melancholy but then again rousing, lush and hopeful, the music of Polish cinema filled the newly named Krzysztof Penderecki Hall at ICE Kraków Thursday night as the Film Music Festival presented scores from films by homegrown filmmakers, especially internationally acclaimed director Agnieszka Holland.
Oscar-winning composer Jan A.P. Kaczmarek and fellow Polish composers Antoni Komasa-Łazarkiewicz, Radzimir Dębski (who goes by the name Jimek) and Zbigniew Preisner were on hand to hear the AUKSO CHamber Orchestra and Cracow Singers conducted by Marek Moś perform themes from movies directed by Holland (pictured below). Italy's Sandro di Stefano also attended the concert and America's Jeff Beal sent a video message while Hollywood-based English composer Clint Mansell sent his apologies.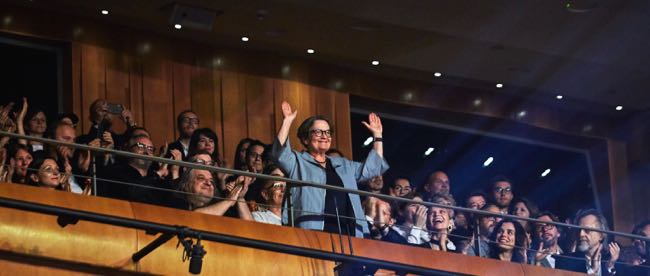 The composers in the hall along with the director accepted the extended cheers and applause of an audience delighted by the sounds and images they were treated to. A suite from Di Stefano's score for Bodo Kox's 2017 time-travel yarn "The Man With the Magic Box" began proceedings followed by Mansell's "Loving Vincent" themes from the Oscar-nominated oil-painted animation feature directed by Dorota Kobiela, from nearby Bytom, and Englishman Hugh Welchman. Jimek stepped to the podium to lead orchestra, chorus and some excellent soloists in a suite from his Polish Film Award-winning score for "The Art of Love: The Story of Michalina Wislocka" (2017). With Daniel Popiałkiewicz on electric guitar, the sometimes swirling and energetic music reflected the blend of drama and laughter in Maria Sadowska's tale of a famed Polish sexologist. The same could be said of his score for Pawel Maslona's comedy-drama "Panic Attack" (2017).
Other outstanding soloists included percussionists Wojtek Kowalewski, Monika Szulińska, Jose Manuel Alban Juarez and Igor Falecki, violinist Tomer Moked, Mateusz Kołakowski and Piotr Wrombel on keyboards and Andrzej Święs.

The second half of the concert was devoted to music from films by Agnieszka Holland with suites by Komasa-Łazarkiewicz from the war drama "In Darkness" (2011) and the crime mystery "Pokot (Spoor)", which won the Silver Bear at the 2018 Berlin International Film Festival. Jeff Beal sent a video message in which he recalled fondly his visit to the film festival and introduced an original arrangement of music from the Netflix and Sony Pictures Home Entertainment series 'House of Cards' titled 'Flute Fantasy', which was then performed with typical flair by American flautist Sara Andon. Holland directed two episodes of the show about a corrupt U.S. president in 2015 and two in 2017. Beal said, "If you're in Poland, I'd stay there as the place is being run by someone even worse than Frank Underwood right now."
Jan A.P. Kaczmarek contributed a suite of music from three of the films he scored for the director: "Total Eclipse" (1995) with Leonardo DiCaprio (pictured top) as the young poet Arthur Rimbaud; D "Washington Square" (1997) a period drama with Jennifer Jason Leigh based on the Henry James novel; and the priestly drama "The Third Miracle" (1999) starring Ed Harris. Zbigniew Preisner contributed the main themes from Holland's "Europa Europa" (1992), which was nominated for an Oscar for adapted screenplay, and "The Secret Garden" (1992), Holland's adaptation of the early 20th century novel for children by Frances Hodgson Burnett. The music of Kaczmarek and Preisner is so rich and assured that you could listen to it all night.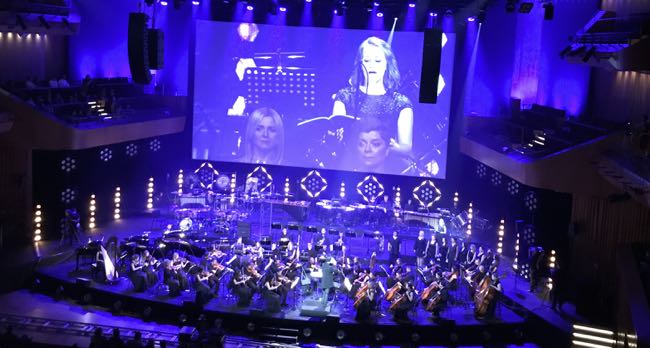 Photos: FMF