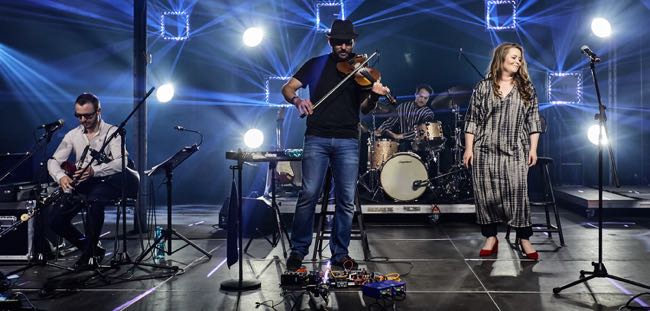 By Ray Bennett
KRAKÓW – Music and songs from Icelandic film and television composer Atli Örvarsson's band Torrek and the movies of Spanish filmmaker Pedro Almodóvar enlivened the night on June 1 in a funk and funk concert called Dance2Cinema: All About Almodóvar | Funk & Folk at Kraków's Museum of Municipal Engineering.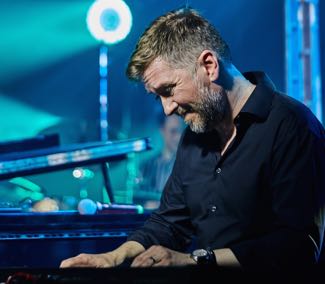 Known for films such as "Season of the Witch" (2011), "The Perfect Guy" (2015), "The Edge of Seventeen" and "The Hitman's Bodyguard" (2017) and the current long-running American television series "Chicago Fire", "Chicago Med" and "Chicago P.D.", Örvarsson founded Torrek after he scored Kevin Macdonald's Romans in Britain adventure"The Eagle" in 2011.
With his sister, singer Hilda Örvarsdóttir, uilleann piper and whistler Flaithrí Neff and his brother, fiddler Eoghan Neff they perform electronica with an exhilarating blend of Celtic and Nordic influences. They released a self-titled album in May 2018 and they have played around the world with percussionist and tabla player Satnam Ramgotra. Örvarsson's upcoming films include two from director David M. Rosenthal – a thriller titled "How it Ends" (2018) and a new version of Adrian Lyne's 1990 horror tale "Jacob's Ladder".
In the first half of the concert, a lively group of Spanish musicians – singer Esther Ovejero, Francis Hernández on piano and synthesizer, Pancho Delgado on guitar, Carlos Perdomo on double bass and Roberto Amor on percussion performed songs from Almodóvar's including "Volver" from the 2006 comedy crime drama of the same name. With music by Carlos Gardel and lyrics by Alfredo Le Pera (as Alfredo La Pera), it is heard in the film sung by Estrella Morente with Montoyita on guitar.

Two songs from the 1991 romantic comedy drama "High Heels" were featured – "Piensa en Mí", written by Agustín Lara and sung in the film by Luz Casal, and "Un Año de Amor" by Gaby Verlor with lyrics Adapted by Almodóvar and performed on the soundtrack by Luz Casal. Jacques Brel's "Ne Me Quitte Pas" is sung in the 1987 thriller "Law of Desire" by Maysa. La Lupe sings C. Curet Alonso's "Puro Teatro" in the 1988 comedy drama "Women on the Verge of a Nervous Breakdown". Written by Ramón Perelló and Juan Mostazo, "La Bien Pagá" is heard sung by Miguel de Molina in the 1984 comedy drama "What Have I Done to Deserve This?"
Lola Beltrán sings "Soy Infeliz" by Ventura Romero (as Ventura Rodríguez in the 1998 comedy drama "Women on the Verge of a Nervous Breakdown". Caetano Veloso  sings Simón Díaz's "Tonada de la Luna Llena" in the 1995 drama "The Flower of My Secret)". Chavela Vargas sings José Alfredo Jiménez's "El Último Trago" in 1995 drama "The Flower of My Secret". There were two songs from the 1993 comedy "Kika" – "Se Nos Rompió el Amor de Tanto Usarlo", written by Manuel Alejandro and Ana Magdalena (as P. Casas Romero) and performed in the film by Fernanda de Utrera and Bernarda de Utrera; and Álvaro Carrillo's "Luz de Luna" sung on the soundtrack by Chavela Vargas. "Sufre como Yo" is from the 1997 drama "Live Flesh" with lyrics by José María Fonollosa (as J.M. Fonollosa) and music by A. Pili Álvarez performed by Albert Pla. Dúo Dinámico sings "Resistiré" by Carlos Toro Montoro (as Carlos Toro) and Manuel de la Calva in the 1989 comedy drama "Tie Me Up! Tie Me Down!".
The concert followed a screening of the 2017 film "Beauty and the Beast" in an FMF4kids family concert to mark International Children's Day. Erik Ochsner conducted the Beethoven Academy Orchestra and Polish Radio Choir with Sylwia Banasik singing the part of Belle and Hubert Zapiór singing the role of the Beast as they performed Alan Menken's score live to picture with songs by Menken with lyricists Howard Ashman and Tim Rice.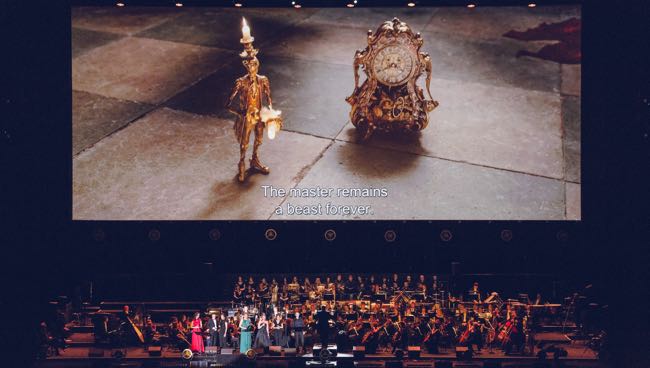 Photos: A Wroblewska (Blackshadowstudio)