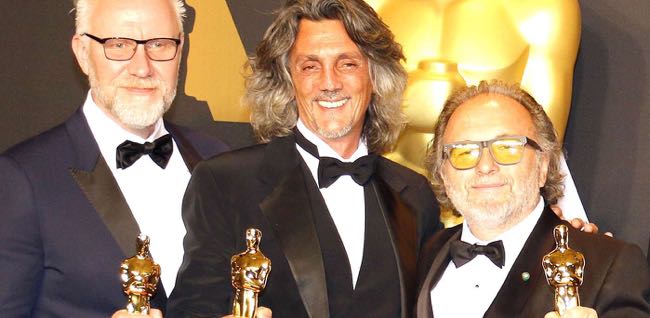 By Ray Bennett
LONDON – The American Motion Picture Academy has made a foolish error by introducing a condescending award for popular films. The thinking appears to be that fans of blockbuster action, super-hero and animated films will flock to watch if their favourites get a mention. It's the wrong move.
What these fans want to see are stars, not awards. Many of the box-office champions are nominated for Oscars every year but almost invariably for crafts such as cinematography, special-effects, editing, costumes and make-up.
Since 2000, The 'Lord of the Rings' franchise won many awards and other winners include 'The Incredibles', 'Spider-Man 2', 'The Chronicles of Narnia: The Lion, the Witch and the Wardrobe', 'King Kong', 'Pirates of the Caribbean: Dead Man's Chest', 'The Golden Compass', 'The Dark Knight', 'Star Trek', 'Alice in Wonderland', 'Skyfall', 'Django Unchained', 'Mad Max: Fury Road', and 'Suicide Squad' (pictured).
Those in the industry and all the guilds know that an Oscar means even more to craftspeople than to the top-line folk both in terms of prestige, future income and reward. Most of them are far more interesting people than actors, writers and directors. Invariably, they are great fun. That is, until they stand in front of millions of viewers and stumble out their almost uniformly dull list of thank-yous.
That is what turns off Hollywood's primary audience today. They should care about the people who provide the thrills they crave but they don't. They want to see their favourite stars and characters. The solution is clear: make it a contractual obligation for the stars of action, super-hero and animated films to accept awards on behalf of the real heroes who make those pictures. Of course, crafts people would scream about it but the consolation could be a spotlight shone on them in the awards-show audience and no pressure to make a stupid acceptance speech. They would always be able to boast of their Oscars and that's the main thing.
Makeup artists Christopher Allen Nelson, Giorgio Gregorini and Alessandro Bertolazzi, winners of the award for Makeup and Hairstyling for 'Suicide Squad'. (Photo by PopularImages)