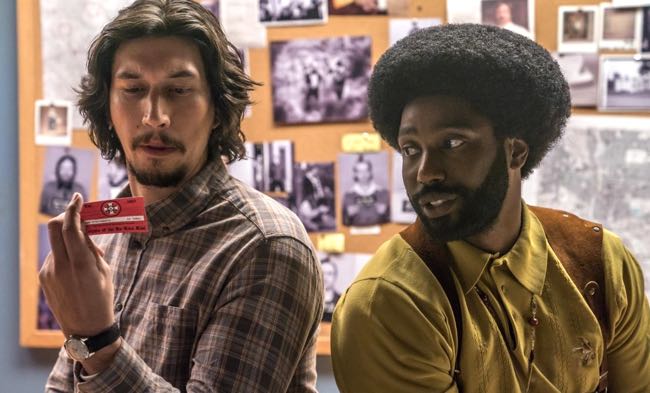 By Ray Bennett
LONDON – Passionate and provocative but also at times great fun, Spike Lee's new film 'BlacKkKlansman', which opens today in the United Kingdom, tells an only slightly exaggerated true story about a black cop who infiltrated the white supremacist group in the 1970s.
John David Washington plays an ambitious young officer named Stallworth in the Colorado Springs Police Department who is encouraged to believe he can penetrate the local chapter of the KKK after he engages the laughably named Grand Wizard, David Duke, on the telephone. He convinces the police chief that in combination with a white detective named Zimmerman (played by Adam Driver, with Washington above) they can go undercover to learn what activities the group has locally.
Lee follows the pair as the scam develops with Stallworth on the phone to Duke and the local leaders and Zimmerman impersonating him at meetings. Stallworth also goes undercover within the local African-American organisations inspired by activist Kwama Ture (formerly Stokely Carmichael). There, he meets a young woman named Patrice (Laura Harrier, with Washington below), suggestive of the era's activist Angela Davis. Washington and Driver work very well together and Harrier has a strong presence while Topher Grace plays it straight as Duke.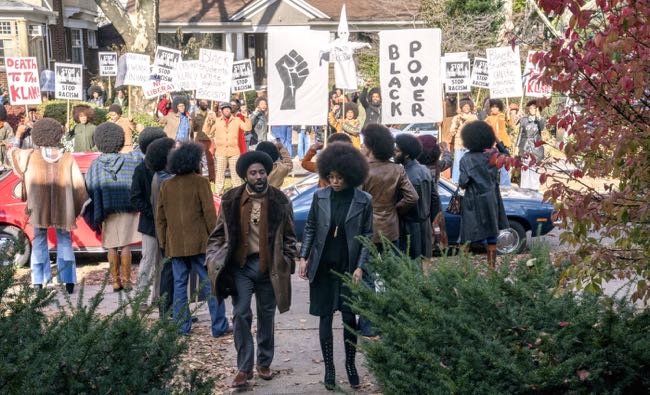 Shot on 35mm film, the picture resonates as a 1970s production with fine work by production designer Curt Beech, art direction by Marci Mudd, set decoration by Cathy T. Marshall, and costumes by Marci Rodgers. Cinematographer Chayse Irvin captures it all sublimely and Terence Blanchard's musical score nails the period and all the varying tones of the script by Charlie Wachtel, David Rabinowitz, Kevin Willmot and director Lee based on Stalloworth's book.
The obscenities of the white supremacists are mocked mercilessly in the scenes in which Stallworth talks to the Grand Wizard on the phone and there are several small victories through the story although Lee illustrates vividly that the hatred has not gone anywhere. A climactic sequence shows a meeting of the young black activists at which an elderly man – played movingly by Harry Belafonte – tells how long ago he could only watch while his best friend was beaten, lynched, torn apart and burned by crazed Klan members. Lee cross-cuts this with a Klan meeting in which new members are inducted followed by a screening of D. W. Griffith's frothing-at-the mouth depiction of Klan activity in the 1915 epic 'Birth of a Nation'.
The sequence has the danger of suggesting some kind of equivalence between the two groups as each leads to chants of seeking power, but the horrifying story of the lynching emerges so emphatically against the pitiful braying of the white racists that it forms a direct assault on President Trump's assertion following the recent events at Charlottesville that there were "fine people on both sides". Lee destroys Trump and his bigotry and ends his film with scenes from Charlottesville to ram his point home.
Release date: UK: Aug. 24 (Universal Pictures); Director: Spike Lee; writers Charlie Wachtel, David Rabinowitz, Kevin Willmott, Spike Lee; Director of photography: Chayse Irvin; Production designer: Curt Beech; music: Terence Blanchard; editing: Barry Alexander Brown; costumes: Marci Rodgers; Producers: Jason Blum, Spike Lee, Raymond Mansfield, Sean McKittrick, Jordan Peele, Shaun Redick; Executive producers: Marcel A. Brown, Matthew A. Cherry, Edward H. Hamm Jr., Win Rosenfeld; UK rating: 15; running time 135 mins.