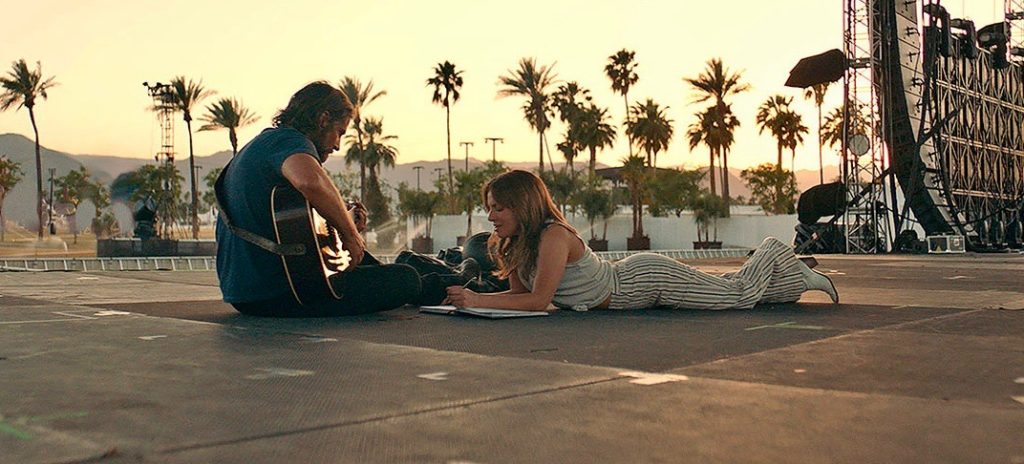 By Ray Bennett
TORONTO – Enjoyment of Bradley Cooper's reimagined 'A Star is Born' depends almost entirely on having a taste for the singing of Lady Gaga. Her many fans will surely love it. For those less enamoured, probably not. She sings a lot in the film, which is a retelling of a yarn that has always had difficulty drumming up sympathy for its protagonists, one star on the way up, the other on the way down.
Fredric March, in the 1937 original with Janet Gaynor , and James Mason, in the 1954 remake with Judy Garland, were both great actors who could make any role plausible. Kris Kristofferson in the 1976 version with Barbra Streisand and Cooper now with Lady Gaga, not so much. The director and co-star makes it a love story with both characters a motherless child in need of love and protection. He plays a bluesy country-rock superstar named Jackson Maine who manages to play intricate guitar riffs while being five sheets to the wind on gin and pills.
Drunk after a gig, he stumbles into a bar in a nowhere part of town which happens to have the most interesting characters in the film, a group of very polished drag queens, who are soon left behind. One performer in the bar is an actual woman, Lady Gaga as Ally, whose ambitions to be a singer-songwriter, she later explains, have been stymied by a prominent proboscis. When she sings 'La Vie En Rose' she captivates the suddenly sober Jackson Maine and he is instantly smitten. The problem is that while the performance should be magical, Lady Gaga powers it out sounding less like Edith Piaf than Ethel Merman.
Nevertheless, it sets Maine and Ally on a course that will lead to her becoming a huge success even as his drinking and drug taking start to take him down. The transitions are abrupt and the romance adolescent as jealousy soon arises with complaints of "Why aren't I enough for you?" Money is never mentioned and there's no sign of Maine still having a recording contract, which is odd as he continues to pack stadiums for his gigs. As a result, a glutinous British talent manager and producer named Rex (Ravi Gavin) steps in and immediately begins to style our budding Carole King as a super-styled pop singer along the lines of, say, Lady Gaga. Her veteran lover takes umbrage at this and given his wayward habits, it won't be long before he does something to ruin things. His ultimate humiliating transgression, however, is laughably lame given the atrocious things that rock stars have gotten away with over the years.
Cooper can be a pretty good actor when Jennifer Lawrence is around but for a dissolute drunk his character looks pretty damned good despite his careless beard, lank hair and growly voice that adds up to a poor imitation of Jeff Bridges. Lady Gaga is pleasant when she's not singing but when she does it's as if she were auditioning for Simon Cowell as she cranks her voice up past the X factor to XI. Maine's numbers are generic country rock and her songs, obviously, are a matter of taste. Cinematographer Matthew Libatique keeps everything nice and shiny and editor Jay Cassidy makes sure the camera never captures Maine's guitar fretwork. It's not a terrible film; it's just not very good.
Released: UK: Oct. 3 / US: Oct. 5 (Warner Bros.); Cast: Lady Gaga, Bradley Cooper. Sam Elliott, Andrew Dice Clay, Rafi Gavron, Anthony Ramos, Dave Chappelle, Ron Rifkin; Director: Bradley Cooper; Director of photography: Matthew Libatique; Production designer: Karen Murphy; Editor: Jay Cassidy; Costumes: Erin Benach; Producers: Bradley Cooper, Bill Gerber, Lynette Howell Taylor, Jon Peters, Todd Phillips; Executive producers: Basil Iwanyk, Sue Kroll, Ninja Kuykendall, Ravi Mehta, Heather Parry, Michael Rapino; Production: Live Nation Productions; Rated: UK: 15 / US: R; running time, 135 minutes