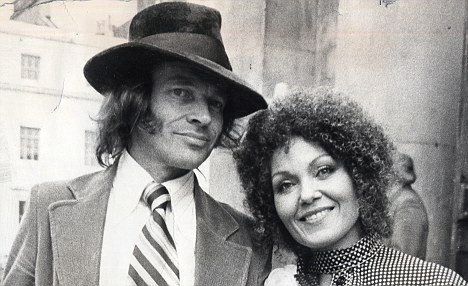 By Ray Bennett
LONDON – It was lunchtime at the Hotel Pontchartrain  in Detroit and things were getting a bit silly. Cleo Laine, who turns 95 today, was talking about Kurt Weill and the Berliner Ensemble when someone mentioned Monty Python and soon she was giggling over her Dover Sole. We swapped favourite lines and it took a while before we got back to talking about the reason she was on tour in the United States.
It was one day in January in 1976 and I was at lunch with the singer, her husband jazzman John Dankworth and comedian Jimmy Edwards. Although they were household names in the United Kingdom, they had never met before so I suggested the meeting. Edwards was appearing in the farce 'Big Bad Mouse' at the Fisher Theatre with Eric Sykes, who would have joined us but for a bad cold.
Edwards died in 1988, Dankworth in 2010 and Sykes in 2012. Dame Cleo Laine turns 91 today. She and Dankworth had performed in Detroit several times and they always found time for lunch. That time with Edwards was notable not least because Edwards added a comic touch to proceedings but because Laine was making her long overdue American theatre debut in the Brecht-Weill musical 'The Seven Deadly Sins'.
The laughter at lunch was a perfect example of the lady's free-wheeling taste, which allowed her to record an album of Schoenburg songs at the same time as she's singing a Spike Milligan bit about a man with two many tonsils. She first sang in the U.S. in 1971 and instantly won a cult following. Jazz critic Leonard Feather called her 'the greatest all-round singer in the world'. She started singing as a child and sang with the Dankworth band until they married in 1958 when she thought it wiser not to continue. 
Dankworth continued as one of Britain's most successful jazz musicians and composers with many movie scores such as 'The Knack; 'Modesty Blaise' and 'The Knack'. Cleo went on to great success as a recording artist, not least with the 1976 album 'Porgy & Bess' with Ray Charles. She performed internationally and did a lot of work in the theatre including an acclaimed production of 'Show Boat'. I asked why it had taken her so long to do a musical in the U.S.
'Things just didn't fall together," she said in her deep, expressive voice. 'I could have come over but doing what? For a long time, the Beatles dominated everything and all that was happening was rock and roll. It was the wrong time for me. I could have come over and done cabaret but if you do that, what do you do next?' The answer was 'The Seven Deadly Sins', which she had performed at the Edinburgh Festival, Sadlers Wells and Leeds. A 40-minute piece, it follows a devilish girl named Anna, portrayed in Detroit by dancer Mary Hinkson, who encounters temptation wherever she goes. Cleo played her conscience. 'She wants to get out there and have all the fun and I have to tell her to stop,' said Cleo.
Fortunately, Cleo Laine never stopped having all the fun and she has continued to make records and appear on stage for most of her long life. She starred in 'A Little Night Music' and 'The Merry Widow', Dankworth's musical 'Colette', on Broadway in 'The Mystery of Edwin Drood' and in Los Angeles in 'Into the Woods'. In England, she and Dankworth ran a non-profit music organisation out of the converted stables at their Buckinghamshire home. 'We call it the 'all music' plan,' she said. 'That's sort of ambitious but it's what we believe in. I'd hate to be stamped in one mould. I like to do all kinds of music."