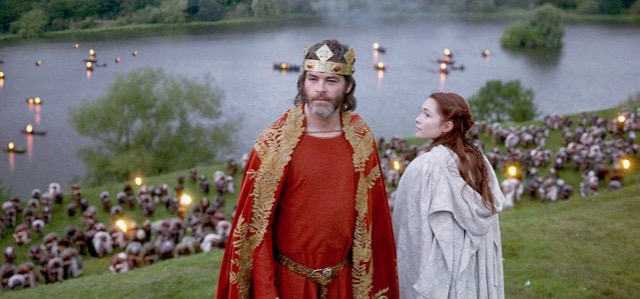 By Ray Bennett
TORONTO – Chris Pine keeps his Scots burr soft and believable in 'Outlaw/King', the saga of Robert the Bruce, the 14th century leader who succeeded where William (Braveheart) Wallace failed in uniting the Scottish clans to fight the English.
It's a rousing adventure with several battles, a warm love story, and glorious settings filmed across Scotland. The title onscreen is 'Outlaw/King' although it's not shown on posters or promotional material. The distinction is subtle but important as it conveys the point that Robert is not an outlaw king but a man seen by different people in different ways. He is a king and he is an outlaw.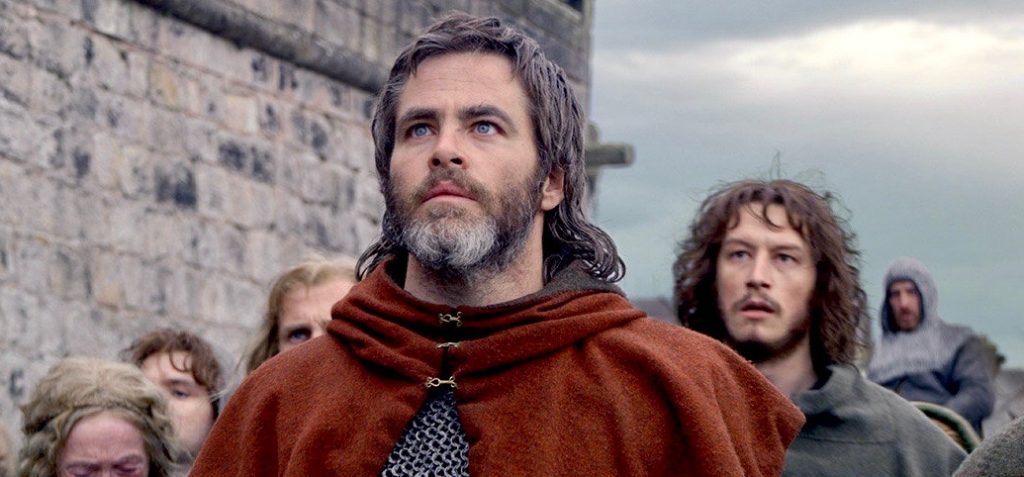 Scottish director David Mackenzie ('Hell or High Water') keeps things relatively plausible with fine contributions from Stephen Dillane as Edward I, Aaron Taylor-Johnson as the mad-as-hell Scottish rebel Douglas, and Florence Pugh as Robert's at first unwanted but then beloved bride. It's a big picture that deserves to be seen at cinemas so it's a very good thing that Netflix has released it to theatres, at least in the U.K., via Curzon Artificial Eye, otherwise it would just be an expensive TV movie.
Wallace makes a brief appearance looking very scruffy compared to Mel Gibson's depiction and events follow his demise with the Scottish clans typically fighting over patches of land and adherence to various faiths and myths. Pine is every bit the movie star laird of the land and both his vocal delivery and movement allow him to carry the picture with ease. Dillane makes Edward a more subtle and devious character than Patrick McGoohan's straight-forwardly powerful king in 'Braveheart'. 
Aaron Taylor-Johnson marauds and rages as Robert's extremely angry and violent ally James Douglas and Florence Pugh adds another intelligent performance to her growing list of impressive roles ('Lady Macbeth', 'The Little Drummer Girl'). The conflict is let down somewhat by Billy Howle, who makes the future Edward II a bit too weaselly and psychotic; the pace, which takes its time (Update: the film was cut by 20 minutes for release); and some typical historical fudging. Cinematographer Barry Ackroyd captures the glorious Scottish scenery lavishly, though, and several composers contribute traditional music that sounds authentic.
Screened at the Toronto International Film Festival; Released: UK: Nov. 9 (Curzon Artificial Eye); Streamed on Netflix from Nov. 9; Cast: Chris Pine, Florence Pugh, Stephen Dillane, Aaron Taylor-Johnson, Billy Howle; Director: David Mackenzie; Writers: Bathsheba Doran, David Mackenzie, James Macinnes; Director of photography: Barry Ackroyd; Production designer: Donald Graham Burt; Editor: Jake Roberts; Costume designer: Jane Petrie; Producer: Gillian Berrie; Executive producers: Richard Brown, Steve Golin, Stan Wlodkowski; Production: Sigma Films, Anonymous Content, Clockwork Sessions; Rating: UK: 18 / US: R; running time: 137 minutes at TIFF; 121 minutes on release.