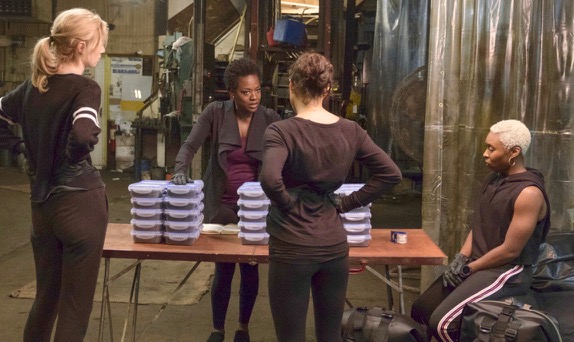 By Ray Bennett
TORONTO – Forget the shallow glitz of 'Ocean's 8', the women in Steve McQueen's full-of-surprises caper movie 'Widow' really mean business. The British filmmaker ('Hunger', '2 Years a Slave') brings his serious view of the world to an escapist drama and it is all the more entertaining for that.
Oscar-winner Viola Davis (facing in the picture above) steps up to a leading role and she carries the film with aplomb in the role of Veronica, a woman whose life is turned upside down when a heist goes wrong and her husband, a professional thief, is killed along with his henchmen. Also gone is the money they were trying to steal and Veronica becomes the target of attempts by assorted villains to recover it with her life on the line. When she discovers detailed plans made by her late husband for another robbery, she rounds up the other gangster widows to pull it off.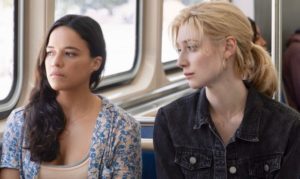 Michelle Rodriguez, Elizabeth Debicki (pictured left) and Cynthia Erivo (with Davis below) play the other women and the foursome become a formidable outfit in the face of obstacles not only from criminals but also crooked cops and politicians. Drawn from a 1983 British miniseries written by Lynda La Plante ('Prime Suspect'), with a script by Gillian Flynn ('Gone Girl') and McQueen, the film is a taut, suspenseful and polished drama steeped in reality with many unexpected twists and turns.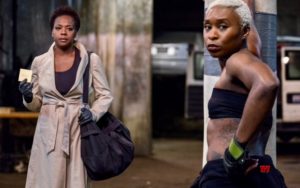 Rodriguez is somewhat underused but Debicki ('The Night Manager') adds steel to her seemingly flighty character and Erivo (left), as a very tough cookie, makes another strong impression following her terrific showing in 'Bad Times at the El Royale'. McQueen has cast some interesting men for them to play against including Liam Neeson as Veronica's husband, Colin Farrell as a political chancer and Robert Duvall as his bombastic father. With the setting moved to Chicago, cinematographer Sean Bobbitt and production designer Adam Stockhausen make full use of the gritty locations and composer Hans Zimmer's score is lean and sinewy to match. 
Screened at the Toronto International Film Festival; Released: UK: Nov. 6 (Fox) / US: Nov. 16 (Fox). Cast: Viola Davis, Michelle Rodriguez, Elizabeth Debicki, Cynthia Erivo, Colin Farrell, Brian Tyree Henry, Daniel Kaluuya, Jacki Weaver, Garret Dillahunt, Carrie Coom, Jon Bernthal, Manuel Garcia-Rulfo, Robert Duvall, Liam Neeson; Director: Steve McQueen: Writers: Gillian Flynn, Steve McQueen based on characters created by Lynda La Plante; Director of photography: Sean Bobbit; Production designer: Adam Stockhausen; Music: Hans Zimmer; Editor: Joe Walker; Costume designer: Jenny Eagan; Producers: Iain Canning, Emile Sherman, Steve McQueen, Arnon Milchan; Executive producers: Daniel Battsek, Rodrigo Cortés, Rose Garnett, Matthew Senreich, Bergen Swanson; Production: Regency Enterprises, See-Saw Films, Film4, New Regency Pictures; Rating: UK: 15 / US: R; running time: 128 minutes.