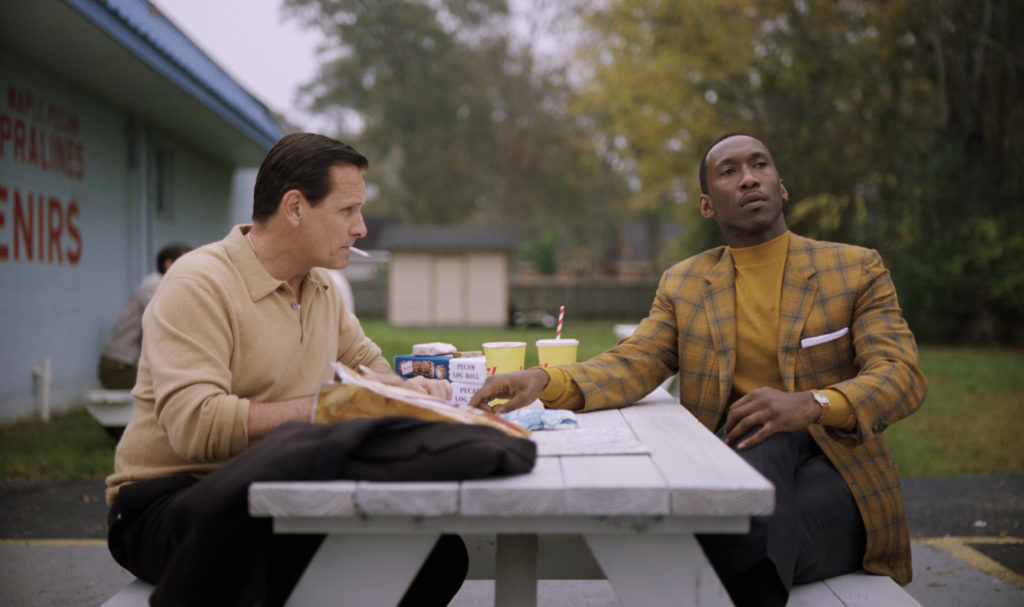 By Ray Bennett
TORONTO – You don't expect gentleness and warmth from one of the Farrelly Brothers but that's exactly what you get in Peter Farrelly's crowd-pleasing fact-based film 'Green Book'. Viggo Mortensen and Mahersaha Ali complement each other as fish out of water not just in each other's company but in the places they visit.
Ali plays the real-life jazz great Don Shirley, a refined, cultured and closeted pianist of the highest rank; so high that his elegant, memento-filled New York apartment is above Carnegie Hall. When he is invited to go on tour in the Deep South, since he is black and it is the 1960s, he wisely decides to take a minder with him. The title refers to a book published at the time that listed places in southern states where African-Americans were welcome. Mortensen plays Tony Vallelonga, known as Tony Lip, a garrulous bouncer at the Copacabana night club who comes well-recommended for being tough, resourceful and honest. He also is a rough-at-the-edges Italian-American with all the attitudes and prejudices you might expect.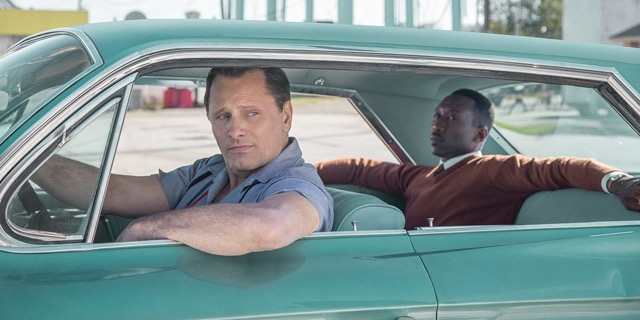 Tony is not interested at first but when the Copa closes for a lengthy period of renovation, he decides that Shirley's offer is too generous to decline so off they set with Tony chattering away, stuffing himself full of food and smoking cigarettes at the wheel while Shirley tries to bite his lip in the rear. There's nothing too surprising in what they encounter as the South becomes Deeper and the racism more overt but the dynamic between the two men is constantly engaging with smart incidents and clever dialogue. If there's an element of 'Driving Miss Daisy' and a few clichés they don't detract from a throughly enjoyable time. (No wonder the film picked up the public vote at the end of TIFF18).
Much different from his Oscar-winning turn in 'Moonlight', Ali is lean, smooth and endearing while Mortensen is overweight, uncouth and endearing; they make a fine odd couple and both should be in the running for awards along with the picture. One of the producers and screenwriters (along with Farrelly and Brian Hayes Currie) is Tony Lip's son Nick Vallelonga and apparently both Tony and Shirley became lifelong friends, so their conflict is treated with great affection, but that's all right. Tony's family fit the stereotype but Linda Cardellini impresses as his wife. All the crafts are fine and Kris Bowers's score hits the mark while music supervisor Tom Wolfe has assembled a sumptuous soundtrack of jazz and classical pieces.
Screened at Toronto International Film Festival; Release dates: US: Nov. 21 (Universal) / UK: Feb.1 (eOne); Cast: Viggo Mortensen, Mahershala Ali, Linda Cardellini, Don Stark, P.J. Byrne, Sebastian Maniscalco, Brian Stepanek, Nick Vallelonga; Director: Peter Farrelly; Writers: Nick Vallelonga, Brian Hayes Currie, Peter Farrelly; Director of photography: Sean Porter; Production designer: Tim Galvin; Music: Kris Bowers; Editor: Patrick J. Don Vito; Costume designer: Betsy Heimann; Producers: Jim Burke, Brian Hayes Currie, Peter Farrelly, Nick Vallelonga, Charles B. Wessler; Executive producers: Steven Farneth, Jonathan King, Kwame Parker, John Sloss, Octavia Spencer; Production: Participant Media, DreamWorks, Amblin Partners, Innisfree Pictures, Wessler Entertainment; Rating: US: PG-13 / UK: 12A; running time: 130 minutes