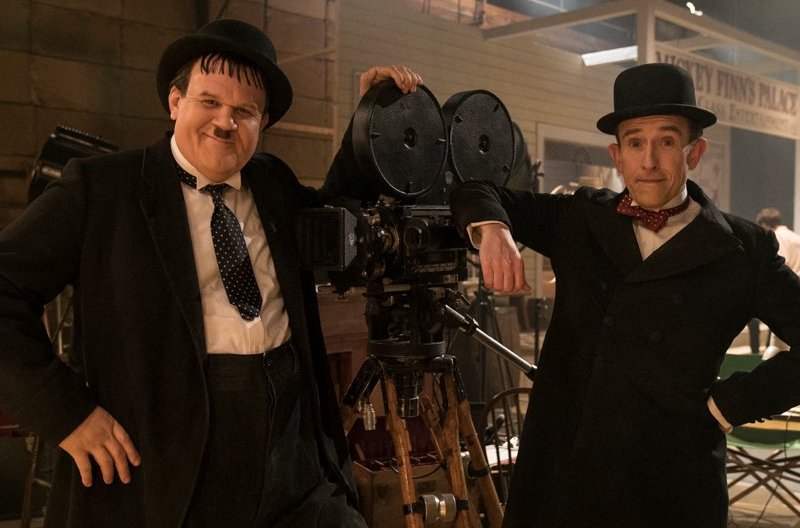 By Ray Bennett
LONDON – Jon S. Baird's 'Stan & Ollie' appears well intended but it has two central problems. One is the decision to portray the great silent comics Stan Laurel and Oliver Hardy as sad clowns and the other is the impossibility of anyone matching their unique genius.
The film wallows in the impression that the iconic stars of the silent era had to suffer humiliation on tour in 1950s Britain, booked into second-rate venues and forced to stay at third-rate hotels. It is true that their movie career was over by that point and they had to turn to live performances to make money as, unlike other silent comedians like Charlie Chaplin and Harold Lloyd, they did not own their films.
Their post-World War II tours of Europe were hugely successful, however, and they were mobbed everywhere they went. Their last British tour suffered because both men became seriously ill. In the film, Laurel is trying to get backing for a spoof of Robin Hood but actually he had failed at that in the late Forties. It's a shame that the film resorts to the Martin & Lewis theme of partners who secretly despise one another as there is nothing to suggest that was true.
Beyond bending the truth, however, is the simple impossibility of imitating great comedians. To impersonate other famous figures is relatively easy. Cate Blanchett as Katharine Hepburn, Kate Winslet as Joan Crawford, Jamie Foxx as Ray Charles are all convincing as are Gary Oldman as Winston Churchill, Eddie Redmayne as Stephen Hawking and Christian Bale as Dick Cheney.
Several gave it a great shot but no one has succeeded as a great comic, not Geoffrey Rush as Peter Sellers, Robert Downey Jr. as Charlie Chaplin, Rhys Ifans as Peter Cook, David Walliams as Frankie Howerd, and not even Jim Carrey as Andy Kaufman. In 'Stan & Ollie', John C. Reilly as Oliver Hardy and Steve Coogan as Stan Laurel also try hard and it's not their fault that they simply cannot do it. 
Their makeup is good and things are fine when they're not doing comedy but it's when they try that it goes wrong. Stan and Ollie's original silly little dance in 'Way Out West' is charming and hilarious; in the new film it's just two odd-looking blokes prancing about. Laurel devised new gags for their stage shows. It's likely they could spin comedy gold from an in-and-out of doors sketch or one with Oliver in a hospital bed, a hoist on one leg in a cast, while Stan visits and proceeds to peel and eat a hard-boiled egg. In the film, not so much. 
Released: Dec. 28 2018 (Sony Pictures Classics)) / Jan. 11 2019 (Entertainment One); Cast: John C. Reilly, Steve Coogan, Shirley Henderson, Nina Arianda; Danny Huston; Rufus Jones; Richard Cant; John Henshaw; Director: Jon S. Baird; Writer: Jeff Pope; Director of photography: Laurie Rose; Production designer: John Paul Kelly; Music: Rolfe Kent; Costume designer: Guy Speranza; Producer: Faye Ward; Executive producer: Kate Fasulo, Christine Langan, Xavier Marchand, Joe Oppenheimer, Eugenio Pérez, Gabrielle Tana; Production: Entertainment One, BBC Films, Fable Pictures, Laurel and Hardy Feature Productions, Sonesta Films; Rating: UK/US: PG; running time 97 minutes