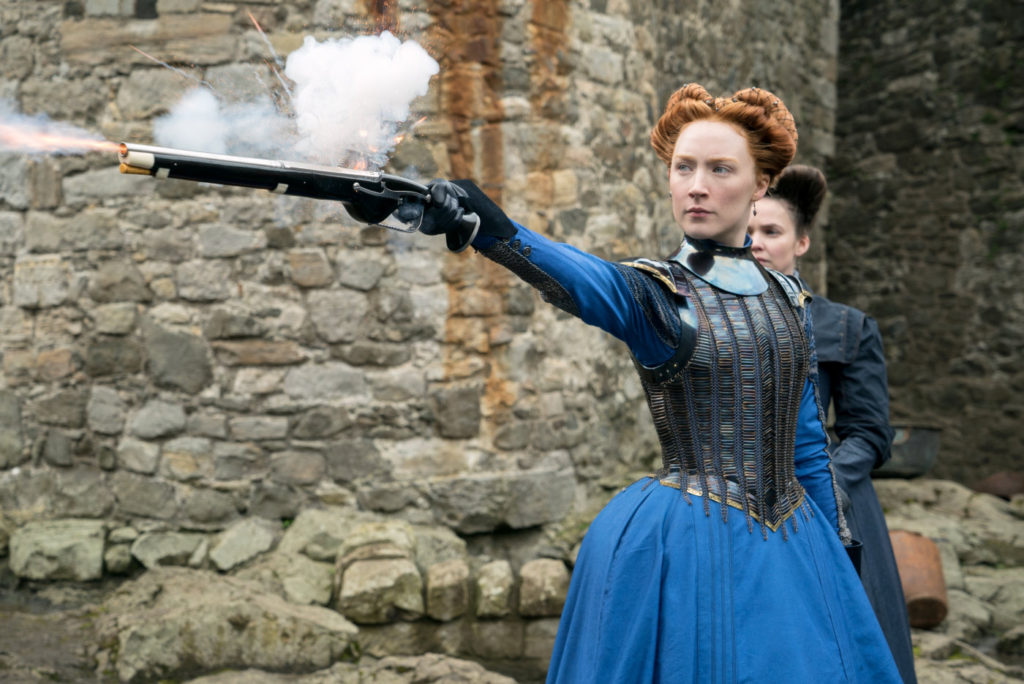 By Ray Bennett
LONDON – Josie Rourke's pedestrian costume saga 'Mary Queen of Scots' offers a revisionist and modernist view of the would-be monarch who threatened Elizabeth I's reign and was executed aged 44 in 1587 but it fails to convince.
Based on the 2004 history ''Queen of Scots: The True Life of Mary Stuart' by John Guy, it argues that Mary Stuart, the only surviving daughter of James V who became Queen of Scotland as an infant, had a greater claim to the English throne and would have made a better queen than Elizabeth. Writer Beau Willimon's screenplay even has Elizabeth agree with that assessment.
The film touches on the very serious issue of the French Catholics who backed Mary and sought to end the Reformation in England but it focuses on the personal conflict between Elizabeth and Mary and their different personalities. Mary is strong-willed, independent and wise while Elizabeth is lonely, isolated and anxious and both of them take on duplicitous and ruthless men. Mary takes her pleasures and husbands hungrily and is fertile while stilted Elizabeth is desperate to conceive but cannot find a match.
Saiorse Ronan (top) plays Mary as a bright and imaginative young woman with a very strange accent that slips from Irish to Scots even though Mary grew up in France. Margot Robbie (below) is Elizabeth, her face painted white to obscure pox marks, and the Australian actress strives distractingly for posh Received Pronunciation.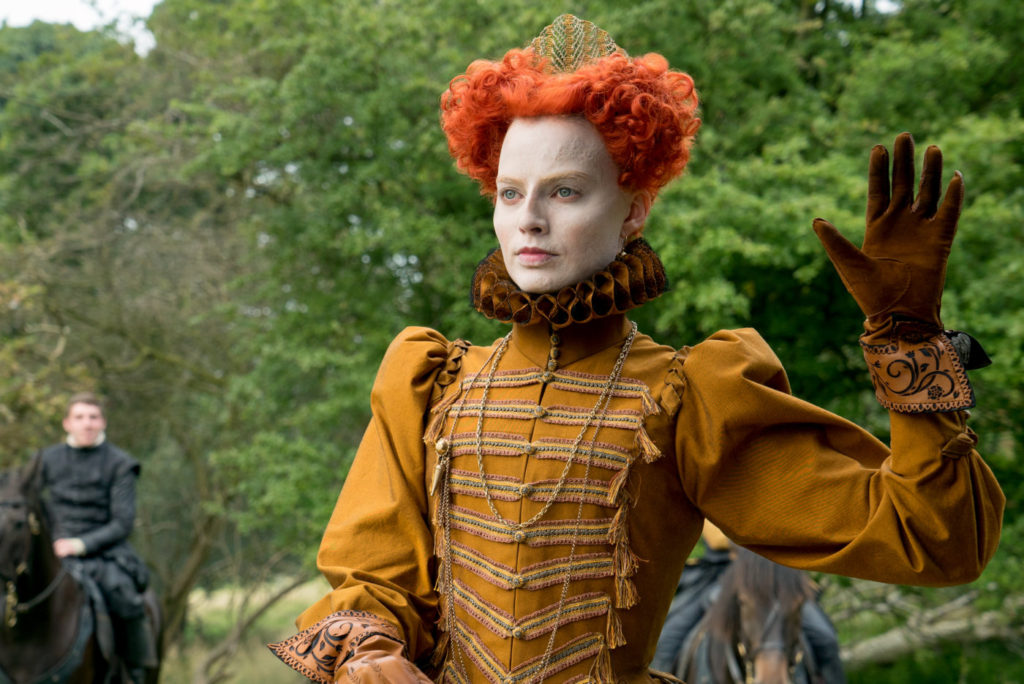 The cast features good actors such as Guy Pearce, Joe Alwyn, Martin Compston, Brendan Coyle and James McArdle, and they are all fine if colourless. Jack Lowden plays Mary's second husband Lord Darnley as a weakling and a chancer and David Tennant pops up every so often to rant and rave as the Protestant cleric John Knox. Max Richter's score is efficient but unmemorable.
With many debates and arguments and dull battle sequences, the staging and framing by first-time director Rourke, artistic director of London's Donmar Warehouse theatre company, lack cinematic power.
Like Charles Jarrott, who directed the 1971 'Mary, Queen of Scots' starring Vanessa Redgrave as Mary and Glenda Jackson as Elizabeth, Rourke is unable to resist contriving a meeting between the two that never happened. Coming towards the end of the picture, this scene is staged in a large room with strange billowing curtains. Despite wearing the crown, Elizabeth appears anxious and intimidated and Mary swans about as if she expects everyone to bow down to her will. Sadly, the young woman appears almost delusional in her arrogance, which cannot have been the filmmakers' intent.
Released: UK: Jan. 18 2019 (Universal Pictures) / US: Dec. 21 2018 (Focus Features); Cast: Saiorse Ronan, Margot Robbie, Guy Pearce; Jack Lowden; Joe Alwyn; David Tennant; Director: Josie Rourke; Writer: Beau Willimon, based on 'Queen of Scots: The True Life of Mary Stuart' by John Guy; Director of photography: John Mathieson; Production designer: James Merifield; Music: Max Richter; Editor: Chris Dickens; Costume designer: Alexandra Byrne; Producers: Tim Bevan, Eric Fellner, Debra Hayward; Production: Focus Features, Perfect World Pictures, Working Title Films; Rating: UK: 15 / US: R; running time: 124 minutes