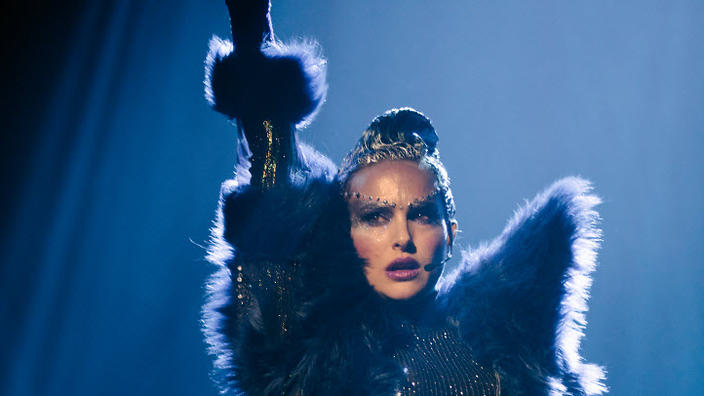 By Ray Bennett
TORONTO – Just as in 'Jackie' two years ago, Natalie Portman gives a scintillating performance of a driven and complicated woman in a not very successful picture. Director and screenwriter Brady Corbet's 'Vox Lux', which opens today in the United Kingdom, tells of a pop superstar named Celeste who survived a mass murder as a teenager, is a bit of a mess but even though she enters the picture late, Portman is mesmerising.
Corbet takes aim at fame in the picture and ties it to the kind of shattering events that change lives forever. With a patronising voice over by Willem Dafoe, the story unfolds in labeled chapters starting with a harrowing school shooting in 2001 that, while badly wounded, the teenaged Celeste (Raffey Cassidy) survives. To aid with her recovery, she and her older sister Ellie (Stacy Martin) write a song that Celeste performs in a church service. A recording of it is posted on the internet and results in instant fame as she becomes a pop sensation.
Cut to 2017 and Celeste is a full-blown pop diva, a tough and brassy superstar with a broad New York accent plus a drink and drugs habit that has contributed to a scandal over her response to a driving incident and visual links to an act of terrorism. With her career in jeopardy, she sets out to launch a new album with a concert back where the  school shooting took place. The potential for disaster is made worse due to her difficult relationship with her teenaged daughter (also played by Raffey Cassidy, pictured with Portman left), the sister she bullies and her demanding manager (Jude Law).
Portman does for Celeste what she did for Jackie Kennedy and turns her into a dynamic confusion of brilliant talent, outrage, arrogance and fragile vulnerability. Whether it's family, management, the press or fans, she faces every challenge with ferocity. In a better film, she would be a shoo-in for awards and Raffey Cassidy, with two similar roles to play, would be right there with her. As it is, between some riveting scenes, the film lags with sequences that barely make sense. A bizarre score by Scott Walker adds to the dislocation and the original songs provided by Sia are merely generic pop. Cinematographer Lol Crawley, production designer Sam Lisenco and costume designer Keri Langerman, though, make it all look good. The production numbers are staged vividly and Portman delivers magnificently.
Screened at the Toronto International Film Festival. Released: US Dec. 7 (Neon) / UK: TBA 2019; Cast: Natalie Portman; Jude Law; Raffey Cassidy; Stacy Martin; Jennifer Ehle; Natasha Romanova; Writer, director: Brady Corbet; Director of photography: Lol Crawley; Production designer: Sam Lisenco; Music: Scott Walker; Editor: Matthew Hannam; Costume designer: Keri Langerman; Producers: D.J. Gugenheim, Andrew Lauren, David Litvak, Michel Litvak, Robert Salerno, Gary Michael Walters, Brian Young; Executive producers: Mark Gillespie, Jude Law, Svetlana Metkina, Natalie Portman; Production: Killer Films, Andrew Lauren Productions, Bold Films; Rating: US: R; Running time: 110 minutes