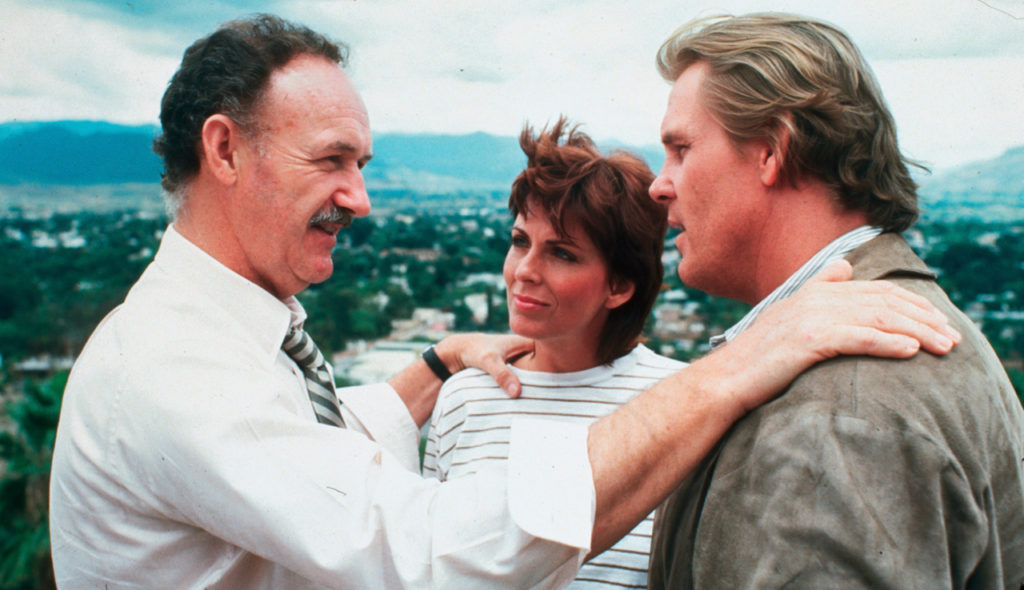 By Ray Bennett
LONDON – Great news! Roger Spottiswood's excellent  1983 political thriller 'Under Fire' starring Nick Nolte, Gene Hackman, Joanna Cassidy,  Ed Harris and Jean-Louis Trintignant is out today on Blu-ray Disc in the U.K. from Eureka Entertainment.
The film, which deals with reporters covering the Sandinista rebellion in Nicaragua in 1979, ranks amongst the finest movies set in Latin American countries subject to dire mischief by American interests. Other top-liners are Oliver Stone's 'Salvador' (1986) starring James Woods (music by Georges Delarue) and Costa-Gavras's  two, 'State of Siege' (1972), set in Paraguay and starring Yves Montand and Renato Salvatori (music by Vangelis) and 'Missing' (1982) set in Chile and starring Jack Lemmon and Sissy Spacek (music in both by Mikis Theodorakis).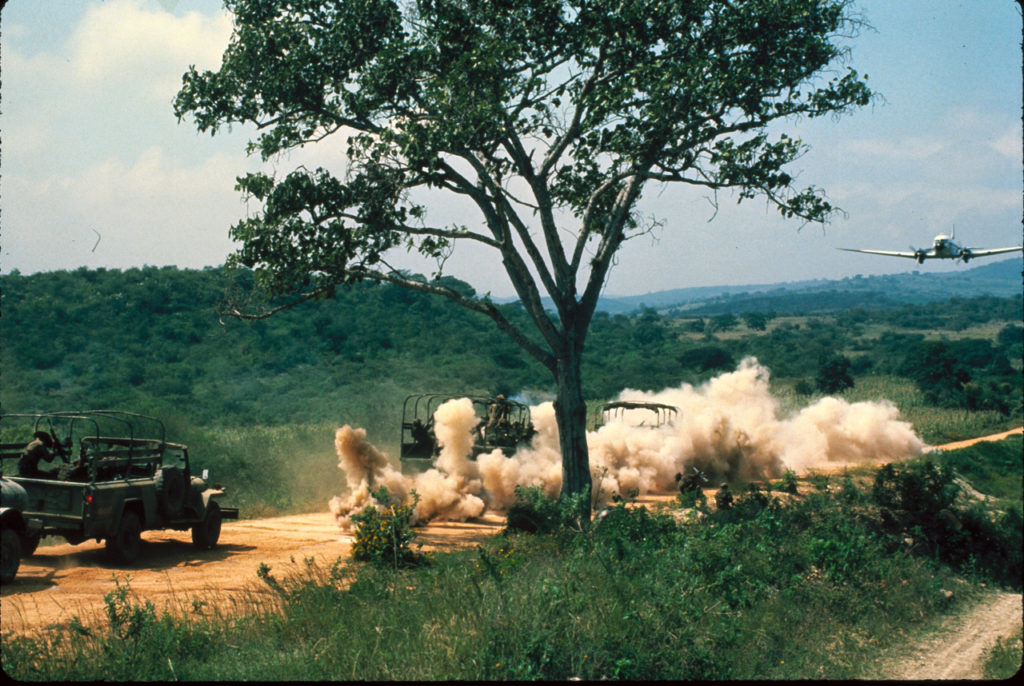 Each film confronts the issues of political subservision in countries beset by dictators and rebels and how unreliable reports are from all sides. The central subject in 'Under Fire' is the role of journalists when they discover criminal wrongdoing and become sympathetic to the oppressed. Photographs play such an important role in reporting and dissembling and both Nolte's fotog and Cassidy's reporter must confront a dilemma compounded by brutal repression by regional powers and callous disregard by American agents.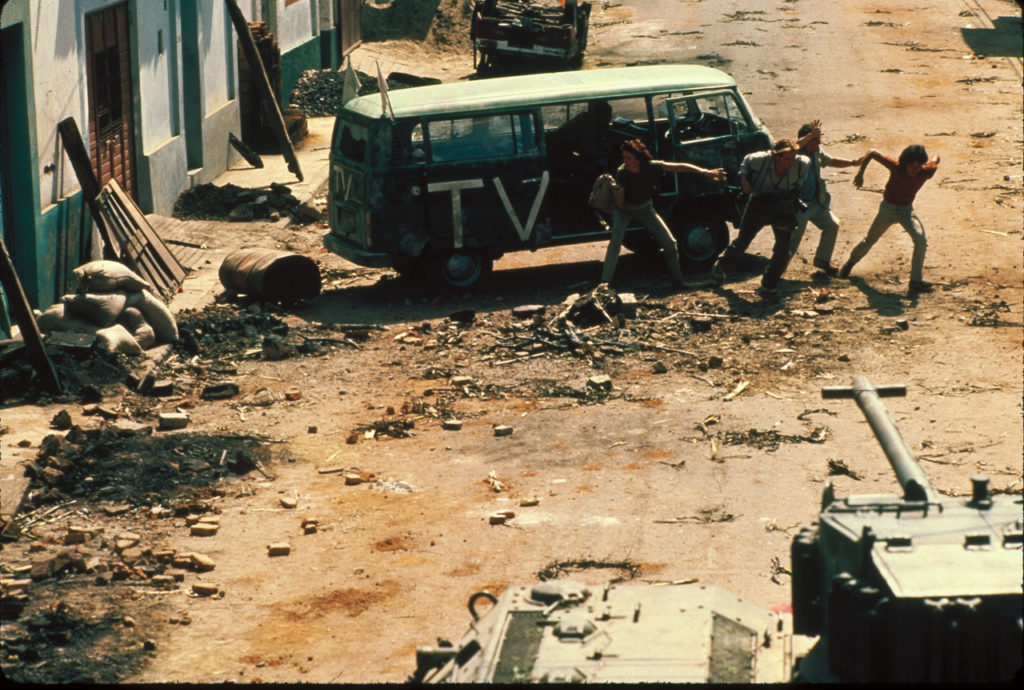 In his 1983 review, which contains too many spoilers to be read before watching the film, he observes correctly that the film "shows us a war in which morality is hard to define and harder to practice'. All five stars deliver naturalistic performances that enhance the credibility of the film and there's plenty of suspenseful action with many thrilling sequences.
Roger Spottiswood, now 74, is a Canadian film director who co-wrote Walter Hill's '48hrs' (1982) and directed a pretty good drama about CIA's dirty dealings during the Vietnam War, 'Air America' (1990) with Mel Gibson and Robert Downey Jr. and a not bad James Bond picture, 'Tomorrow Never Dies' (1997) with Pierce Brosnan. 'Under Fire' is by far his best film.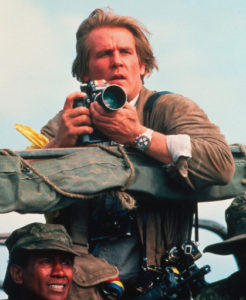 Nick Nolte (left), a vastly underrated actor with terrific performances in films such as 'Cannery Row' (1982), '48Hrs.' (1082), 'Q&A' (1990), 'Cape Fear' (1991), 'Mulholland Falls' (1996), 'The Good Thief' (2002),  plays a news photographer who hops from war zones in Africa to Central America to Africa. Joanna Cassidy (below right), who should have been a major movie star after this film and 'Blade Runner' (1982) but who has had a long and distinguished TV career in shows such as 'Six Feet Under', 'Call Me Fitz', 'Odd Mom Out' and 'Too Old to Die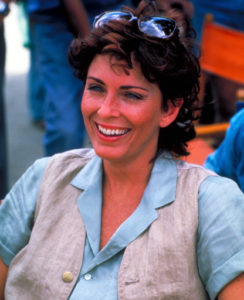 Young', plays a resourceful radio reporter. Double Oscar-winner Gene Hackman, whose stellar films are too numerous to mention, is a seasoned senior television reporter with dreams of becoming a network anchorman. A romantic triangle between the three adds to the tension.
The also underrated Ed Harris (below left)  – 'The Right Stuff' 1983, 'The Rock' 1996, 'The Truman Show' 1998, 'Apaloosa' 2008, TV's 'Westworld' – is a ruthless mercenary who also hops around doing dirty work on whichever side the CIA decides to support next. Jean-Louis Trintignant ('A Man and a Woman'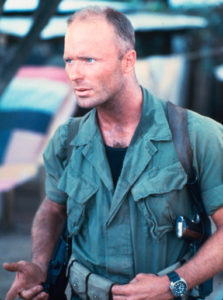 1966, 'The Conformist' 1970, 'Amour' (2013) plays a French gunrunner and all-round meddler in troubled affairs.
Scripted by Clayton Frohman ('Defiance' 2008) and Ron Shelton 'Bull Durham' 1996, 'Tin Cup' (1998), the film is shot by cinematographer John Alcott ('A Clockwork Orange' 1971 with an Oscar for 'Barry Lyndon' 1975 and features an outstanding score by Oscar-winner Jerry Goldsmith ('Patton' 1970, 'Chinatown' 1974, 'The Wind and the Lion' 1974, 'Star Trek: The Motion Picture' 1979, 'L.A. Confidential' 1997, with an Oscar for 'The Omen' 1976). Goldsmith received the 14th of his 18 Academy Award nominations for his score, which features soloist Pat Metheny on guitar. The soundtrack is on Warner Bros.