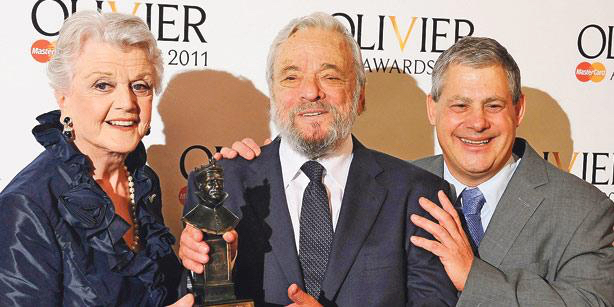 By Ray Bennett
It wasn't only Broadway that Stephen Sondheim loved. In London in 2011 to mark his 80th birthday, the Tony Award-winning composer and lyricist who has died aged 91, accepted a Special Laurence Olivier Award for his outstanding contribution to the stage. 'I want to talk about the contribution British theatre has made to me,' he said. 'I am so grateful.' 
He listed a string of productions including 'A Funny Thing Happened On the Way To the Forum', 'Follies', 'Into the Woods', 'Sunday in the Park with George', 'Passion', 'Assassins', and 'Sweeney Todd'.
Presenting his award at the Theatre Royal Drury Lane were Angela Lansbury, who starred on Broadway in 'A Little Night Music' and 'Sweeney Todd', and British theatre mogul Cameron Mackintosh (pictured above with Lansbury), who produced 'Follies' in London and in 2019 renamed Queen's, one of his venues on Shaftesbury Avenue, the Sondheim Theatre. 
Mackintosh sat with Sondheim on stage as Lansbury sang the nostalgic number 'Liaisons' from 'A Little Night Music' and the three-hour production ended with a massed choir of theatre students who sang 'Our Time' from 'Merrily We Roll Along'.
Speaking to reporters afterwards, Sondheim said that he treasured what he called 'the fresh eye' of British directors. 'Having your work re-imagined is what makes theater immortal,' he said.
Sondheiim's distaste for critics was well-known but in 2012 he accepted the U.K. Critics' Circle Award for Distinguished Services to the Arts. Friendly and approachable, he noted drily that he had some affection for the London critics because they had given him his first decent reviews. The presentation took place during a luncheon at the theatrical venue still named the Menier Chocolate Factory after its previous occupants in London's East End. Maria Friedman, who won the Olivier Award for best actress in a Musical in 1997 for 'Passion', performed several Sondheim songs.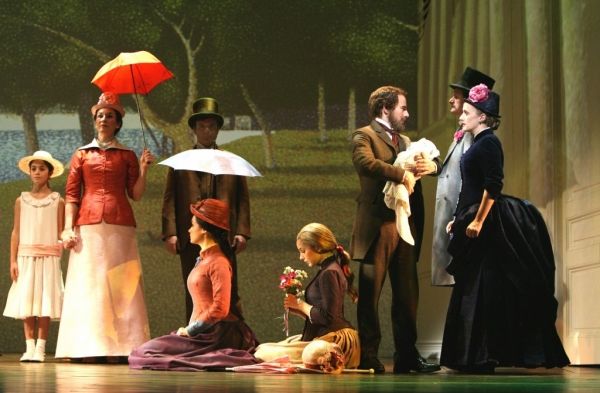 The setting was appropriate because in 2006 the Menier company's production of 'Sunday in the Park With George' (pictured) was impeccable. Directed by Sam Buntrock, it revealed the true beauties of a difficult show and fulfilled  Sondheim's ambition to meld his music with the artistry of Georges Seurat's sublime paintings.
Caroline Humphries' musical direction was sharpness itself while the singing was glorious. Daniel Evans, as an artist who marched to a different drummer but led a solitary life, delivered some of Sondheim's most inventive lyrics masterfully. Jenna Russell, as the beautiful but neglected Dot used a northern English an accent that gave a deeper resonance to words such as 'Sunday'.
It remains the finest stage musical that I've seen, and I've seen plenty. It went on deservedly to be a West End and Broadway triumph.