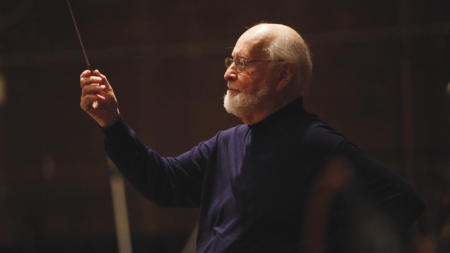 By Ray Bennett
LONDON – In 2000, John Williams, who turns 90 today, was named 'Maestro of the Year' at ShoWest in Las Vegas. He agreed to an interview with The Hollywood Reporter tied to that with one proviso. He wanted me to the interview. 
I had spoken to a great many top film composers including Jerry Goldsmith, Elmer Bernstein, John Barry, Randy Newman, Lalo Schifrin, Maurice Jarre, Dave Grusin, James Newton Howard and James Horner for The Hollywood Reporter's Film & TV Music Specials in Los Angeles. 
In 1998, I moved back to London to be the trade's European Bureau Chief but I remained involved in the film music community covering MIDEN in Cannes and the World Soundtrack Awards in Gent.
My friend Jon Burlingame, dean of film music writers in Hollywood,  had done so many good interviews with the composer that I knew I had to come up with an original approach. Research showed me what I had to do: not talk aboout Steven Spielberg. Over a lengthy telephone interview, I asked Williams about all the other directors he'd worked with over his extraordinary career including William Wyler, Gene Kelly, Frank Sinatra and Robert Altman. 
Williams, rightly, is regarded as the preeminent film composer admired for his rich themes and inspired melodies. Oscar-winning composer Randy Newman told me why in simple terms. Everything a film composer does, he noted, is designed to make the picture look better, to make a love scene work better. 'I've seen love scenes without music and they don't appear to even like each other,' he said. 'Music can trick people. You see "Star Wars" without the music and you see the cardboard. With Johnny's music there, it's something else.'
You can read excerpts from my interview here 'John Williams on Sinatra, Gene Kelly, and Hitchcock' (https://thecliffedge.com/?p=4402). Inevitably, I did ask about his long collaboration with Spielberg and you can read what he said here 'John Williams never takes Steven Spielberg for granted' (https://thecliffedge.com/?p=3049). Jon Burlingame's fine piece on Williams for his 90th birthday is here: https://variety.com/2022/artisans/news/john-williams-turns-90-celebrating-1235172996/