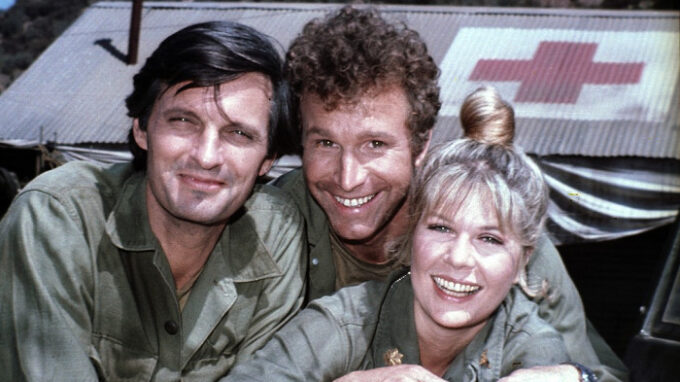 By Ray Bennett
LONDON – Loretta Swit, who turns 85 today, is regarded fondly for playing 'Hot Lips' Houlihan in 'M*A*S*H' on TV for eleven years but life on that show wasn't always easy for her. It was a struggle for a woman to be heard in the midst of an otherwise all-male cast dominated by Alan Alda.
'I've had to fight for the growth and development of my character,' she said when I interviewed her in 1981. At first on 'M*A*S*H', as in Robert Altman's movie (in which Hot Lips was played by Sally Kellerman), Houlihan lived up to her nickname. She panted for the married Maj. Frank Burns (Larry Linville) and suffered mightily at the hands of pranksters Hawkeye Pierce (Alda) and Trapper John (Wayne Rogers, pictured above)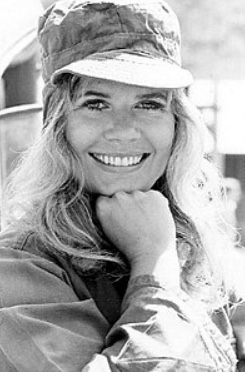 It took time before there was a general raising of consciousness and after Linville left in the fifth year, Hot Lips cooled down. It was in Swit's nature to look on the bright side of things but she agreed that life on the show wasn't always tranquil. 'Nothing simmers on the set,' she insisted. 'If we have something that needs to be straightened out, we have a little cubicle off to the side where we work on our lines. We stop shooting and go in there and work out the problem. There's never been a big problem. There's never been a horrendous thing that couldn't be worked out.'
Harry Morgan, who played Col. Sherman T. Potter from Season 4 onwards, tended to disagree. 'There are a lot of strong characters around here and they're all men,' he told me. 'It's been kind of difficult for her.' 
Mike Farrell, who played Capt. BJ Hunnicutt from Season 4, agreed with Morgan. 'It's fairly clear that she's felt herself outnumbered at times,' he told me. 'Because of her nature, she's less of a take-charge type and in meetings she doesn't come on as strong as Alan Alda, for example.' 
Swit told me she never contemplated quitting the show even when two others in the cast departed after Season 3  – Wayne Rogers and  Mclean Stevenson, who played Lt. Col. Henry Blake. Linville left after the fifth and Gary Burghoff, who played Radar (as he had in the movie), quit after Season 8.. 
'Wayne left for very legitimate reasons,' Swit told me. 'He was not getting enough screen time. He wasn't being exploited fully and he knew it. I thought it was a good move for him. I can't say McLean's move was invalid – he wanted to be in his own show – but when he was leaving, he said to me, "I know I'll never be in anything as good as this again but I simply have to try. I have to go out there and be No. 1." Larry felt that after five years he'd done Maj. Burns as much as he could. And Gary felt that he'd done everything he possibly could with Radar.'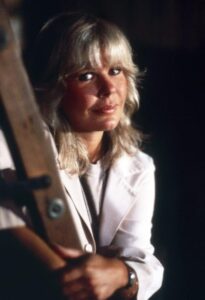 Executive Producer Burt Metcalfe told me the changes in Houlihan's character were the result of mutual agreement. 'We were as interested in changing her as Loretta was. She began as a kind of sex-crazed military martinet. When Larry Linville left, we felt we couldn't keep playing that same one note so we began to soften her and show more humanity, as we've done with a number of other characters.'
Even so, Swit's screen time began to dwindle and she said she wasn't sad that 'M*A*S*H' was ending. 'Ten seasons are plenty,' she said. 'I'm ready to wind up now. I really think it's time. We may have said everything we need to say or have to say. It is a very hard act to follow. If I do decide to do another series, it will have to be as interesting, as human and as caring. I don't know whether I'll find it.'
To her surprise, it looked as if she'd found one right away. On hiatus from 'M*A*S*H' in 1981, she was signed to play Det. Christine Cagney opposite Tyne Daly as Det. Mary Beth Lacey in a TV movie ftitled 'Cagney & Lacy' (pictured below).. 
Shot in Toronto, where I interviewed Swit, it was a hit and Swit was all set to sign on for a full series until the producers of 'M*A*S*H' pulled the plug. They refused to let her go even though that show was nearing its end. 
Swit told me later that she never intended to do the series but Harry Morgan pointed to the fact that she was not very prominent in the last season of 'M*A*S*H'. Noting that the 'Cagney & Lacy' TV-movie got tremendous numbers when it aired on Oct. 8 1981, he said, 'I've no doubt that the spark plug was Loretta. Here, we just finished a script in which she had four or five lines. When you think what you might have done with something like "Cagney" except you're tied to this, it's apt to make you feel a little moody.'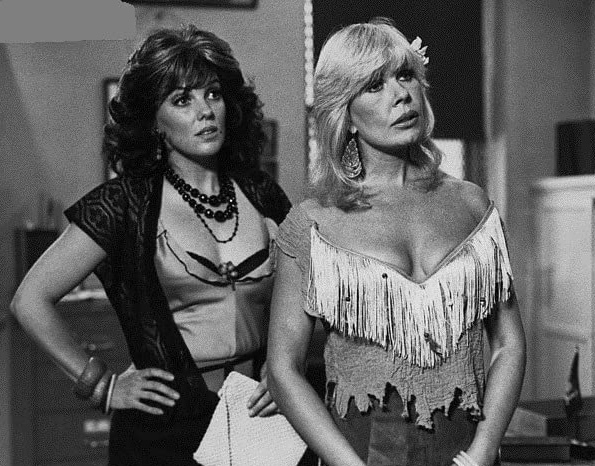 The final episode of 'M*A*S*H' garnered extraordinary ratings in February 1983 and meanwhile 'Cagney & Lacy' had debuted in March 1982 with Daly and Meg Foster as Cagney. The view was there was little chemistry between the two leads and it was cancelled after six months. It came roaring back to life in March 1984 with Daly and Sharon Gless as Cagney. Foster went on to have a great many credits and 'Cagney & Lacy' was a hit for five seasons with Emmy wins for Daly and Gless.
Loretta Swit was nominated for Emmy Awards ten times as outstanding supporting actress in a comedy series for 'M*A*S*H' and won twice. She never found another series but she has numerous credits in TV-movies and shows including 'Murder She Wrote', 'Burke's Law' and 'Diagnosis Murder'.