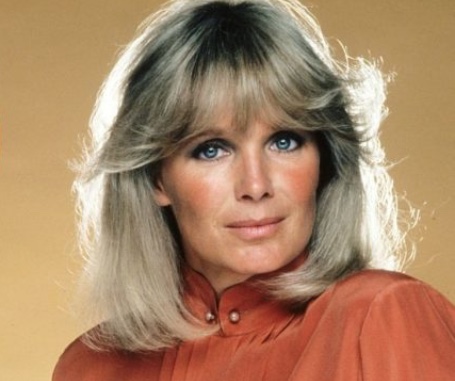 By Ray Bennett
LONDON – On a sunny California day in the early Eighties, I had a long, leisurely lunch with Linda Evans, who turns 80 today, at La Scala on Little Santa Monica Boulevard in Beverly Hills. I was interviewing her for a cover story in Canadian TV Guide about her starring role in the hit TV series 'Dynasty' but we got distracted,
She happened to mention that she was into numerology and offered to run my numbers.  Sceptical but curious, I agreed to it after we'd finished the interview. We were still chatting when we noticed that we were the only ones left in the place aside from the staff. I settled the bill but the waiter said there was no rush so we relaxed with wine still to finish and Linda reminded me about the numerology.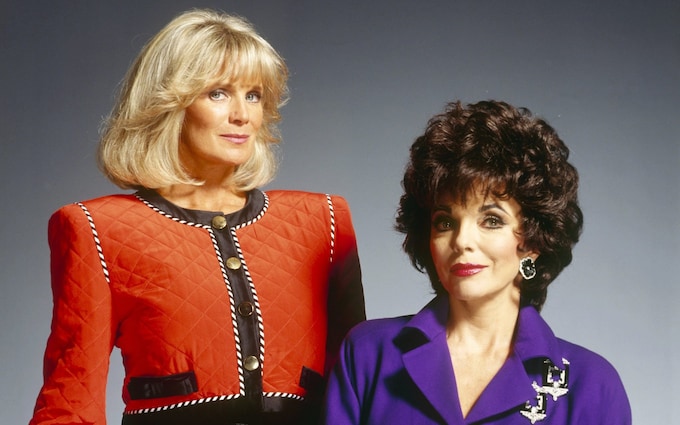 She borrowed my notebook and wrote down my birthdate, the number of letters in my name and a few other things. I sipped my wine enjoying the notion that here I was alone in a fancy restaurant with Krystle Carrington and she was totally occupied with me.
After a while, she told me things about myself that any reasonably attentive and perceptive person could have inferred from our conversation and gave me her verdict. 'You are a writer and you absolutely should do what you do,' she said. 'The only problem is that you stand in your own way. You're ambitious but you won't find success until you get out of your own way.'  Maybe it was her blonde hair, blue eyes and sweet smile but I was happy to take her word for it.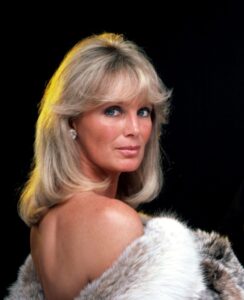 In the sunshine outside La Scala, we waited for the valet to bring our cars. That's when a member of the paparazzi emerged from the shadows and asked to take our picture. Clearly, he thought he'd caught the beautiful TV star in a romantic tryst. Linda had a mischievous smile on her face but she said nothing. I stepped aside but the guy urged me to stand close to her.  Linda laughed and became delightfully flirtatious putting her arm through mine and pulling me close. 
When the fotog was satisfied that he had enough snaps, he asked me for my name. His face fell when I explained that I was a mere reporter doing an interview. The guy walked off disgusted but I would love to have seen those photos. Before we parted, Linda kissed my cheek and said,. 'Remember what I told you.'
Over lunch, Evans said she was very grateful to have found another TV series with a cast and crew that she loved working with. Her first had been 'The Big Valley' with Barbara Stanwyck (below), whom she revered. 
Inspired by 'Dallas', 'Dynasty' followed the misadventures of an oil magnate named Blake Carrington, played by John Forsyth, and his extended family including his wife Krystle, played by Evans. It had debuted on ABC mid-season in January 1981 and, after Joan Collins (pictured above with Evans) joined the cast as vixen Alexis Carrington in the second season, it became a massive hit.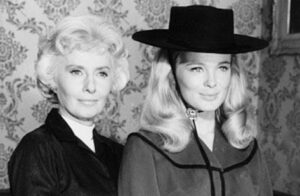 There were almost a dozen performers with running roles but Evans said, 'Normally, it's very hard to get that many actors without personality clashes but we get along just fine.' That included Joan Collins. Rivalry between Krystle and Alexis and their drag-out fights helped drive the show's popularity. Evans was aware that the tabloids claimed Collins was difficult on the set. 'That is so far from the truth,' she said. 'I've known Joan for a long time and we are good friends. She has different sides to her. I think she has a personna that she shows people that's very carefree and charming and amusing. She seems quite able to take care of herself but in real life she is quite sensitive. She's easygoing and basically very pleasant to get along with.'
The actress said she identified with Krystle not least because her character was married to an older man as Evans had been to actor and filmmaker John Derek who had been married previously to Ursula Andress. Derek left Evans after he met 16 year-old Mary Cathleen Collins, later to become Bo Derek (Derek below with Ursula, Linda and Bo)..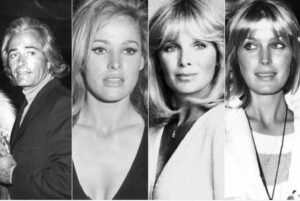 'It's a little scary sometimes,' Evans  said. 'The script will come and I'll see something and think, my god, that happened to me. I've never said a word. There are so many instances that are parallel with my life in the sense of being married to an older man, of changing your life and adjusting to things, relatiionships with step-children, relationships in general.' 
I said I couldn't understand why Krystle stayed with Blake Carrington, who was often callous and abrupt but Evans said, 'Oh, that doesn't seem strange to me at all, isn't that funny? Don't you know people who suffer with each other like that? When you fall in love with somebody, the strange thing about love is that people will endure more pain – mental, physical, emotional – than for any other reason. Nobody wants to be hurt but some relationships put you in that situation.'
Born in Connecticut with Norwegian heritage and raised in Los Angeles, Evans appeared in many TV shows such as 'Harry O', 'The Rockford Files' and 'The Fall Guy' plus feature films including  two with Lee Marvin – 'The Klansman' and 'Avalanche Express' and 'Tom Horn' with Steve McQueen. She retired from screen acting in the Nineties but appeared onstage with Joan Collins in a play titled 'Legends' in 2007.
I ran into her again around that time at the  amfAR charity ball during the Cannes International Film Festival and reminded her of our La Scala lunch twenty years earlier when she ran my numbers. She beamed and turned to her companion. 'See, I told you I used to do numerology.' I didn't tell her that I was still standing in my own way.