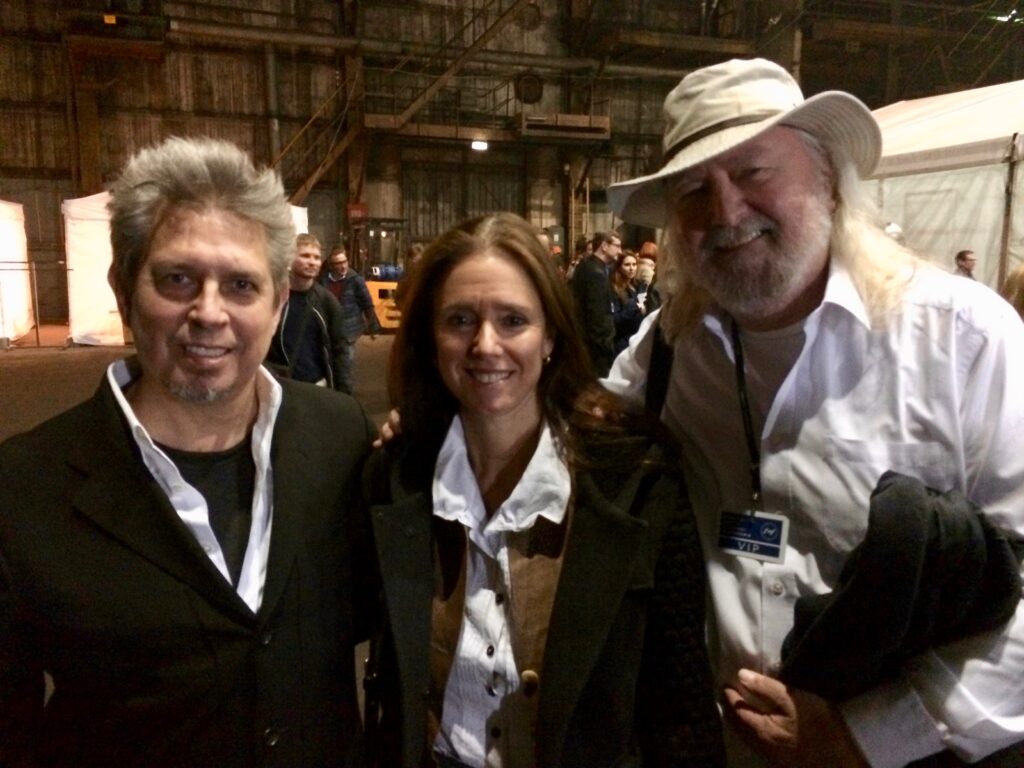 By Ray Bennett
LONDON – Julie Taymor, who turns 70 today, is known best for creating 'The Lion King' among a long list of theatrical productionsi but her films are just as fascinating such as 'Titus', 'Frida', 'The Tempest',' The Glorias' and 'Across the Universe'.
I have been fortunate to spend time with Taymor and her creative and life partner, composer Elliot Goldenthal, in London, Ghent and Krakow (pictured with me above). I spent an afternoon at Abbey Road watching the couple record the score for 'Titus' and I moderated a panel discussion with them at the Krakow Film Music Festival in 2012.
We spoke of many things including the difficulties she faced clearing the rights to Beatles songs for 'Across the Universe' with Paul McCartney and Yoko Ono.
She described sitting alone with McCartney in a screening room. 'It's quiet and then I hear him singing along to one his songs and I knew it would be all right.'
She met John Lennon's widow – 'and her lawyer' – at her home in the Dakota Building. Taymor and Goldenthal had decided that Lennon's song that goes 'I want you, I want you so bad …'  wouldl be perfect for a scene in which the lead character answers Uncle Sam's demand that he must be drafted during the Vietnam War. 
Ono stared at Taymor: 'You know he wrote that about me.'
Still, they got the movie made with the songs they wanted and Taymor said she loved what Goldenthal – and fellow music producers T-Bone Burnett and Teese Gohl – did with the arrangements for the film's stars and assorted guest artists.
Goldenthal explained that he tried to find the 'chromosomes' in each Beatles song for the arrangements. 'If you try to duplicate their sound and you get one chromosome wrong it's a disaster so you must go another way.'
In my review of the film, I said the film was 'a sparkling treat for anyone with an appreciation of how popular music became the soundtrack for so many people's lives'.