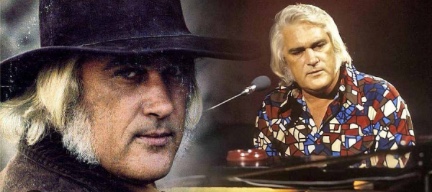 By Ray Bennett
LONDON – Charlie Rich, who was born on this day ninety years ago, was one of the biggest names in country music. His recordings of 'Behind Closed Doors' and 'Most Beautiful Girl' made him an international smash on country and mainstream charts. He won major awards, appeared in Clint Eastwood movies and headlined in Las Vegas.
I came to know him as my father-in-law when I married his eldest daughter, Renée. Charlie was a big man, handsome and imposing, whose impressive white locks had earned him the nickname the Silver Fox. Renée's mother, Margaret Ann, was a gifted writer of songs such as 'Life Has its Little Ups and Downs'. When Renée took me to Tennessee to meet them, they welcomed me into their spacious and elegant home called Foxwood on a few acres of gated land on West Cherry Circle in Memphis.
While I knew Rich as a confident performer, I soon discovered that also he was very shy. Margaret Ann was the gregarious one. Married young, they had barely turned 20 when they had Renée, followed by Allan (Charlie Rich Jr.), Laurie and Jack.
Born in Colt, Arkansas, he was taught the piano by his mother Helen, a church organist, he studied music at university and played in a jazz band with Margaret Ann as the vocalist when he served in the U.S. Air Force. Regarded as the musician's musician, he played piano and sang in honky-tonks and clubs for twenty years before hitting it big.
Charlie had several hits on the country charts and Renée told me that when Kenny O'Dell's song 'Behind Closed Doors' came along, her dad worried that it was too risqué. Producer Billy Sherrill insisted he record it and Renée said 'it was like the ceiling opened and money poured in'.
By the time I met him, Charlie was comfortable and pretty much retired having invested lucratively in Wendy's hamburger restaurant franchises. Long known as a heavy drinker, his preference by then was a little weed but in all the times I saw him, he never touched alcohol. He had sold his airplane, a Vickers 798D Viscount with his Silver Fox logo on the fin, but one of his pilots had taught him how to fly. Proudly, he showed a video of his first solo flight in a single-engine plane.
On July 25, 1995, Charlie Rich died peacefully in his sleep of a blood clot in his lung in a Hammond motel with Margaret Ann beside him. They were in Louisiana to see Allan perform in New Orleans. Charlie hadn't had a drink in years and had seldom looked better.
One of the most appealing things about Charlie Rich was his shyness. Before a concert one night, he confessed to me how nervous he was before every performance. I told him that John Gielgud threw up every time he was about to go on stage and that cheered him up immensely. He and Margaret Ann were very gracious and generous to me but my most treasured recollection of him is of the time he invited me to listen to a jam session in his well-appointed studio called 'the garage' from the early days,
Charlie sat at a piano next to a Hammond organ with a group of Memphis session players on drums, guitar, bass, saxophone and trumpet.  He became popular playing country music but his real loves were jazz and blues. I sat sipping some excellent bourbon, entranced until almost daybreak while he went through extended classics such as 'Bye Bye Blackbird', 'Am I Blue' and 'Mood Indigo'. In 1992, he released a wonderful album based on those sessions called 'Pictures and Paintings'.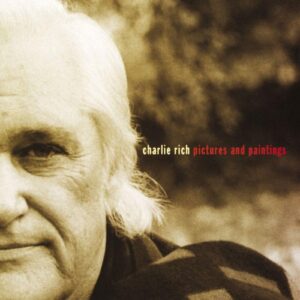 Sam Phillips, the Memphis record producer who discovered Elvis, Johnny Cash, Roy Orbison, Jerry Lee Lewis and Carl Perkins, told me, 'Charlie was the best commercial jazz pianist that I ever heard. He was the most diverse musician I ever worked with.' When Charlie spoke, the sound was of crushed gravel. When he sang, his voice moved Bob Dylan to call him his favourite ballad singer.
Herbie Hancock and Randy Newman both told me how much they admired Charlie especially his piano playing. George Jones saluted him along with Elvis and Jerry Lee Lewis in his paean to country music greats, 'Who's Gonna Fill Their Shoes?' After Kris Kristofferson finished a press conference for a forgettable TV miniseries called 'Amerika', publicists surrounded hiim and tried to rush him away. I called out, 'Hey, Kris, Charlie and Margaret Ann say hello.' He stopped and when he saw who had spoken, he brushed off his handlers and came over to shake my hand. 'Tell 'em hello for me, please,' Kristofferson said. 'I love those guys.'
Charlie grew up with a hard-scrabble sharecropper's view of the world with Mississippi Delta blues in his veins and yet he won success in the world of country music. All he ever wanted to do was sit at the piano and play the sorrowful blues and jazz tunes that moved him although he responded gratefully when audiences clamored to hear his biggest hit, "Behind Closed Doors". In 1973, the song earned him a Grammy for Best Male Country Vocal Performance and in 1998 the track won the Grammy Hall of Fame Award.
Only six artists have won back-to-back Country Music Association (CMA) Best Album of the Year Awards: Johnny Cash, Ronnie Milsap, Garth Brooks, George Strait (twice), Tim McGraw and Charlie Rich. All of those are in the Country Music Hall of Fame except Charlie.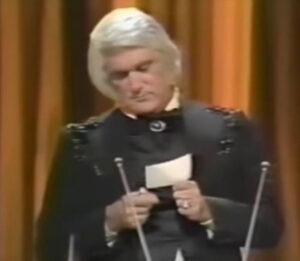 In 1974, he was named CMA Entertainer of the Year.  The following year, he appeared on the awards show to announce his successor. Opening the envelope, he read the name John Denver and, pulling out his Zippo lighter, set fire to the card. Many in the worldwide audience roared their applause, but the Nashville community was outraged and never forgave him.
Rich did not make happy music – he hated it – and what sets him apart from every other country singer is that he never whined in his songs. The best song he ever wrote was "Feel Like Going Home", which has been recorded by innumerable artists and featured in many films and TV shows. It displayed the unvarnished honesty that he brought to his life and to his music.