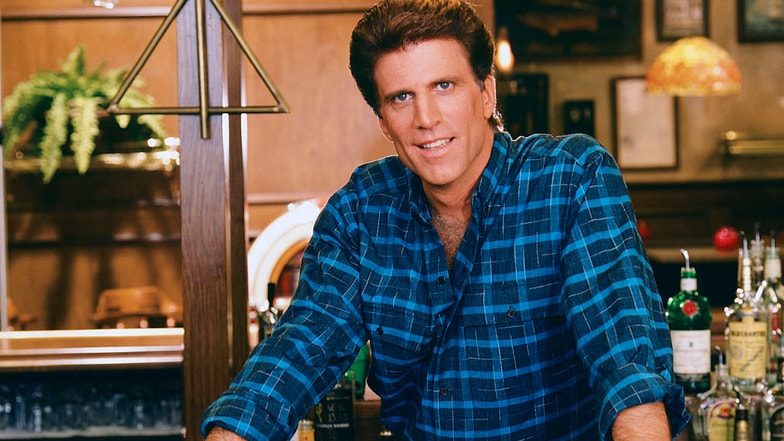 By Ray Bennett
LONDON – Ted Danson, who turns 75 today, has had an astonishingly successful career on television but there was a time when he wanted something else. After his sitcom 'Cheers' became a massive hit in the early Eighties, his dream was to be a big-time movie star.
He had appeared in series TV, made his feature film debut in 'The Onion Field' with John Savage and James Woods and had a decent role in 'Body Heat' with William Hurt and Kathleen Turner.
With 'Cheers' riding high, he told me, 'I was like, oh, please let some movie come along that will make me a big star and I don't have to worry about whether or not I'm going to make it in movies.'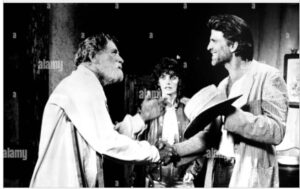 He had leading roles in three pictures – 'Little Treasure' (1885) with Margot Kidder and Burt Lancaster (left), 'Just Between Friends' (1986) with Mary Tyler Moore and Christine Lahti and a Blake Edwards race-track comedy 'A Fine Mess' (1986) with Howie Mandel. They all failed with critics and audiences.
'It was amazing to work with Burt Lancaster but when "Little Treasure' came out, it disappeared. Then "Just Between Friends" and I was, like, Damn! So, please, Mr. Blake Edwards or whoever, please come along. Then "A Fine Mess" and again it was Damn!'
'Cheers' went on to long-running success and Danson put his feature film dreams on hold. Instead, he turned to producing with a TV movie called 'When the Bough Breaks'. Then he went to East Africa to executive produce and star in 'We Are the Children'. He played a cynical but decent photojournalist opposite Ally Sheedy as an idealistic doctor confronted with the extreme poverty of the region.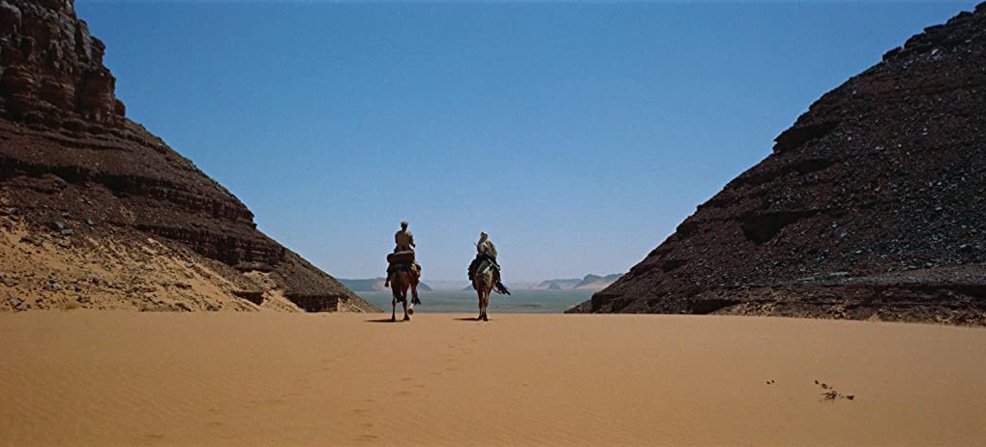 Filming took place in the Kaisuti desert (pictured below), three hundred and fifty miles north of Nairobi, a region inhabited by the Rondilli tribe who had been devastated by famine in 1981.
The experience affected Danson deeply as it reminded him of his youth. His father, Ned Danson, had been director of the Museum and Research Center of Northern Arizona and the actor grew up in the ponderosa playing with kids from the Hopi and Navajo Indian reservations there. 
'It was a powerful cultural, spiritual background of incredible beauty and great friends,' he told me. 'In East Africa, we were in the middle of the desert and I cannot impress upon you too much how remote it was but I've never felt more at peace. I really felt as if I had come home. It was the Hopi times one hundred. It really was like a spiritual experience.'  
Once, in the desert, he was talking to a Rondilli boy old enough to have learned a little English. He was scratching letters on his leg with a twig. 'He asked me what was my name. I said Ted and he wrote it on his leg and stared at it. Then he asked me what it meant. I experienced this sadness, such a loss, over the fact that my name means nothing or, if it does, I'm not aware of it. No matter how you cut it, in the end you're just another white guy from L.A.'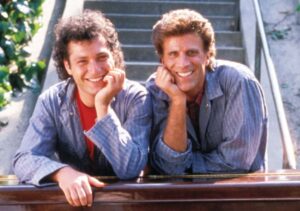 I had spent time on the set of 'A Fine Mess' on location at the Hollywood Race Track in Inglewood, CA. Danson was as you would hope, cheerful and amiable, clowning with Mandel (left), the air rich with the aroma of horse manure and marijuana. 
After my interview with him early in 1987, he had a couple more stabs at a bigscreen career. Joel Schumacher's 'Cousins' with Isabella Rossellini, a remake of the French romantic comedy 'Cousin Cousine', was notable mostly for a great score by the late Angelo Badalamenti. 'Three Men and a Baby' also was based on a French film, 'Trois hommes et un couffin' (Three Men and a Cradle). Directed by Leonard Nimoy, it was the biggest theatrical hit of 1987 but did little to sustain movie careers for Danson or co-star Tom Selleck while Steve Gutenberg continued to muddle along. A sequel, 'Three Men and a Little Lady' came and went. Later, Danson had a small role in 'Saving Private Ryan'
'Cheers' ran for 270 episodes until 1993 and he has had several series since then including 22 episodes of the newspaper sitcom 'Ink', co-starring his wife Mary Steenbergen, whom he had met when they co-starred in a movie called 'Pontiac Moon' in 1994. He played a doctor in 122 episodes of 'Becker' and 14 episodes of 'Help Me Help You'. He was a guest star in 23 episodes of Glenn Close's legal series 'Damagaes' and in 24 editions of Jason Schwartzman's offbeat comedy 'Bored to Death'.
Subsequently, he did 84 episodes of 'CSI: Crime Scene Investigation' and 10 episodes of 'CSI: Cyber', 50 episodes of 'The Good Place' with Kristen Bell and he appeared in 30 editions of Larry David's 'Curb Your Enthusiasm'. Most recently, Danson had the title role in 20 episodes of 'Mr. Mayor', a comedy creaded by '30 Rock' alums Robert Carlock and Tina Fey.
Very few actors can claim the success he has had. Given the parlous state of movies these days, he's been much better off without them.