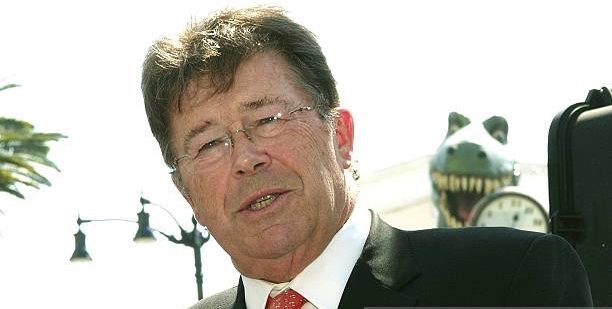 By Ray Bennett
LONDON – I shall always be grateful to Robert J.Dowling, the former publisher and editor-in-chief of The Hollywood Reporter who has died aged 83, because it was thanks to him that for several years I had a job that even legendary Hollywood studio chief Sherry Lansing envied.
As THR's European Arts Critic based in London, I reviewed the finest theatre in the West End, the top music concerts and the best of British television plus movies in England and at international film festivals in Cannes, Berlin, Venice, Locarno, Karlovy Vary, Edinburgh, Galway and once in Rio de Janeiro.
I met former actress Sherry Lansing, who  had been the head of production at Twentieth Century-Fox and CEO of Paramount Pictures, when she and her husband, film director William Friedkin, were guests of honour at the 2009 Locarno International Film Festival. 
Standing outside the grand old Castello Visconti,  they appeared so happy to see someone from Hollywood that they latched on to me immediately. When I described my duties at THR, Lansing grabbed my arm and made sure that I sat next to her when we went inside for a banquet
'Ray, you have the best job in the world,' Lansing told me, clasping my hand.
'Surely not,' I protested. 'You were the most powerful woman in Hollywood. You ran a movie studio. That has to be the best job in the world.' 
'No, no,' she insisted. 'That was all tension and stress. Yours is the best job in the world, believe me.'
She was right and I had Bob Dowling to thank. U.S. President Bill Clinton also had been influential when he signed the family leave bill that allowed male employees to take twelve unpaid weeks off work with health insurance covered and their jobs kept for their return. That allowed Matt King, then managing editor of The Reporter's Special Issues department, to do just that. 
My friend and former Los Angeles Herald Examiner colleague Karen Cusolito was working in Specials and she recommended to Editorial Director Randy Tierney that I would make a good stand-in for three months. Everything went very well and when Matt King returned, Randy and Bob Dowling asked if I wanted to stay on as a senior editor. When Matt was promoted into THR's executive offices, I succeeded him as managing editor.
Once I'd proved myself, Bob gave me freedom to risk controversy with the anniversary issues I edited on topics such as the state of comedy and the increasing amount of screen violence. In one issue, I ran a full page of photos of a wide range of actors, men and women, holding all kinds of deadly weapons. With no words on the page, it made a powerful statement.
Bob was a salesman not a journalist but he knew that good journalism was invaluable. He encouraged us to produce real journalism even in supplements that marked milestones of shows such as reaching one hundred episodes. We didn't just salute them, we examined what they did to get that far so others might learn. 
His view was that even in a celebratory issue, we should tell real stories and, like the best journalism, follow the money. He made a deal with a firm called Competitive Media Reporting to supply us with specific data on how much each Hollywood distributor spent on motion picture advertising in all the various media. I assigned serious and revealing articles on the topic.
We had good response to our specials. After I edited an issue about Steven Spielberg, the filmmaker wrote to Bob to thank everyone involved, naming each of us who'd worked on it. 'What an amazing job you did putting together that issue,' he wrote. 'I've never felt so much affirmation, support and love from this motion picture industry in my entire career. You've actually managed to find new meaning in my favourite word, to 'kvell'. That's a quote from my mother.'
Gene Siskel told me he had been very leery about cooperating for a special issue on a major anniversary of his 'At the Movies' series with Roger Ebert. He feared it would be groveling. 'Instead, it was real journalism, which surprised me,' he said, 'so thank you for that.' Following a 'Producer of the Year' special, Mace Neufeld sent a note to Randy Tierney to say that he had told Dowling 'in the future, in the unlikely event we are ever honored again, we will sleep easily knowing the kind of talent that handles the production of an issue like this'.
I wrote for and edited sections on all aspects of the art, science and craft of filmmaking talking to location scouts, production designers, editors, producers and completion bond specialists. What I loved most were the six music special issues each year, four on scores and songs for films and two on country music. My interest continued after I moved back to England in 1998 to be THR's European Bureau Chief and then as arts critic.
Bluff and genial, Dowling used to ask me discreetly to rewrite his TradeView columns and he was an engaging lunch and dinner companion on his visits to London. 
It amused me on a trip back to Los Angeles when everyone followed Bob's lead in having mineral water. As the token European, I was forgiven for being the only one to order a glass of wine. They didn't know that when Bob and I ate in England, we would enjoy a glass or two of Scotch and share a bottle of wine.
I raise a glass now to a good man.