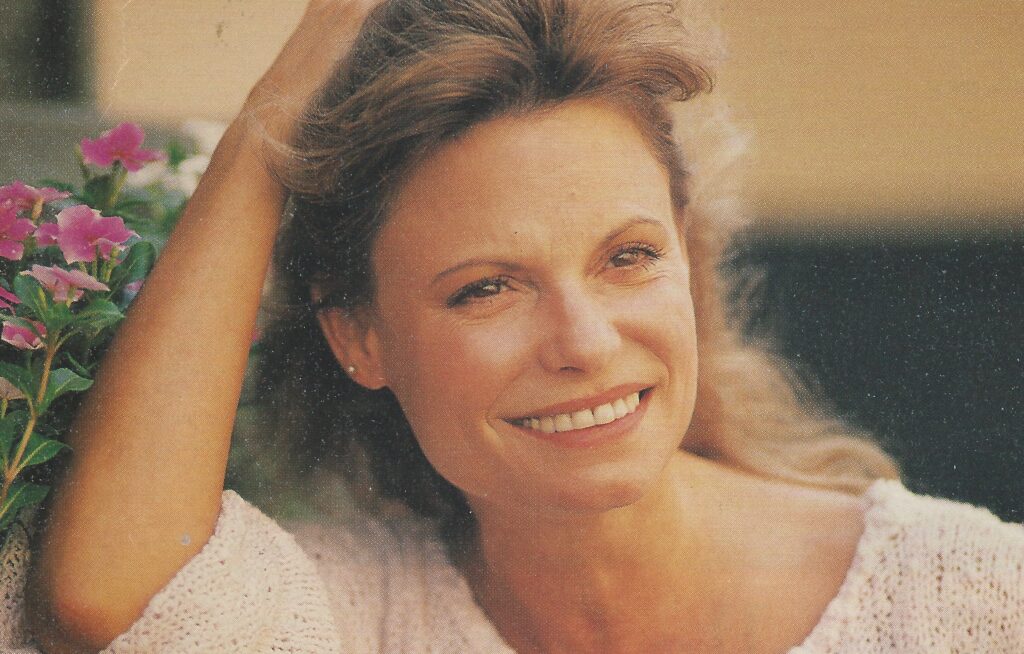 By Ray Bennett
LONDON – American actress Kay Lenz, who turns 70 today, was one of my favourite people when I began visiting Hollywood in the late Seventies.  I first met her at midnight in a bowling alley on Ventura Boulevard in the San Fernando Valley. I was with my pals, showbiz photographer Maureen Donaldson and 'Battlestar Galactica' star Annie Lockhart. Kay was with her then husband, a chap named David Cassidy. The four of them were good friends and I was asked to tag along.
Kay's fame was on the rise thanks to the hit TV miniseries based on Irwin Shaw's novel 'Rich Man, Poor Man' while Cassidy's stardom had waned since he was an international sex symbol on 'The Partridge Family'.  He appeared relaxed about it and they were good company. She was such fun that I invited her to lunch for an interview and her husband didn't appear to mind.
"There's no competition between us,' she told me. 'He was so successful and he's totally behind me. He really wants me to do well.'
Over a leisurely lunch in Hernando's Hideaway in the Beverly Wilshire Hotel, she talked my ear off delightfully about working with big stars such as Clint Eastwood, William Holden, Lee Marvin and Oliver Reed and her marriage to a teen idol.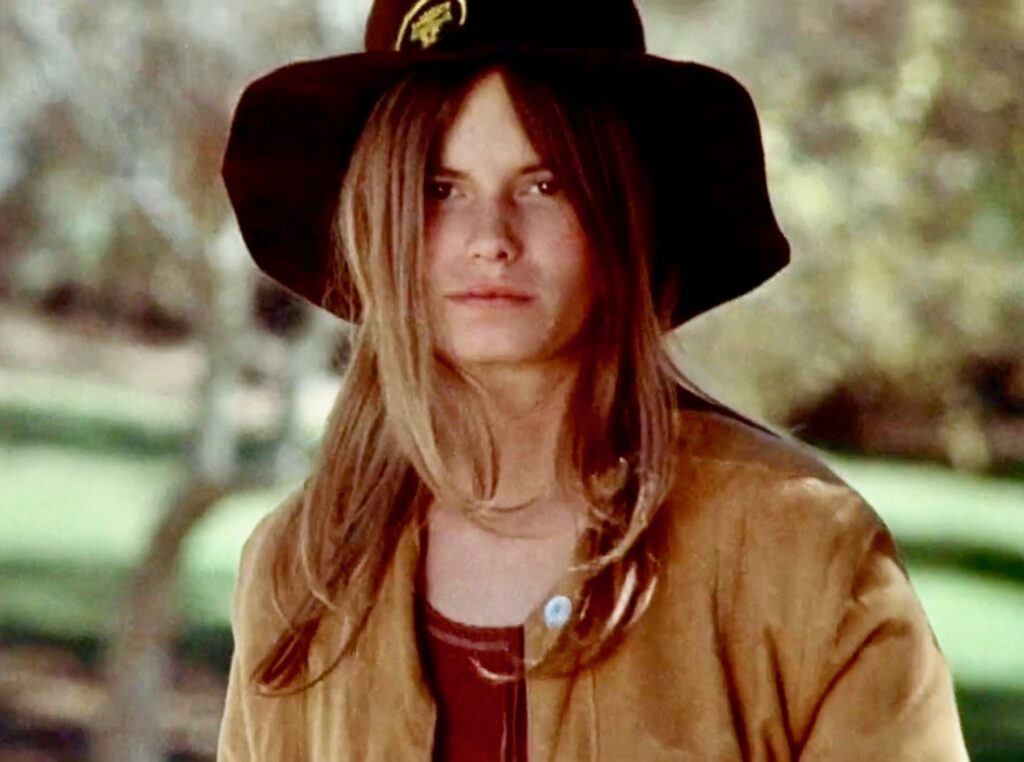 Born in the Valley to parents in the entertainment business, she had started screen work at a young age and was only 19 when Eastwood cast her in his 1973 picture 'Breezy' (photo above), his third outing behind the camera and the first in which he did not star.  The story of a disillusioned middle-aged man whose jaded life is given new spark by a free-spirited teenaged girl, it was what Hollywood used coyly to call a 'May-December' romance. Audrey Hepburn made a bunch of them.
From the 'me too' pespective now, the whole enterprise doesn't bear scrutiny as not only was the leading actor, William Holden, more than thirty years older than Lenz but there was something else.
'When I told my parents about the nude scenes,' she said, 'I thought my father would fly off the handle but it was my mother.'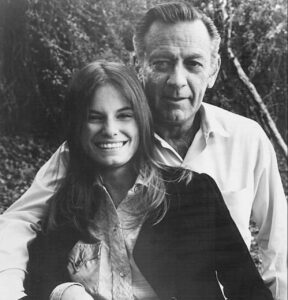 Looking back five years later, Lenz said, 'I was spoiled on my first big film. Clint was kind and sweet and William Holden (left and below) was wonderful. Not everyone in his position, someone who's been around a long time, is like that. I didn't know what I was doing and instead of getting upset with me or griping or bitching, he took the time to show me how to hit my mark without looking for it. Any young person I work with, I'll do the same for them. I'll never forget it.'
Eastwood closed the set for the nude scenes and Lenz said everyone was always very considerate of her feelings. 'I was really nervous,' she admitted, but Holden assured her he'd done it a million times. 'I thought, if he can take his clothes off then so can I. He never took his eyes off my eyes, not once. When Clint said cut, Holden held onto me until someone came with a robe.'
Eastwood showed her the scenes and said if she didn't like them, he wouldn't use them.  'The DP had told me how he was lighting them,' Kay said, 'and they were so soft and beautiful that I did not object.'
Also, Eastwood gave Lenz kill rights on the stills. 'I didn't know to ask for that,' she confessed. 'Playboy called and wanted to do a layout. It was flattering but I couldn't do it. It's not what I was trying to sell or the movie was trying to sell.'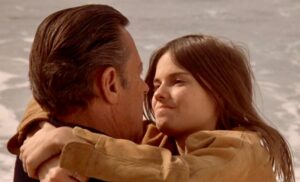 Playboy doubled the money and said she could take the photos and examine them on an expensive two-week vacation but Lenz said no: 'I want to work for the rest of my life. Even after "Breezy", I was never hired for a sexpot role. I'd rather not work for a year.' Eastwood did her another favour. The first key-art posters for the film had only William Holden's name above the title but the director decided tthat since Kay Lenz had the title role her name should be above the title too. 
Then came 'The Great Scout and Cathouse Thursday', a riotous western with Lee Marvin, Robert Culp and Oliver Reed shot on location in Durango, Mexico.
'That was a trip,' Lenz said. 'I heard such stories about Marvin and Reed (below), the director Don Taylor had a legend of his own, Strother Martin even. All these guys were alcoholics and very macho men. I was scared to death. You can't hang with Lee Marvin and Oliver Reed unless you want to get into a big drinking contest. Robert Culp had his wife there so he kept to himself. They had a house but it was difficult in Durango since Sam Peckinpah filmed "The Wild Bunch" there. He rented all these beautiful houses and threw parties with donkeys, cows and sheep. The houses were always destroyed so it was hard to rent homes because of Peckinpah's reputation and here come Oliver Reed and Lee Marvin. Lee stayed in the Peckinpah suite in the hotel and we ate in the restaurant there most of the time.'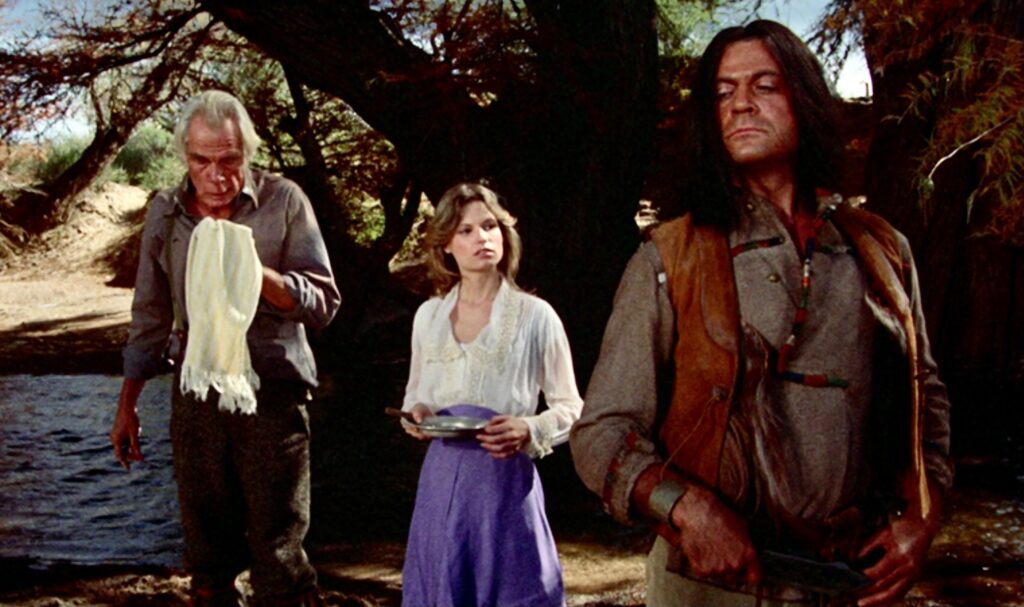 She said it was very hard for her the first three weeks as she was the only girl there. 'They all talked about the boy's club. I went, aargh! Shit, what am I going to do here for two months, I can't live like this. Then, thank God, Elizabeth Ashley got there. Elizabeth gets there and it's like, what's this boy's club shit? Screw you, we'll have a club of our own. She took me under her wing. I'll never forget her for it, I love her.'
Of her whirlwind marriage to David Cassidy (pictured below), Lenz said, 'I swore I would never marry an actor and he said the same but he hadn't been working for a while and that was good. I think of him as an actor but he had been so successful and become so famous as a singer, breaking records at stadiums all over the world.'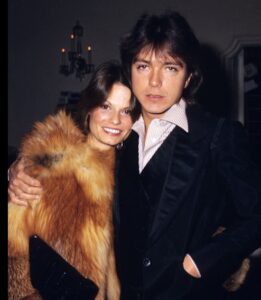 His idolatrous fans were a problem: 'There were always forty girls outside the hotel we stayed at in London. When I met him, he hadn't been to a supermarket in years. I said, if you want to date me, you'd better go to the market. I don't want to be a superstar because I always want to go to the market. His transition was hard, the girls are still outside the house. My expectation was not what he had been but what he could be.'
Their marriage lasted for seven years and Lenz told me in 1992 that the period after their parting had been difficult not least because there was an actors' strike and she didn't work for a couple of years.'
She managed to keep her little house in the hills near the Hollywood sign and her vintage Mercedes convertible but, she said, 'Financially it was horrible for me. It was very, very bad. David is a wonderful person and I don't harbour any ill feelings or resentments but divorce, no matter what, is a difficult thing to go through. The marriage was great; the divorce was not so great.'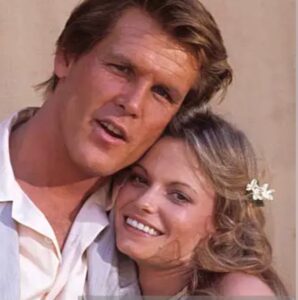 Lenz went on to have a busy career with more than one hundred acting credits on IMDb including 'House', 'Bones', 'NCIS' and 'CSI: Crime Scene Investigation' in recent years. She won a Daytime Emmy winner for outstanding actress in a daytime drama special for the episode 'Heart in Hiding' in the ABC Afternoon Playbreak in 1974. And she's had five Primetime Emmy nominations, first for supporting actress in a drama series for 'Rich Man, 'Poor Man' (opposite Nick Nolte, left) in 1976; twice from three guest-starring appearances on 'Midnight Caller' with Gary Cole, winning in 1989, and once for playing tough lawyer Maggie Zombro (top photo) in NBC's 'Reasonable Doubts' with Mark Harmon and Marlee Matson.
Lenz never married again. Cassidy had two more marriages and died aged 67 in 2017.