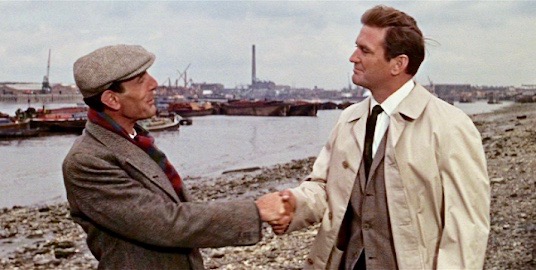 By Ray Bennett
LONDON – Eric Sykes, who was born on May 4 one hundred years ago, was one of Britain's most treasured comedians on radio and television but he might have become a leading actor in movies too as 'The Liquidator'.
English thriller writer John Gardner wrote more than fifty novels including fourteen original James Bond yarns at the request of the Ian Fleming estate.
'The Liquidator', his first novel published in 1964, was a smart and funny spoof about a reluctant secret agent named Boysie Oakes. Mistakenly thought to be a ruthless killer but actually a coward who hates guns, he hires a real assassin named Griffen to bump off people in order to keep the rewards coming. 
Gardner wrote seven Oakes books but only the first was made into a film, in 1965, starring Rod Taylor (with Sykes top right) as Boysie with Trevor Howard as his control, Col. Mostyn, with Sykes as the real killer, Griffen.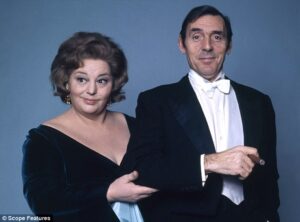 'It was supposed to have been a three-picture deal and that's why I liked it,' Sykes told me. 'The idea was that in the second one Mostyn finds out about Boysie hiring Griffen for the killings and in the third one he decides he doesn't need Oakes and simply uses me. Unfortunately, the backer ran out of money, or something, and the first film was held up in litigation for over a year. By the time it was released, the spy boom was over and it had missed its time. The deal on the other pictures fell through.'
Sykes, along with Peter Sellers, Harry Secombe and Spike Milligan of 'The Goon Show' and Michael Bentine of 'It's A Square World' were the British forebears of 'Monty Python's Flying Circus'. Sykes had long running TV comedies with Hattie Jacques (above) and appeared in many films including 'Theatre Of Blood', 'The Spy With The Cold Nose' and 'Those Magnificent Men In Their Flying Machines'.
I met Sykes, who died in 2012, when he and fellow British comic Jimmy Edwards appeared in the stage comedy 'Big Bad Mouse' at the Fisher Theatre in Detroit. I was working for The Windsor Star and during their one-month run they accepted my invitation to cross the river to Canada for lunch at my favourite Windsor restaurant, Ye Olde Steak House.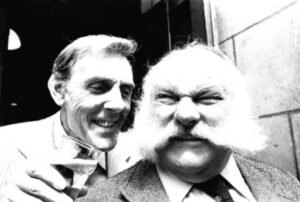 They praised the steak and kidney pie and shared yarns about characters from Tony Hancock to John Lennon. Sykes said he'd always regretted not paying more attention to Hancock's depression before the comedian died aged 44 in Australia. 
He said he met Lennon when the Beatle bought a fancy pile near his in the stockbroker belt around Weybridge. On the first Christmas they were there, Lennon and his wife Cynthia called on the Sykeses and brought a bottle of wine. The following year, they didn't appear. Sykes said he phoned Lennon and reminded him of their previous visit. 
'Are you coming over again?' he asked. 
'No,' Lennon replied. 'Not this year, sorry.'
'Oh, that's too bad,' Sykes told him. 'We were banking on the wine.'