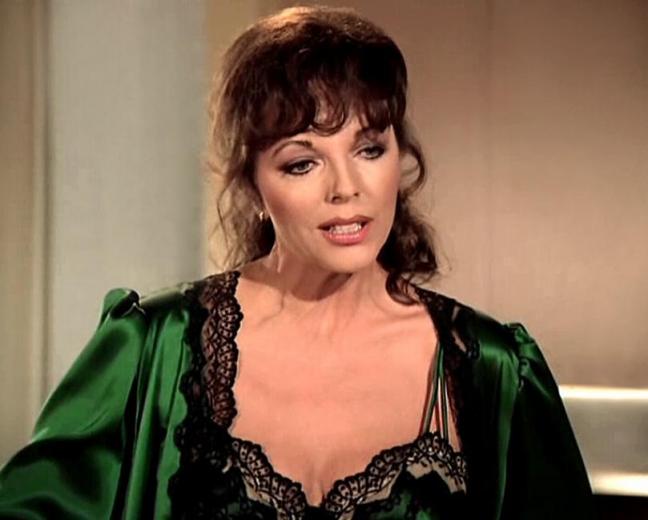 By Ray Bennett
LONDON – Joan Collins was pointing at me. I was on the set of the hit primetime soap opera 'Dynasty'. It's important to make yourself as invisible as possible on a busy TV soundstage so I stood quietly at the rear. TV shows proceed at a rapid pace and performers often need to be prompted by a floor manager. I wasn't surprised to see Collins blow her lines.
Finally, she cried out. 'There's someone in my eye line. It's distracting. Someone in a white shirt.' Her outstretched right hand was aimed directly my way. I had been standing quite still and my shirt was a soft off-white denim but all eyes pinned me down. An assistant director gestured with his thumb: Out! 
Joan Collins kicked me off the set of 'Dynasty'.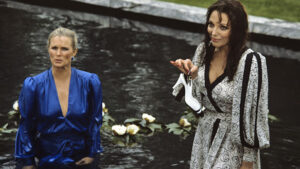 Earlier that day in 1982, I'd enjoyed lunch with the actress, who turns 90 today, for a cover story in Canadian TVGuide. Collins entered the busy 20th Century Fox commissary looking every inch a movie star. Striding serenely past Alan Alda and other cast members of 'M*A*S*H', she joined me at our reserved balcony table. 
Following mutual greetings, she said, 'So, tell me something. The other day I was driving along when I saw some youngsters waving to me. I waved back, a sort of Queen Mum wave, and when we came to a light, I rolled the window down. They came over and they were yelling, "Alexis, we hate you! We hate you!" I found this a bit staggering. Does it mean people really think I'm Alexis Carrington?'  (pictured above with Linda Evans as Krystal Carrington)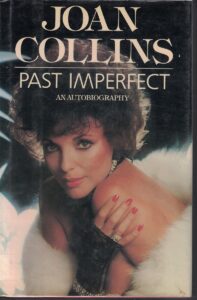 I suggested that they might be forgiven if they did, so convincing was she as television's supreme female viper of the day. She smiled at the compliment and after we placed our orders, she began to relate some well-rehearsed stories about her career. I interrupted her. 'Joan,' I said, 'I've read your book.'
Starting out in her career in Hollywood, Collins was 'Britain's bad girl' dubbed 'the British Open' by Bing Crosby, her golf-loving co-star in 'The Road to Hong Kong'. She made headlines with her troubled marriages to actors Maxwell Reed and Anthony Newley and affairs with several actors including Sydney Chaplin, Warren Beatty and Ryan O'Neal. She had written in detail about her escapades in a tell-all autobiography titled 'Past Imperfect' that was published in England in 1978. Too much detail, she later decided, and the book was not published in America. 
Collins stopped talking and smiled sweetly. She tapped fingers on my wrist and said, 'Ah, then let's start again.' 
Her autobiography, she confessed, had caused her a lot of grief. 'I don't like the book,' she said. 'I put a lot things in it that I regret. I don't want to defend it. My defence is that I've not allowed it to be published here and I don't want to talk about it. I spent a year defending it in England and I've had it. We all make mistakes.'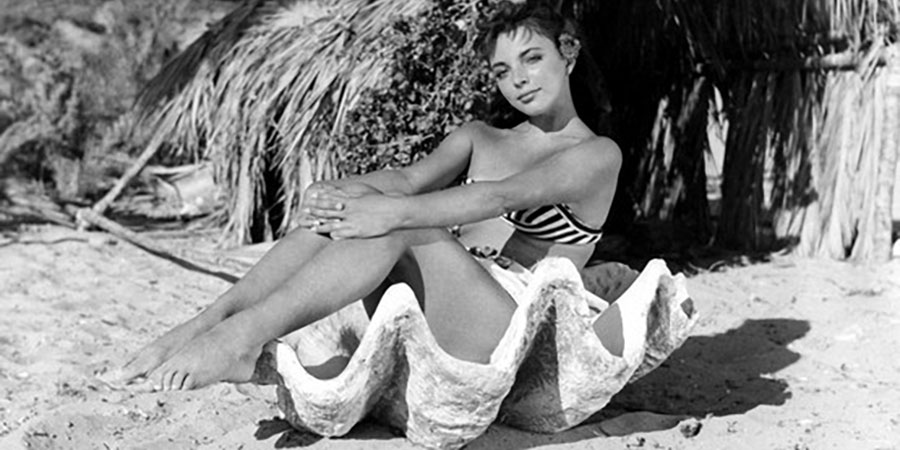 Born in London, one of two daughters of theatrical agent Joe Collins (sister Jackie wrote best-selling novels such as 'The Stud', 'The Bitch' and 'Chances'), Collins got into films in England at 16 after one year at the Royal Academy of Dramatic Arts. After a string of movies including 'Cosh Boy' and 'Turn the Key Slowly', playing juvenile delinquents, she had the lead in a the comedy 'Our Girl Friday' (above) with Kenneth More and she was an Egyptian princess in Howard Hawks's epic 'Land of the Pharoahs'.(pictured below left).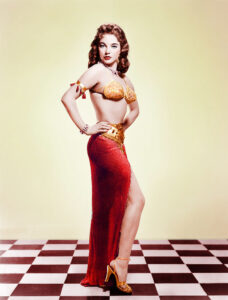 Collins moved to Hollywood under contract to 20th Century Fox and went on to a long list of screen credits few of which she thought were worthwhile. 'I seem to have been in an enormous number of films that are memorable only for being totally unmemorable,' she said. 'I don't think anybody has made as many forgotten films as I have. I know that "Land of the Pharoahs" has become something of a cult film and plays constantly on television but that's because they don't have to pay residuals.'
She liked only three of her fifty-odd movies: 'The Girl in the Red Velvet Swing' with Ray Milland and Farley Granger, 'Rally 'Round the Flag Boys' with Paul Newman (pictured below) and Joanne Woodward, and 'The Stud' based on her sister's novel. (poster below)
'I can truthfully say that there is none other than those three that I think have any particlarly merit,' she said. 'Please don't tell me that "The Wayward Bus" or "Seven Thieves" or "Tales From the Crypt" are works of art because they are not.'
She made no apologies for appearing in them. 'If you are not one of the top actors and you want to make a living, you take mostly what's offered,' she said. 'If you want to starve and do art, then you live in a garret and you wait for the right part to come along. Sometimes it will and sometimes it won't. I'm pragmatic and I don't want to starve. I also like working and I always manage to enjoy what I'm doing. You have to have enthusiasm for the thing at the time because you couldn't make it if you thought it was a total piece of crap.'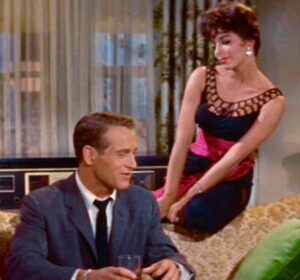 'Dynasty' came out of the blue, she said, when producer Aaron Spelling decided the show needed a colourful character like J.R. Ewing in 'Dallas' to spice up things. 'A character this rich, this juicy – I would have been a nut to turn it down,' she said. 'Of all the parts on television, if I were given a choice, if they said you can play anything that you see, I would choose her.' 
She had no intention of ever retiring and, of course, she hasn't with a great many TV credits since I spoke to her. 'I'd like to go on for another 30 years,' she said. 'Not if I have to be wheeled on in a wheelchair but I'd like to be a vigorous old character actress. I consider myself very blessed to be in the arena, as it were. I can never understand why so many actors are ungrateful.'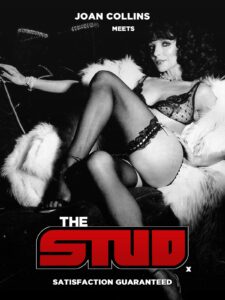 The interview, I thought, had gone very well and then she had me booted off her set. Some twenty years later, I was invited to a function following a game at the Oxford Town Football stadium where Joan Collins was to be a guest of honour. I had no reason to go except to give my daughter Shannon the chance to see her first pro soccer game. At the reception, a publicist urged me to speak to Collins so with reluctance I went over and introduced myself.
'What brings you here?' I asked. Collins reacted in horror and turned to a club executive complaining, 'I didn't know there would be press here!' He said, 'I don't know what he's doing here' and hurried her away. Ah, that's my Joan.