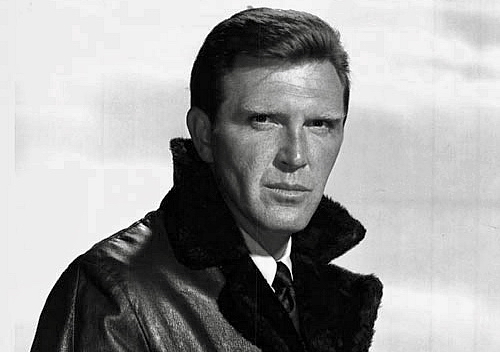 By Ray Bennett
LONDON – 'Television is just awful,' Robert Lansing told me. 'I've done a lot of it but not from choice. I've done an awful lot of garbage; an awful lot of lousy things. I'm not saying I'm ashamed but I think my career is almost one-hundred percent ahead of me. I've fouled up until now.'
By 1974 when I interviewed him for the Windsor Star, he had many screen credits, starring in TV series such as 'Twelve O'Clock High' and '87th Precinct' and movies including 'The 4-D Man' and 'The Grissom Gang'.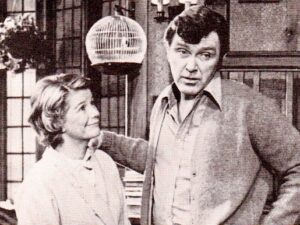 Lansing, who was born on this day in 1928, was in Detroit starring with Barbara Bel Geddes (left) in the Jean Kerr comedy 'Finishing Touches' for four weeks at the Fisher Theater following a hit Broadway run.
A dynamic actor with a powerful forehead and intense eyes, he was shorter than he appeared onscreen, as most actors are, but still an imposing presence. His serious expression turned only occasionally to a broad, warm smile as he spoke in his hotel apartment about his decision to leave television.
He'd had a good run in the early Sixties as Det. Steve Carella in '87th Precinct' based on the crime stories of Evan Hunter writing as Ed McBain but he wasn't satisfied with it. 
'Not really. We had some of the elements Evan had but we didn't do them nearly so well,'  he said. 'The first mystery, which we never explained, was why Steve's wife was a deaf-mute. Gregory Walcott's part originally was a heavy, your token bad cop, but we made him a good cop.' (photo left, l-r , Norman Fell, Lansing, Ron Harper, Gregory Walcott)
He had lasted just one season as Brig.Gen. Frank Savage (Gregory Peck's role in the movie) in a TV version of 'Twelve O'Clock High' (below) and he had a sour view of the state of network television in general. 'Television hasn't changed,' he said. 'Most people who work in television are aware of this. "All in the Family" is a cop-out. It's pretending to be grown-up. Archie Bunker uses the "nice" colloquialisms for his racism not the real bigoted bullshit. I don't know any actors off-hand who like television. Possibly Jim Arness ('Gunsmoke'), who's a marvellous guy, or Mike Connors ('Mannix'). No, not Mike, he wanted a big movie career. They're not doing it because they want to but television is a medium that cannot offend, not the the public or the advertisers, It's all rushed. You don't have the time to be better.'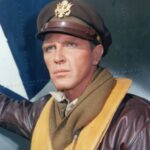 He cited Peter Falk in 'Columbo'. 'He has a constant fight to keep his show up,' Lansing said. 'Television won't get any better until people begin to realise that the screen in the corner is not free. Maybe the we can get into pay-TV and really start doing something.'
Lansing was almost as disillusioned anout the movie business as he was about television. Then in his late 40s, Lansing got into acting as a young man. Born in San Diego, he said, 'I was one of those Depression kids. We went all over. I was interested in acting since I was a kid. I did summer stock and so on, and finally Broadway. I got into pictures in 1951. I was a stand-in and stuntman for Dick Haymes in a picture called "St. Benny the Dip".'
He hadn't made a favourite movie yet. '"The 4-D Man" was fun and I thought "The Grissom Gang" (below) was a marvellous picture but it didn't go anywhere,' he said. 'Robert Aldrich, who made "The Grissom Gang", is the finest director. I loved his last picture, "Emperor of the North". But the industry is in an horrendous state. It's just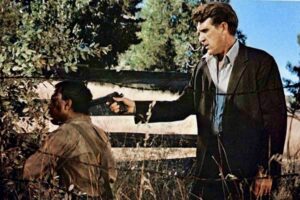 a part of what's happening in the United States. A year ago, there were about twenty-thousand actors in the Screen Actors Guild. Of those, about three-thousand were making above the poverty level. I wasn't on television last season and I won't be on next season. If I did all the things I was offered, I could earn a great amount of money but I don't want to any more. So you cut down your personal overhead, sell the boat, get out of Beverly Hills. I have three more months touring with this play and then I'm going off to some island in the Pacific to sit down for a while.'
Lansing's screen appearances were sporadic after that with just three series, 'Automan' with Desi Arnaz Jr., 'The Equalizer' with Edward Woodward and 'Kung Fu: The Legend Continues' with David Carradine.
He died of lung cancer aged 66 in 1994.