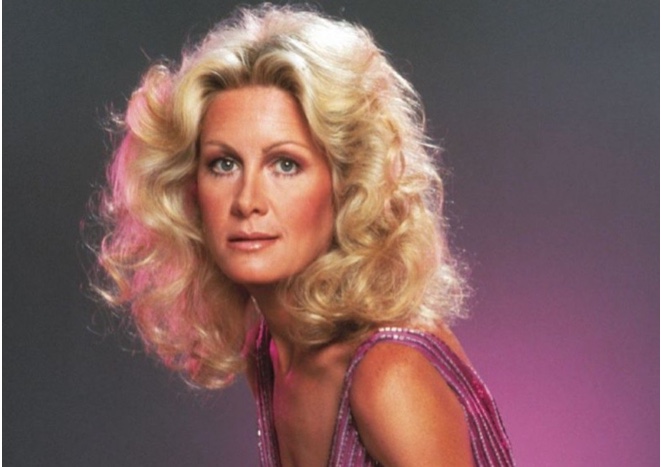 By Ray Bennett
LONDON – Joan Van Ark was among the most popular TV stars of the Eighties in the 'Dallas' spinoff 'Knots Landing' but she told me she made more money doing voice-overs for commercials and cartoons.
'It's as good a salary as you get from acting,' Van Ark said. 'Of course, I work for Lorimar, so how good can it be? You can print that, I don't care. Unless you're Larry Hagman. The reason the rest of us are doing floors and windows is because of what Larry's making. You know, we clear up the sets after it's all over. I make more, and I always have, from my voiceover work than from any other form of acting.'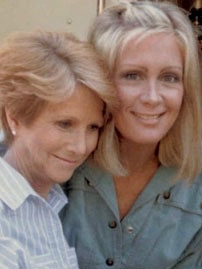 The New York-born, stage-trained actor, who turns 80 today, grew up in Colorado and, for a school project, landed an interview with stage and screen star Julie Harris (left) that was published in the Denver Post. The meeting was providential as Harris urged Van Ark to apply to the Yale Drama School straight from high school just as she had. 
'She said I should write to Yale and tell them that we had talked,' Van Ark recalled. 'I did that and ended up getting a scholaship to Yale.' Things came full circle when Harris joined the cast of 'Knots Landing' as Valene's estranged mother: 'We had never worked together on the stage but the experience of working with her was as deep and profound as any theatrical experience I've ever had.'
Van Ark appeared on stage in plays such as 'Barefoot in the Park' and 'The School for Wives' and garnered small parts in movies and episodic TV before 'Knots Landing'. She began doing voice-over work, she said, after she was told that her 'scratchy, crazy kind of cuckoo voice' was perfect for it.
'I read for a product – margarine – and got the job,' she said. 'It paid some phenomenal amount so I signed on and I've been doing them ever since.' 
She was the voice of Estee Lauder among many other brands, voiced 'Spider-Woman' in an animated series and did a lot of cartoons for ABC Saturday morning shows. 'You know, if you can get the right client, you can play a creative part and it's really fulfilling,' she said.
She was introduced as Valene Ewing in 'Dallas', wife of J.R.'s brother Garry and mother of Lucy Ewing played by Charlene Tilton, and became a regular when 'Knots Landing' was created co-starring with Ted Shackleford as Garry and Michelle Lee and then Donna Mills as neighbours in the cul-de-sac of the title.
I spent a day with her on a location shoot for the show in 1981 at the vast Dominguez Hills campus of California State University, just south of Los Angeles. An off-duty blimp minded its own business in the haze over the nearby Goodyear airship field while scores of coeds broke from their studies to watch the television crew at work. 
The pale sun of California winter bounced gleaming off large shiny-boards and a huge carbon lamp. Light blue smoke flowing gently from its funnel, added to the illusion of midsummer brightness. Van Ark was shooting a simple outdoor walking scene. A 25-yard track was set up on the pathway outside the school library for the camera to toll along. Plastic slabs, looking like concrete, bore the fictional name of Western Community College. Students from the real college, recruited as atmosphere, discovered the true boredom of filmmaking as they lounged at the edge of the massive playing field waiting for the set-up to be completed. Finally, the camera rolled and the actress began her walk. Within seconds, it was over and someone muttered, 'That's it?'
For Van Ark, the day had been anything but boring and that definitely was not it. 'Knots Landing' was an ensemble show but, of all its central characters. Valene Ewing suffered more than most. 'Before this season began, the year looked real dismal for me in terms of what would happen to Valene,' Van Ark said. 'They were bringing in Donna Mills for Garry-o but there didn't seem much for me. But since then I've had my husband leave me for this trollop. I've had cancer and I'm getting raped. So, for someone who thought she was in for a dull time, it's been a full year.'
Van Ark played Valene through 327 episodes from 1979 to 1993 and in a reunion miniseries, 'Knots Landing: Back to the Cul-de-Sac' in 1997. She appeared in the daytime soap 'The Young and the Restless' for 55 episodes in 2004 and played Valene in an episode of the rebooted 'Dallas' in 2013. Voice-overs have continued to keep her busy with TV series 'Doom Patrol' in 2019 and 'Curious George' in 2021 plus the videogame 'Redfall' in 2023.