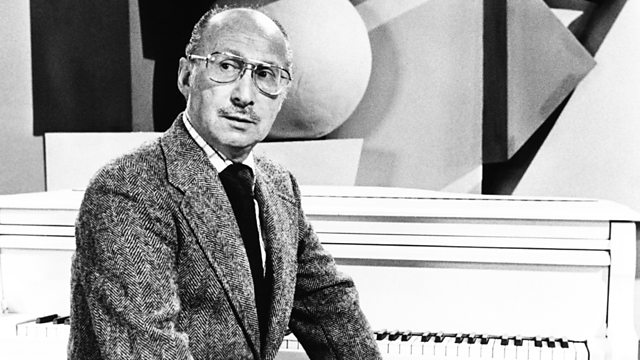 By Ray Bennett
LONDON – American lyricist Sammy Cahn, who was born on this day in 1913, wrote scores of songs that everyone remembers but he told me that what kept him busy was penning lyrics for special occasions. 
He won three Academy Awards for best song with Jimmy Van Heusen sung by Frank Sinatra – 'Three Coins in the Fountain',  'All the Way' (from 'The Joker is Wild') and 'High Hopes' (from 'A Hole in the Head' with Eddie Hodges, pictured below) – and one with Jule Styne, 'Call Me Irresponsible' introduced by Jackie Gleason in 'Papa's Delicate Condition' (pictured below).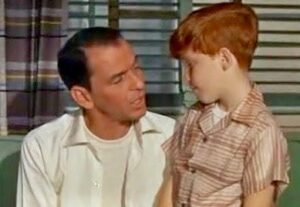 'Something people don't grasp is that ninety percent of my work is my extra-curricular lyric writing,' he told me in 1975. 'I wrote special lyrics for, whatsisname, Sinatra, for the American Film Institute tributes to Jimmy Cagney and Orson Welles. Last week, a famous public relations outfit in Beverly Hills called me. They said one of their secretaries was leaving after twenty-five years and they wanted a song. They told me all about her and I wrote five pages of lyrics for them to sing at the party.'
We met in his backstage dressing-room during the run of his one-man show 'Words and Music' at Detroit's Music Hall. 'Sammy, call me Sammy,' he said as he changed clothes for a mid-week matinee unabashed about standing in boxers and socks with old-time garters around his calves. When an assistant popped in to tell him his request for ginger ale had been received – 'Your ice and Vernors are on the way' – Cahn broke into song to Van Heusen's tune for 'Love and Marriage' – 'Ice and Vernors, Ice and Vernors …'
He spoke of his boyhood as Sammy Cohen (he changed it to avoid a clash with another artist) on what he called 'the lowest part of the lower East Side' in New York, of his bar mitzvah and having ulcers at 13. 'I really had ulcers,' he insisted, pulling up his shirt – 'Look, here's the scar.'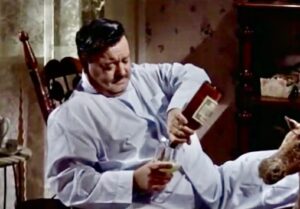 Cahn had tried to resist his mother's wish that he learn how to play the violin but at the bar mitzvah he discovered that musicians not only appeared to enjoy their work but also got paid for it. Soon, he was working with a small band and writing his first lyrics.. 'It was something terrible like "Niagara Falls, I'm falling for you", something crazy like that.'
For a man with such a felicitous turn of phrase, Sammy Cahn was remarkably down-to-earth about his talent and his achievements. If he was aware of being one of a handful of great songwriters who provided the soundtrack for so many people's lives, he gave no impression of it.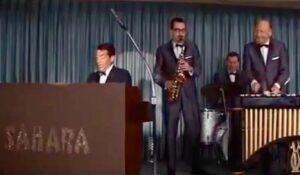 He loved what he called 'the miracle' of being onstage in his 60s to terrific reviews. 'I'm not ego-maniacal at all about my songwriting,' he said, 'but I'm positively ego-maniacal about this show.' He admitted that he saved all his press notices – 'My reviews chuckle the hell out of me.'
Titles of his songs formed the basis of the script for 'Words and Music' and the list is extraordinary including 'Let it Snow, Let it Snow' (with Styne, a hit for Dean Martin); 'Come Fly With Me' (with Van Heusen, a Sinatra standard); 'I'll Never Stop Loving You' (with Nicholas Brodsky, sung by Doris Day in 'Love Me or Leave Me'); 'It's Magic' (with Styne, sung by Doris Day in 'Romance On the High Seas', pictured below); 'Ain't That a Kick in the Head' (with Van Heusen, sung by Dean Martin in 'Ocean's 11', pictured above); and 'My Kind of Town' (with Van Heusen, sung by Sinatra in 'Robin and the 7 Hoods'.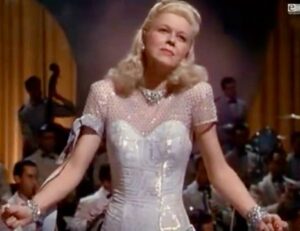 Saul Chaplin (no relation to Charlie) was Cahn's first collaborator in the Thirties on songs such as 'Please Be Kind', 'Rhythm is Our Business' and 'Until the Real Thing Comes Along' but he never wrote another song after they split up. Chaplin went on to become one of the finest musical arrangers in Hollywood. 
Cahn recalled, 'When I stepped onto the stage to receive my Oscar for "Three Coins In the Fountain', the man right ahead of me was Saul, who had won the Oscar for his arrangements for "Seven Brides for Seven Brothers". A little while ago when I was in Paris, he called me from Hollywood to say he wanted me for a picture called "That's Entertainment II". I said, sure, you want a song?' He said, no, he wanted me to be in the picture. I couldn't believe it. But I did it and Gene Kelly was the director.'
Mention of Paris sparked another recollection regarding Cahn's 'special occasion' lyric writing. 'I'm a Democrat but I don't make my politics too public,' he said. 'Bob Hope made one big mistake in his career. He made a political decision. An entertainment person shouldn't do that. It's a mistake. So when Sinatra called me to write a song for a private party for Spiro Agnew [Nixon's Vice President], that's what I did. I didn't endorse Agnew but I'll write songs for anybody.'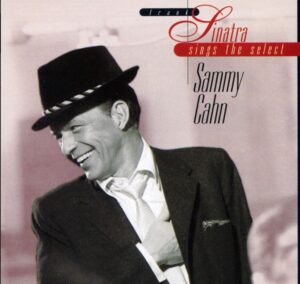 Frank Sinatra felt at the time that he had been snubbed by Jack Kennedy. 'Frank was a Democrat up until the Kennedys treated him badly,' Cahn told me. 'Frank's not an easy forgiver and the Kennedys treated him gracelessly. He'd done a lot for them and when they decided to stay at Bing Crosby's place that time, instead of at Frank's, the least they could have done was call and say, hey, look, we gotta do this. They could have given him something to save face. Anyway, I wrote the song for Agnew but the private party turned out not to be as private as Sinatra had indicated and the song made all the networks. A little later, I happened to be in Paris and ran into Pat Lawford and Rose Kennedy. Rose pointed a finger at me and she was mad. 'You wrote for Agnew!' she said. 'She would never let me forget it.
Cahn died on January 15, 1993, in Los Angeles. He was 79
(A version of this story appeared in The Windsor Star on Nov. 21 1975)