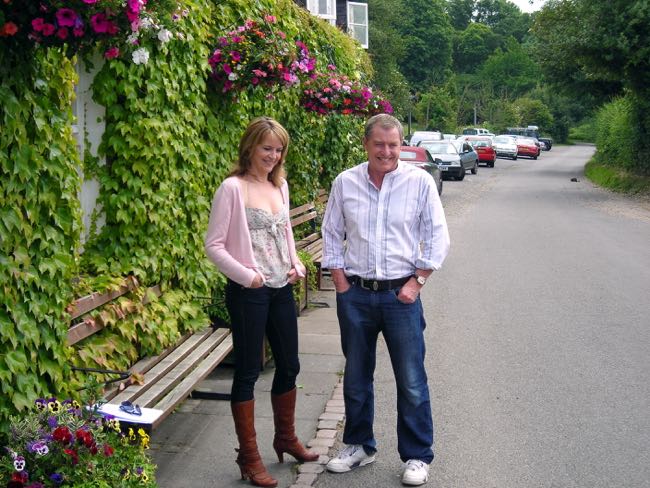 By Ray Bennett
LONDON – 'How on earth,' asked John Nettles, 'can Tom Barnaby be regarded as sexy? I haven't the faintest notion.' The British actor, who turns 80 today, played Detective Chief Inspector Barnarby on the internationally successful 'Midsomer Murders' for fourteen years but the reaction of fans in more than 200 territories around the world baffled him. He noted that one newspaper described Barnaby as 'half man, half walnut and full sex god' and said, 'I quite liked that.'
Nettles announced that he was quitting as the calm, methodical copper in 2009 over pints of beer and plates of steak and kidney pie at a pub that resembled so many that had featured in the programme from Hertfordshire, Buckinghamshire and Oxfordshire.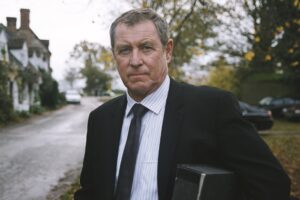 Members of the media gathered for a pleasant repast and a chat with the genial bloke known around the world as DCI Tom Barnaby, who said, 'Viewers don't see the real person, they see a romanticised image.'
That particular Hertfordshire village had the impossibly perfect name of Hogpits Bottom and the leafy pub, The Bricklayer's Arms, was as quaint as could be. The actor is pictured top with Laura Howard, who played DCI Barnaby's daughter Cully.
Nettles said his decision to quit the role was tough: 'I never thought when we were making the pilot in 1996 that the series would last so long. More people have been killed in Midsomer than you can shake a stick at.'
The actor said he had hoped the series would kill off Barnaby 'in noble fashion in the service of his country to be buried in Westminster Abbey'. He admitted, 'This was frowned upon by everybody with any critical faculties at all. It's best to just fade away like old coppers do and old actors too.'
Nettles said he would miss 'Midsomer' most of all for the company and the crew: 'I'll miss even more the actors who came as guests for four or five weeks. Some of the best actors in the country have been in this show and I'm also delighted to call them my friends. That's what I'll miss more than I can say."
This story appeared in Cue Entertainment.