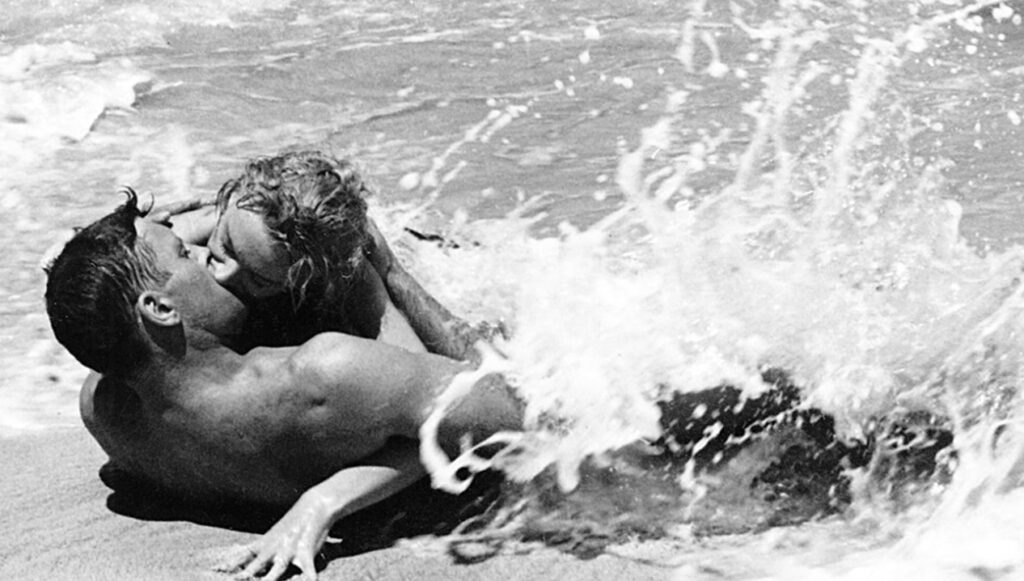 By Ray Bennett
LONDON – When the Burt Lancaster film 'Birdman of Alcatraz' (below) came out in 1962, I wrote about it in the Gravesend Reporter, where I was doing my training in Kent, England. Fascinated by the prisoner's story, I promoted a petition to have the real Birdman, Robert Stroud, paroled after serving many, many years behind bars. Shortly afterwards, I received a thank-you letter from Hollywood. It bore the signature of Burt Lancaster.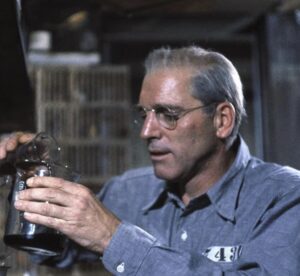 Twenty-five years later, Lancaster showed up at a press event in Century City, Los Angeles, with co-star Ben Gazzara to talk about a forgettable Italian HBO co-production titled 'Control' After the formalities, Lancaster stuck around to speak to a few of us using his inimitable voice, laugh and gestures to describe the iconic love scene with Deborah Kerr on a Hawaiian beach in 'From Here to Eternity' (above). Several young women were captivated.
I introduced myself and told him of the letter I had received about the Birdman petition  signed by him. He looked at me to see if I appeared willing to overlook that the signature had been a stamp applied to many such letters by a publicist. Seeing that I was, Lancaster grinned widely, held up his hands in mock innocence and slapped me on the back. 'Of course, of course,' he said.
I cannot think of a film starring Burt Lancaster, who was born 110 years ago today and died in 1994, that I would not watch again gladly. There are so many including 'The Killers' with Ava Gardner, 'The Rainmaker' with Katharine Hepburn, hia Oscar-winner 'Elmer Gantry' with Jean Simmons, 'Sorry, Wrong Number' with Barbara Stanwyck, 'The Unforiven' with Audrey Hepburn,'The Leopard' and 'The Professionals' with Claudia Cardinale, 'Trapeze' and 'Sweet Smell of Success' both with Tony Curtis and 'Gunfight at the OK Coal' and 'Sven Days in May' both with Kirk Douglas.
Among my favourites are 'Ulzana's Raid', 'Atlantic City' and perhaps most of all, 'Local Hero' (below). Few movie stars could match his magnetic screen presence.