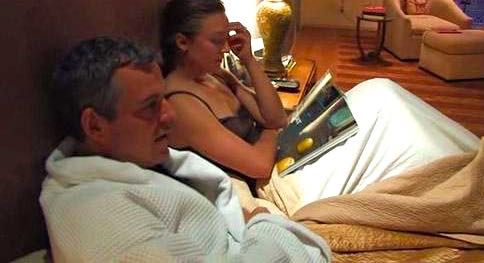 By Ray Bennett
EDINBURGH – Leo Tolstoy's story of compulsive jealousy set to the disturbing chords of Ludwig Van Beethoven's "The Kreutzer Sonata" is given a lurid screen treatment by British director Bernard Rose.
Danny Huston plays a wealthy and cultured man whose love for his beautiful pianist wife (Elisabeth Rohm) is undone by his ungrounded fear that she is being unfaithful with a hunky young violinist (Matthew Yang King).
Told in flashbacks, the film has a steady undercurrent of dread since what has just happened as the film begins is revealed only at the end in a very gory and not entirely unexpected climax. Huston's narration holds the attention and his sexual antics with Rohm (from TV's "Law and Order") are quite heated but the film doesn't really illuminate what drives sexual jealousy. Sure to be admired at festivals, the film's box office prospects remain iffy.
Huston plays Edgar Hudson, a rich man who runs a well-funded charitable foundation but while he later reveals he was once married there is little information about him beyond what he relates in the voice-over. He meets pianist Abigail at a party and they immediately commence rutting like it was going out of style.
They marry but life changes when two infants arrive and it's not long before Abigail is longing for some independence. Edgar takes that as her wishing to be with other men and when a handsome violinist is hired to play at a charity event his imagination starts to run wild.
The musical selection they are to play is Beethoven's Opus 47 No. 9, known as "The Kreutzer Sonata," a piece of music that Edgar has read feels to its performers as if they are making love. Rose cuts back and forth to the complicated and sometimes furious music as events, real and imagined, transpire and Edgar begins to froth at the mouth and eye the kitchen carving knives.
Anjelica Huston shows up for a quiet scene toward the end as Edgar's concerned sister, who senses that all is not well. The film veers from that restraint to all-out passion although Danny Huston does a good job of conveying the growing madness behind Edgar's cultivated demeanor while Rohm gives herself selflessly to her performance, baring all physically and emotionally.
Rose has done Tolstoy before ("Anna Karenina" and "Ivan XTC," both with Huston) and explored the madness in Beethoven's music ("Immortal Beloved"), but he also makes horror films such as "Candyman." Mixing all three elements, only the composer was ever likely to make it out in one piece.
Venue: Edinburgh International Film Festival; Cast: Danny Huston, Elisabeth Rohm, Matthew Yang King, Anjelica Huston; Director: Bernard Rose; Screenwriters: Lisa Enos, Bernard Rose, based on the novel by Leo Tolstoy; Director of photography: Bernard Rose; Music: Ludwig Van Beethoven; Editor: Bernard Rose; Producers: Naomi Despres, Lisa Enos; Executive producers: Lisa Henson; Production companies: Animandala, Giant Door Productions; Sales: Independent; No MPAA rating, running time, 100 mins.
This review appeared in The Hollywood Reporter.