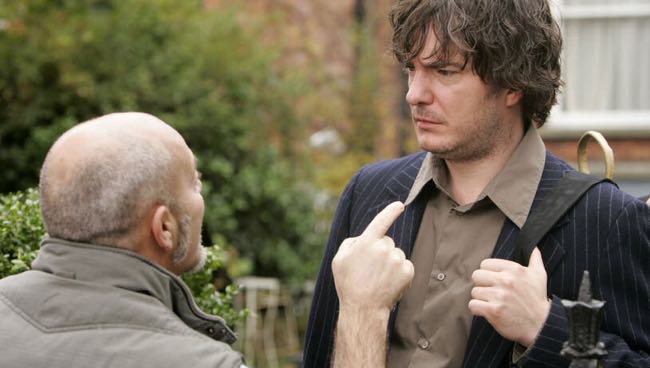 By Ray Bennett
EDINBURGH – The bodies keep piling up and so do the laughs in Irish director Ian Fitzgibbon's clever and very funny black farce "A Film With Me In It."
With an attitude towards sudden death as droll as in the best Ealing comedies, the film lampoons the fevered imagination of screenwriters in its tale of two would-be filmmakers who must deal with one calamity after another in the confines of a basement apartment.
Featuring standout comic performances by Mark Doherty, who wrote the script, and Dylan Moran, the picture's bracingly dark sense of humor and adherence to its own perverse logic will please audiences that enjoyed such comedies as "Withnail and I" and "A Fish Called Wanda." It should be a big hit.
Doherty plays Mark, a sad-sack actor whose chance of landing even the bit part of "Onlooker" in his latest audition is remote. Moran is his best friend Pierce, a wastrel who spends his time at the pub and his money on the horses as he dreams up hackneyed screenplays.
Mark lives with his quadriplegic brother David (David O'Doherty), pretty girlfriend Sally (Amy Huberman), and her indolent pet dog Jersey. Their place is filled with broken things such as window sashes and lighting fixtures that landlord Jack (Kevin Allen) refuses to fix until the rent is paid.
Sally storms out after discovering that Mark hasn't paid the rent in three months and he senses things may get worse when a shelving unit collapses and kills her dog. When a heavy chandelier crashes down from the ceiling with even more unpleasant results, he's sure of it.
Doherty's script is sly and increasingly hilarious as nitwits Mark and Pierce deal with an escalating number of dead people and conspire to dream up madly unreasonable explanations they think might sound plausible to the police.
Moran gets the slightly fractured speech borne of an alcohol soaked brain exactly right while Doherty captures Marks bewilderment perfectly. Director Fitzgibbon hits all the right notes with comic finesse as the film heads towards its pleasingly delirious conclusion.
Venue: Edinburgh International Film Festival; Cast: Dylan Moran, Mark Doherty, Amy Huberman, Aisling O'Sullivan, Kevin Allen, David O'Doherty; Director: Ian Fitzgibbon; Screenwriter: Mark Doherty; Producers: Alan Moloney, Susan Mullen. Executive producer: Mary Callery; Director of photography: Seamus Deasy; Production designer: Eleanor Wood; Music: Denis Woods; Costume designer: Maeve Paterson; Editor: Tony Cranstoun; Production: Parallel Films in association with the Irish Film Board; Sales agent: Cinetic Media; No MPAA rating, running time, 88 mins.
This review appeared in The Hollywood Reporter.