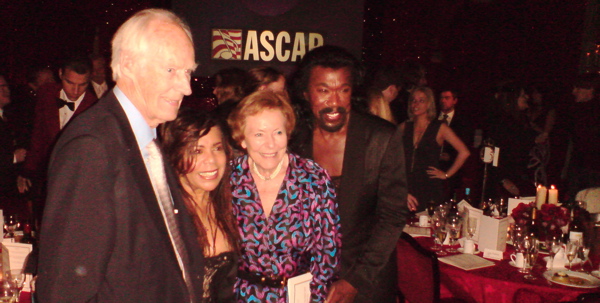 By Ray Bennett
LONDON – Detroit's Nickolas Ashford and Valerie Simpson had a ballroom full of songwriters, musicians and music industry executives on their feet tonight at the UK ASCAP awards performing several of their hits including "Reach Out and Touch," "Ain't No Mountain High Enough," "Let's Go Get Stoned" and "Ain't Nothing Like the Real Thing."
After their performance, relaxing again in the banquet setting, Ashford reminisced about playing in Windsor back in the time I lived there — "We were neighbours!" — while Simpson was happy to claim that she still owned chairs she bought at downtown Detroit's famous Hudson's store when it closed in 1983. My photo shows them with record producer George Martin and Lady Martin.
Two British musicians backed the duo onstage, keyboard man Jason Thompson and percussionist Jamiel Blake, who accompany the stars when they play in the U.K. The crowd rightly gave them their own round of applause.
English pop singer Dido, whose third album, "Safe Trip Home," will be released in the U.S. on Nov. 18, was named songwriter of the year for her songs "Thank You," from her 2001 debut album, and "White Flag," from her second in 2003.
Oscar-winning composer Dario Marianelli, whose upcoming films include Joe Wright's "The Soloist," received a film prize for his Academy Award-winning score to "Atonement" and for "The Brave One."
"Put Your Records On," written by John Beck and Steve Chrisanthou and recorded by Corinne Bailey Rae, won song of the year and EMI Music Publishing was named publisher of the year.
Other awards went to Adrian Johnston for "Becoming Jane", Nick Hooper for "Harry Potter and the Order of the Phoenix," Howard Goodall for "Mr. Bean's Holiday" and Jonny Greenwood for "There Will Be Blood."
Television prizes were handed to Cathy Dennis, Julian Gingell and Barry Stone for "American Idol," Elizabeth Fraser for "House," Dan McGrath and Josh Philips for "Dancing With the Stars," and Keith and Matthew Strachan for "Who Wants to be a Millionaire?"
Special awards also were presented to the Kooks and Kate Nash during a banquet at the Grosvenor House Hotel. The awards reflect U.S. airplay by music created by members of Britain's Performing Rights Society licensed by ASCAP.