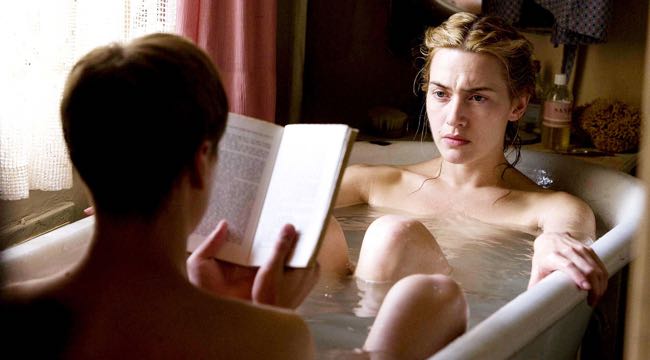 By Ray Bennett
The January UK release schedule is chock-a-block with awards contenders including two with much-anticipated Kate Winslet performances, another with Anne Hathaway, and several films featuring potential BAFTA and Oscar candidates for best actor such as Benicio Del Toro, Michael Sheen, Frank Langella, Sean Penn, Viggo Mortensen, Mickey Rourke, Brad Pitt, Leonardo DiCaprio and Tom Cruise.
Nominations for the 2009 British Film Academy Awards are due on Jan. 15 but although BAFTA rules require entered films to be screened for voting members by Dec. 18, distributors have until Feb. 6 to put them on general release ahead of awards night on Feb. 8. The US Academy Awards will be handed out on Feb. 22.
Kate Winslet won a BAFTA award as best supporting actress for "Sense and Sensibility" in 1996 and she has added three more British Academy and five Oscar nominations since then. Expectations are high for both of her new films, "The Reader" (pictured top) directed by Stephen Daldry and "Revolutionary Road" directed by husband Sam Mendes, who won an Oscar as best director for "American Beauty" in 2000.
Ralph Fiennes co-stars in "The Reader" (Jan. 9, Entertainment), which is set in post-war Germany but delves back into Nazi war crimes. David Hare wrote the screenplay, adapted from a novel by Bernhard Schlink. "Revolutionary Road" (Jan. 30, Paramount) teams Winslet with her "Titanic" co-star Leonard DiCaprio (also an awards contender) in a story of an American couple in the 1950s who give up their comfortable suburban life in New England and move to France.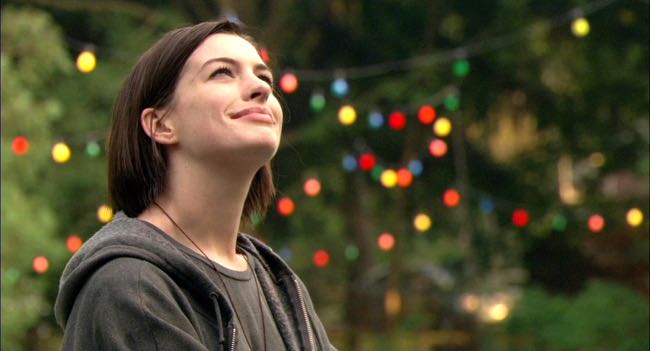 Anne Hathaway ("The Devil Wears Prada", "Get Smart") has won high praise for her performance in Oscar-winner Jonathan Demme's "Rachel Getting Married" (above) playing a rehab habitué who goes home for her sister's wedding with mixed results.
Benicio Del Toro won a best supporting actor Oscar for "Traffic" in 2001 and Steven Soderberg won as best director for that film. The two pair up again in a two-part saga about Latin American revolutionary Ernesto "Che" Guevera. Given a mixed reception when shown in one piece at this year's Festival de Cannes, the 268-minute epic is being distributed as two films, "The Argentine" (Jan. 2, Optimum Releasing) and "Guerilla" (Feb. 20). The first picture is a rousing depiction of Che's involvement with Fidel Castro in the victory over Cuban dictator Batista. The second one is the downbeat story of a failed coup and his death in Bolivia. Both films are almost entirely in the Spanish language but the Puerto Rican Del Toro has received warm reviews for his performance.
Michael Sheen and Frank Langella recreate their award-winning stage performances as David Frost and US President Richard Nixon in Ron Howard's film version of the Peter Morgan play "Frost/Nixon" (Jan. 9, Universal). Langella won Broadway's Tony Award playing the disgraced Nixon who expected his televised interviews with Frost to be a breeze until the British TV talk-show host turned the tables.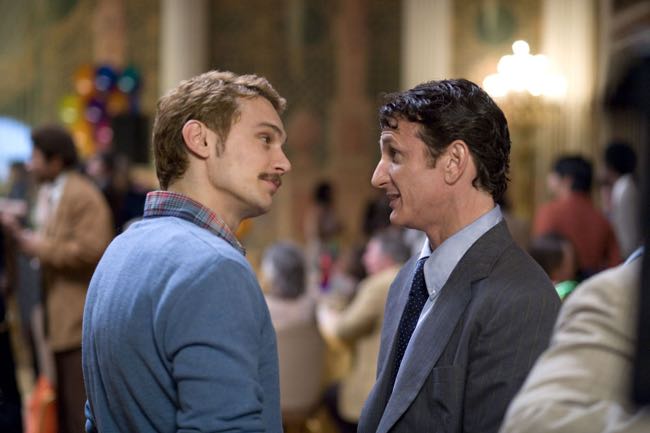 Sean Penn (above with James Franco), who won the 2003 Oscar as best actor for "Mystic River", plays another real-life character in "Milk" (Jan. 16, Momentum), 1970s San Francisco politician Harvey Milk. He was the first openly gay man to be elected to public office in the US and was shot to death by a former city supervisor, played in the film by Josh Brolin.
Viggo Mortensen stars in "The Road" (originally Jan. 16, Icon, but now postponed), adapted from the doomsday novel by Cormac McCarthy ("No Country For Old Men"). Directed by Australia's John Hillcoat ("The Proposition"), it's a fable about a man trying to keep his son safe in a barren post-apocalyptic world. Co-stars include Charlize Theron, Guy Pearce and Robert Duvall.
British cult-film director Darren Aronofsky tries a more mainstream approach in "The Wrestler" (Jan. 16, Optimum Releasing), which won the Golden Lion at this year's Venice International Film Festival. Mickey Rourke delivers a career-best performance as an over-the-hill wrestler dealing with the effects of a life misspent. Marisa Tomei, who won the best supporting actress Oscar in 1992 for "My Cousin Vinny", is in contention for honours as well playing a sympathetic stripper, and Hollywood-based British composer and Aronofsky regular Clint Mansell delivers another topline score.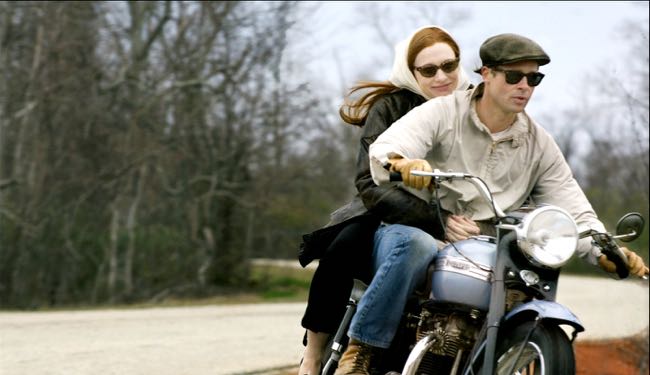 Brad Pitt has the lead in "The Curious Case of Benjamin Button" (above, Jan. 23, Warner), which has been likened to "Forrest Gump", not least because the screenplay is by Eric Roth, who won the 1994 adapted screenplay Oscar for that film. Based on a story by F. Scott Fitzgerald, it relates the saga of a man who is born in his 80s and ages backwards, starting in New Orleans in 1918 and ending in the 21st century. David Fincher directs a cast that also features Oscar-winners Cate Blanchett and Tilda Swinton.
The US Academy has nominated Tom Cruise twice as best actor and once as supporting actor and word is that his performance in "Valkyrie" (Jan. 30, 20th Century Fox) could put him in contention again. He plays Col. Claus von Stauffenberg, the Nazi officer who conspired to kill Hitler during World War II. Rumours had suggested that all was not well with the production but now everything seems very positive. Bryan Singer directs a cast that includes several German stars and Brits such as Stephen Fry, Eddie Izzard, Bill Nighy and David Bamber as Hitler.
Other coming attractions include:
Jan. 2: "The Spirit" (Lionsgate UK) stars Gabriel Macht ("A Love Song For Bobby Long") as a murdered rookie cop who returns to clean up the city, based on a comic book series and directed by Frank Miller ("Sin City"). Scarlett Johansson, Samuel L. Jackson and Eva Mendes co-star.
Jan. 9: "Bride Wars" (20th Century Fox) stars Anne Hathaway and Kate Hudson as best friends who fall out when they plan their weddings on the same day. "Sex Drive" (Contender Films) tells of teenaged American boys trying to lose their virginity. "Surveillance" (Odeon Sky Filmworks) features Julia Ormond and Bill Pullman in a violent and quite twisted tale of murder on the open road directed by Jennifer Lynch ("Boxing Helena").
Jan. 16: "Beverly Hills Chihuahua" (Walt Disney), which was No. 1 when it opened in the US, is a shaggy tale about a spoiled pooch suddenly adrift in Mexico City with a voice cast including Drew Barrymore and Andy Garcia. "Seven Pounds" stars Will Smith as a depressed and guilt-ridden taxman who attempts redemption by helping seven strangers.
Jan. 23: "Slumdog Millionaire" (Pathe) is the latest from Danny Boyle, a tale about a contestant in the Indian version of "Who Wants To Be A Millionaire" that is also the subject of much awards chatter. "Role Models" (Universal) stars Paul Rudd and Seann William Scott as cocky salesmen doing reluctant community service. "Underworld 3: Rise of the Lycans" (Entertainment) is more of the same but without Kate Beckinsale.
Jan. 30: "Franklyn" (Contender Films) stars Sam Riley ("Control") in a story about a London ruled by religious fanatics. "My Bloody Valentine" (Lionsgate UK) is a tale of mythic horror while "Nick And Norah's Infinite Playlist" (Sony Pictures) follows Manhattan teenagers seeking a mythical rock band.
This article appeared in Cue Entertainment.